Remote Work: Top 6 tools for your android – In addition to Zoom, there are many useful programs and services to help you organize your work at home during quarantine – we've put together a helpful list for you.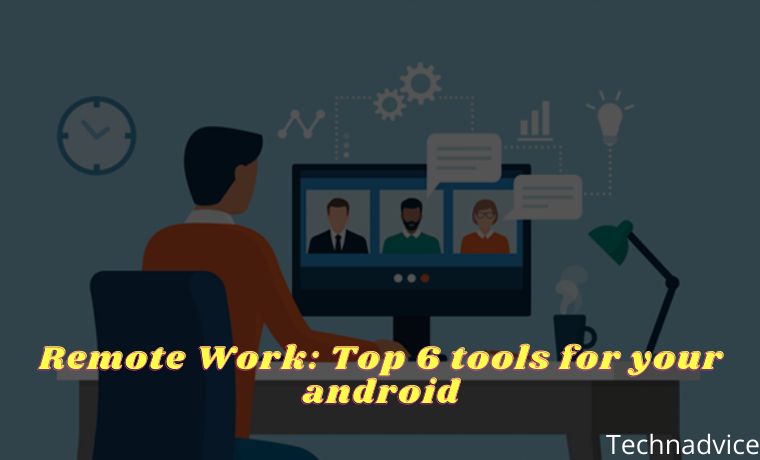 Remote Work: Top 6 tools for your android
Forced quarantine due to the global pandemic of the coronavirus that causes COVID-19 disease has forced many companies to move their employees to work remotely.
Read more:
Even schoolchildren and students are now learning at home through the famous Zoom program – it's also often used by companies for remote meetings. But not only Zoom can help – there are many other options for working remotely.
Slack
Slack is a very handy program to organize communications within large companies, as you can set up multiple channels for specific employees, the only thing it lacks is a module for employee training.
Fortunately, a custom LMS development company can finish it or embed it into almost any service. It accelerates the process of communication because employees do not need to use the usual email. Slack is used exclusively for work purposes, as WhatsApp or Telegram are more suitable for personal correspondence.
It is available on smartphones and computers with Windows, macOS, and Linux and supports all the functions necessary for correspondence: chats, private messages, document exchange, and the creation of reminders.
Chrome Remote Desktop
Chrome Remote Desktop allows you to access your computer securely from your phone, tablet, or another computer. Essentially, you can access your computer from anywhere at any time without worrying about any security threats, as the channel is securely encrypted against hacking and guaranteed by Google itself.
Unlike the Remote Desktop Protocol (RDP), where you have to open ports and do some manipulation to activate it, you can access your computer through Chrome Remote Desktop simply through an access URL in a web browser or by downloading a mobile app for iOS and Andriod.
Another key feature of Chrome Remote Desktop is providing access to your computer, allowing colleagues to see your screen and control your computer – perfect for solving technical problems.
Mega
If you need to share large files frequently, you can't do without cloud storage. However, the popular Dropbox, Apple iCloud, and Google Drive have a usage limit of 5 to 15 GB of space for free use. This is where cloud storage service Mega (mega.nz) can come to the rescue.
In the free package is available 50 GB of free space, and in the first month, it expands to 85 GB – enough until the end of the quarantine.
The service also offers a very fast connection and you can share your files with everyone via an open or closed link. To synchronize and download all the files, Mega provides a convenient application for all platforms, including mobile.
Mural Viewer
Mural offers a secure visual workspace that allows remote employees to work together on the same project in real-time, without sharing a physical space. The service program looks like an interactive whiteboard for ideas, design, project management, team collaboration, and more. As long as you have a Wi-Fi connection, you can brainstorm anywhere in the world.
Focus
Finally, it is worth mentioning one important program that can help you overcome procrastination. After the office, it is challenging to make yourself work because there are many tempting distractions.
It can be hard to concentrate when you are interrupted by a Facebook notification every few minutes or when you want to watch kittens instead of writing a report. Focus blocks out distractions to ensure that you only have time to focus on your work tasks. Block out any website or program that could be a distraction so you can stay productive while working from home.
Calendar
While Google Calendar is a great free digital calendar, it doesn't provide some advanced features that remote workers typically need. Calendar is a more feature-rich alternative that integrates all of your calendars into a single interface.
In addition to integrating all your calendar apps, Calendar has a handy Star feature – it's a way to manage meetings. Instead of organizing video chats, Calendar allows anyone to select and book meeting times during available hours, without distractions or conflicts with existing meetings or tasks.
Don't forget to bookmark and always visit every day Technadvice.com because here you can find the latest Technology information such as How-to Guide Tips and Tricks Blogging Digital Marketing Windows Android Root Social Media games, ETC. Best of luck.