How to Advertise on Twitter: In 5 Easy Steps – Twitter is a platform where most of the "important" people reside. Speaking about statistics, more than 80 percent of the world leaders are on Twitter and hence you can understand how important this social media platform is.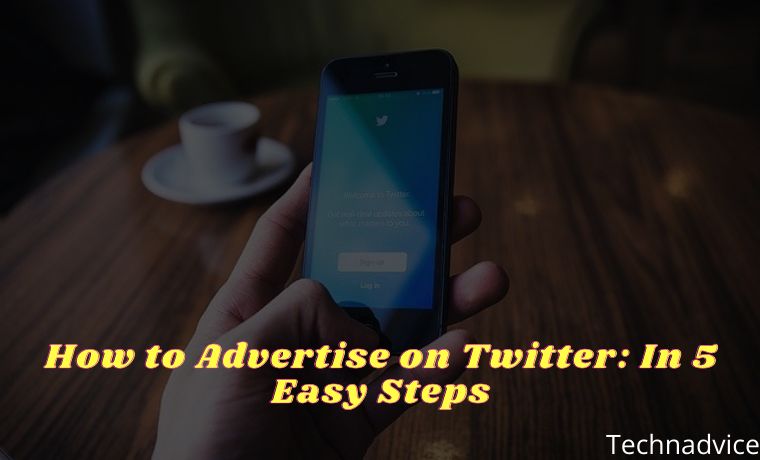 5 Ways To Advertise on Twitter Easy Steps by Steps
Twitter was made to connect the two sides of the spectrum, both the informed and the informer. This makes Twitter a great place to advertise because this is where the money resides. To fulfill that exact purpose, we bring to you this article that is going to tell you about 5 ways to advertise on Twitter.
Read more:
However, if you're trying to grow your business via Twitter, then one great way to do so is to buy Twitter followers and gain engagement. Since on Twitter, even a hundred followers means a lot, buying followers and engagement can get you a massive head start, but more on that later. Let's first understand the basics of Twitter.
According to a survey, more than 82% of millennials check Twitter every day and it gets approximately 300 million active monthly users. Although its average demographic age is above 25, there is a lot of youth influence on this platform, which can be used as an anchor for your business to grow.
Also, with more than 3 billion people already being signed up on Twitter, it's one of the most popular social media platforms. So without further ado, let's jump right into the tips:-
1. Set up your Twitter ads account

If you are a beginner in the Twitter advertising industry, then this tip is just for you. To advertise on Twitter as a marketer or an influencer, you need to have a Twitter ads account. All you have to do is, log into your Twitter account and go to ads.Twitter.com and then enter your country and time zone. 
Once you do this, you will see a "let's go" button pop up and once you click it, you're ready to advertise. You have successfully registered your ads account on Twitter and you can start creating campaigns. This gives you access to the Twitter ads manager, on which you can manage your different campaigns and hence control advertisements of your products.
2. Choose your objective

Choosing an objective is very important for any ad campaign. Knowing what you're advertising is very crucial for marketing success.  Now, on Twitter, there can be a few set objectives. This can be brand awareness, consideration, conversion, and app reengagement. Now, coming to the first type, brand awareness means promoting your brand in such a way that people identify your products as standards in that niche. 
You can do this by selecting reach as the type of campaign when you're starting a new one. This boosts your promoted post and you build per 1000 views. The second way is to boost your stream and get charged for each video view. Next comes consideration, you can boost your app link for people to download and you can also put up GIFs for people to see. 
Then comes conversion, which is pretty straightforward that you're trying to get more website traffic using Twitter. And the last is re-engagement, where you have the option to make people engaged with your content by promoting it.
3. Setting up ad group and bidding

As a beginner, you will feel more comfortable using just one group to promote your campaign, but as you move forward, you'd want to split your campaigns into different groups and audiences so that you can get more effective results. This can be done by using the ad grouping feature by Twitter where you can split up your campaign into different audiences and experiment a bit. 
However, we advise you to do this only when you have a lot of capital for marketing otherwise, this can get expensive real quick. If you have enough money to spare, then you can go ahead and experiment. This helps you gather information on different types of audiences and help you get better campaign setups for the future.

4. Target the audience that you want

Twitter gives you an option to target the specific audience that you want to by simply selecting the specifications you want. Once you go to your ad manager page, then you get to see the option that says demographic. When you click on it, it opens up a page that lets you select the type of audience that you want to target. 
You can select the age, location, and language preferences. Once you're happy with the choices you made, you are ready to go and just click next. Once you do this, it will select your demographic as such for this campaign and you can change it later if you want, but not after you've launched it. This gives you a higher chance of getting more eyes on your ad campaign and hence get more sales.
5. Buy Twitter followers

A lot of people don't know this, but buying Twitter followers is a great way to get traffic. How? Well, people attract people. If you have people that follow your account, the new people that stumble upon it are going to have a higher chance of following your account. This is because people tend to follow what others do. 
This is called peer mentality and is a widely used tactic to get more engagement in any social media platform. Hence if you buy real Twitter followers it will give you a headstart. However, buying engagement from sources that provide you with bot accounts is not at all good for your Twitter and thus you should only buy followers and engagement from websites like Viralyft and Getviral. They have been providing service for quite a long time and are recognized in the industry.
Conclusion:
In the competitive Twitter world, where every day you can see a new trend coming up, it can get really hard to stay relevant in the advertising market. 
However, with the tips mentioned above, you will be able to see good growth and effective results in your campaign and hence we highly recommend using these tips for gaining popularity on Twitter.
Don't forget to bookmark and always visit every day Technadvice.com because here you can find the latest Technology information such as How-to Guide Tips and Tricks Blogging Digital Marketing Windows Android Root Social Media games, ETC. Best of luck.