How To Choose The Right CRM Software For Your Business – Customers are king.' No business can exist without them. You can't generate any sales or provide any service without customers, so how you manage your relationship with them—existing and potential—significantly impacts the long-term growth of your enterprise.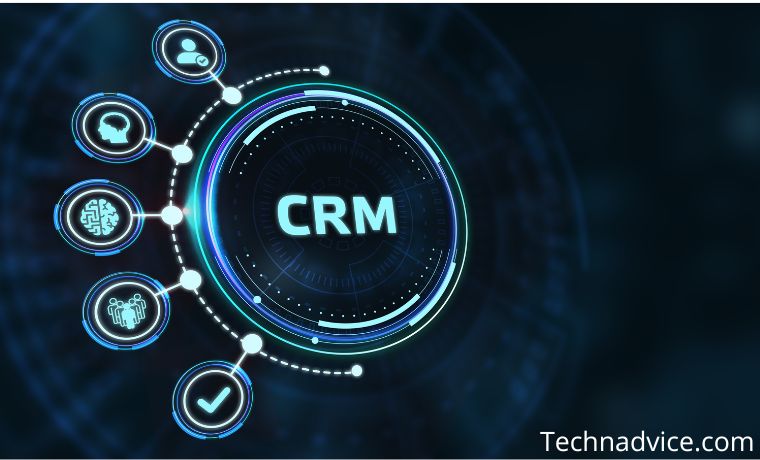 Today, connecting with the desired customers isn't that easy. There are several businesses in all sectors, which means high competition for the target customers. Even when your efforts to attract customers to their store pay off, another major challenge is retaining them. Fortunately, customer relationship management (CRM) software is now available to streamline the process.
An Overview Of CRM Software
CRM software is a technology that assists business owners and managers in efficiently tracking communications with leads and customers. In simple terms, it's a computer application for managing customer relations that replaces traditional tools like spreadsheets. It helps automate client-related workflow and ensures that interactions with existing customers and prospects go smoothly throughout the customer purchase experience and beyond.
There are several benefits of using CRM software. For one, it's a great tool for collecting prospects' data. You can use the gathered information to build buyer personas so that you can have a better understanding of your target audience. You can then personalize your services to generate more customers.
Also, CRM software enables you to interact with your customers from a centralized location. As such, you can quickly respond to all customer queries, which translates to better and speedier communication.
CRM technology isn't only useful in managing customer interactions and relationships. It boosts collaboration within your enterprise, too. It provides the means for your teams to communicate in real-time when completing tasks. Better collaboration empowers your employees to serve customers more efficiently and keep them happy. As a result, you'll likely increase your company's retention rate.
Finding The Right CRM Software
As discussed above, CRM software can be a game changer to the success of your organization. However, you must select the one that best serves your needs.
With so many applications on the market, selecting the right one can be challenging. This article rounds up some effective strategies you can implement to ensure you invest in top CRM software.
Define Your Objectives
Identifying your needs is the first step to ensuring you select the right CRM software for your company. Not all software is created equal. Each is designed with different tasks and functions in mind, including but not limited to generating leads, monitoring prospects, managing relationships, generating customized reporting, and organizing business operations.
Knowing what problems you want to solve or objectives you want to achieve with the new CRM software can cut down your choices. With fewer options, shopping for the right solution won't be that overwhelming.
Select A Compatible CRM Software With Other Existing Applications
You'll probably want to automate most of your company processes to improve productivity. Apart from the CRM software, you'll likely have various software for other tasks. This is where compatibility becomes a requirement.
Compatibility ensures all your automation tools can work in harmony without altering or replacing any one of them. This not only minimizes costs but also promotes efficiency. Before you install any CRM software you see online, determine whether it's compatible with other computer programs you're using in your business.
Invest In A Scalable Software
If you're running a startup or small business, it might seem okay to invest in CRM software that accommodates only a few users. However, it may pose great challenges when your business grows, which requires you to add more users. An important thing to note is that some CRM software does not allow for additions. This is why you need to check the scalability of your preferred solution.
Consider your vision for your enterprise five years from now. If the probability for growth is high, then you should go for scalable CRM software. You then rest assured it will still be suitable even when your company becomes a giant in the market.
Purchase A User-Friendly CRM Software
Complexity is another variable to take into account of. CRM software in the market differs in complexity. Some are difficult to use, whereas others are simple to learn and use. Settling for the latter is a good idea. In the first place, you are looking to buy CRM software to make things easier for you.
Going for complex CRM software may hurt your company's progress in many ways. For instance, your teams may take several days to master how to use it, so your overall productivity and revenues may take a hit.
Additionally, more complicated software may force you to hire professional trainers to educate your teams on how to work with it. As much as possible, you'd want to avoid extra costs.
On the contrary, user-friendly CRM software enables your teams to start working with it immediately. It also eliminates the need to hire experts for training. All these ensure your company saves time and money for other projects.
Read Online Reviews
Another great way to select CRM software for your business is to read online reviews. This involves going through other clients' comments to see what they say about a particular software.
Most clients are genuine with their reviews about the CRM software they've already utilized in the hopes of aiding the developer to enhance the application. Therefore, software with positive reviews is a tool you can trust to serve your business needs.
Many negative opinions indicate that most clients aren't satisfied with the CRM software in question. You'll likely experience the same, so invest in software with more positive than negative reviews.
Conclusion:
Utilizing CRM software can do wonders in growing your clientele. With so many benefits, you'd be setting yourself back if you opt-out of this tool.
Still, don't just get the first CRM software you see. Since you've already decided to invest in it, you might as well get the one that's right for your business. The tips above can help you find the best CRM software for your needs.
Don't forget to bookmark and always visit every day Technadvice.com because you will find the latest Technology Android Games, Mod Apk, and apps ETC, that we will update every day.