How to create a blog and Make Money Online (Free Guide) – You must often hear the word 'blog', right? Either when surfing the internet or when chatting with friends. You could say that blogs already have a large enough role in the lifestyle and trends of today's society.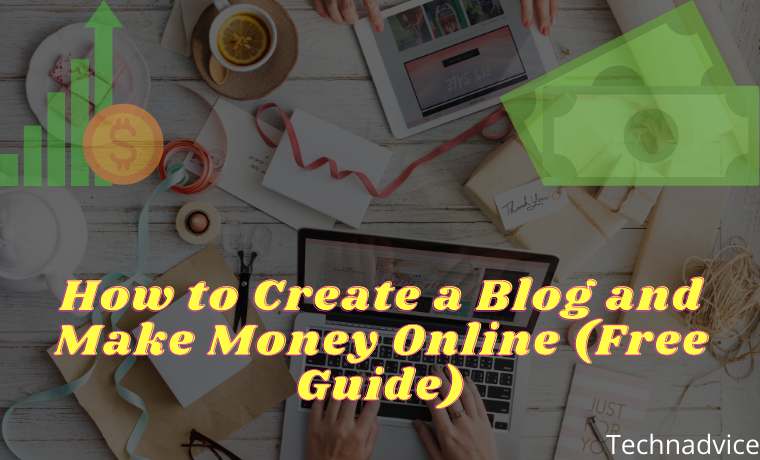 How to create a blog and Make Money Online (Free Complete Guide) In 2023
Blogs accommodate various professions, from those who simply write to those who make blogs their main livelihood. This positive fact certainly stimulates your curiosity: how, the hell, do you create a blog?
Read more:
In this article, we'll cover everything you need how to create a blog. Starting from the selection of a niche to the factors that determine the success of a blog.
By the end of this article, we hope that you will have a blog that can drive consistent traffic and show up on Google organic search.
What is a Blog
According to Wikipedia, a blog is a type of website that contains articles on various topics. Usually, the posts (which we call posts) are shown in reverse chronology. The blog will display the latest posts which are then followed by old posts.
Blogs are often used as a platform for developing writing skills and also learning new things, such as web development (web development) and content management.
You are free to be creative in sharing info or hobbies while building an online community. Even blogging can provide benefits, for example by joining an affiliate program or displaying advertisements on blogs.
The posts that you publish regularly can also become a portfolio if you want to find freelance or full-time work.
Blogs come in many forms, including digital magazines, personal notes, online exhibitions, and even learning sites. Usually, blogs consist of text, images, videos, and other important pages. Audiences can post comments and communicate virtually with the blog owner or author.
Difference between blog and website
The first thing that distinguishes a blog from a website is the comments column. As already mentioned, blogs have a comment section where the audience and blogger can communicate.
The communication that exists is two-way communication. Meanwhile, the website doesn't have any comments column at all.
Blogs are dynamic because their content is always updated, while websites are static because the pages on them are rarely updated. For example, product pages, service information, and About Us.
Other differentiators are the author's name, posting date, and category. On blogs, these three elements are visible at the top of the post. Meanwhile, you cannot find these three elements on the website.
While reading this guide, you can immediately put it into practice,  you know. Claim a discount and create your blog. There is a 30-day money-back guarantee if you are not satisfied with our service.
for a Create a Blog.
Then, Which is the Right Platform for a Blog?
There are several factors to consider when choosing a blogging platform. Ask yourself, to what extent do you have technical skills? Do you have enough time to create and manage your own blog?
Also, make sure the blog platform you are looking for really has features that match the concept and purpose of blogging.
At least you are free to create content, add media, and do other creations so that your posts look attractive.
Finally, count your budget – this is important for those of you who want to create a solid foundation or who don't want to have a free blog forever and plan to expand further.
WordPress.org
If you are familiar with technical things and have set aside some budget for blogging, choose a content management system such as WordPress.org.
This CMS has been widely used for both blogs and websites. Use is free. It's just that, to run it, you need a custom domain and web hosting.
The difficulty level of learning to use is quite high. You need time, and even have to ask around or find sources that can simplify the operation of this type of WordPress.
Fortunately, on the internet, there are many tutorials, tips, and tricks, as well as articles that discuss WordPress. You can rely on online sources to understand this most popular CMS.
WordPress comes with a live editor. You can change and modify the appearance of your blog using a variety of free and paid themes.
For blog posts and pages, the Gutenberg version of the WordPress block editor offers tons of options and features that are worth checking out.
WordPress also provides plugins to add features and tools, such as SEO tools, security systems, and blog management.
After perfecting your blog, you can, you know, make money on the internet. What's more, you have complete control over your blog, right?
WordPress.com
Another WordPress.org, another WordPress.com. Adapted from the India Wikipedia page, WordPress.com is a blogging service site that uses the WordPress engine.
You no longer need to look for a web hosting provider, subscribe to a package, and create a domain.
You can immediately use the free package which is equipped with sufficient resources, including one subdomain.
How to create a free blog with this platform is much easier. WordPress.com has a library or library of responsive themes that can be customized and customized.
Thanks to a live and intuitive block editor, you can start a blog in less than a day and without implementing coding or other technical skills.
Blog management can also be done through the WordPress application which is available on iOS and Android devices.
If you want to get more storage space, activate your own domain, maximize your blog as a source of income, and get help via email and chat, the free plan must be upgraded to a paid plan.
The personal package has an annual payment system even though the subscription fee is calculated as 4 USD / month. If you want to install a plugin, the package you choose is Business with a subscription fee of  25 USD / month.
Medium
Medium is intended for those of you who just want to write and don't really care about the aspects of blog creation and design. You can write on a variety of topics that will be read by nearly 100 million registered readers.
There is no fee charged to the author, and its use is also quite easy. You can immediately write and publish content.
Its neat and minimalist design will focus the attention of visitors reading your content. The chances of being on the first page of search engines are also quite high because Medium has a domain authority of 96.
Besides being read by millions of subscribers, the content you write can also be cashed through the Medium Partner Program. Later the article is recommended to readers who have subscribed.
But keep in mind, that these articles must pass a quality check conducted by the Medium editorial team first. Payment for your articles is based on the number of readers and will be sent monthly.
Tumblr
Tumblr is a blogging platform that is very popular among young people. The content is interactive and the system is almost the same as social media.
People can follow each other's blogs. The niches or topics reviewed also vary so that the community in them is more varied.
Creating a free blog is one of the great things about Tumblr. All you have to do is create an account and use the subdomain that has been provided unless you already have your own domain.
Those who are using Tumblr for the first time, might be a little confused when operating the dashboard because this area also functions as a feed.
There are seven types of posts on Tumblr, namely text, quotes, links, chat, photos, videos, and audio. Readers can leave comments, like, reblog, and even share posts. One more thing about Tumblr is that users can add hashtags to their content.
Tumblr has a  library that includes a wide collection of themes that you can choose from and manage. However, there is a limit to how many changes the user can make.
Blogger
Bloggers are often targeted by people who want to know how to create a personal blog. This is inseparable from the simplicity of the system provided and also the absence of a requirement to subscribe to hosting.
You are only required to have a Gmail account in order to run this free platform. One subdomain will also be assigned during registration and account creation.
The Blogger dashboard is designed to be as easy as possible so that new users can create their own blogs.
Starting from installing templates, adding widgets, uploading media files, to publishing posts. The good thing is, that Blogger has integrated Google AdSense so you can immediately earn income through blogs.
To share content, use the Google+ service and the built-in sharing button. If you want to know the performance of your blog, there is a statistics report feature that shows the data.
How to create a blog
In this section, we will discuss how to create a blog starting from choosing a hosting provider to installing a blogging platform. Not only that, we will also provide various tips for creating a blog so that in the future you can be successful.
#1. Define a niche
If you are currently running a project or building an online business, through your blog you can share information about services, products, and the company's vision and mission. Readers who are interested in the discussion presented will stop by your blog. You can easily acquire new users. A win-win solution, right?
If what you're looking for is a way to create a personal blog, you have more opportunities. The list of niches or topics is broader, from traveling (travel stories), technology, news, food, and music, to shoes. So many, you are free to choose a niche to be the main topic of the blog.
The role of a niche is very crucial in creating a blog. Therefore, do not be hasty in determining it. We recommend doing your research first.
One way to create an interesting blog is to review topics you like. You enjoy doing it more and the results will also be better. Your audience will feel satisfied every time they read your posts.
What is a niche?
Do you have any questions? curious about something? or want to read product reviews before deciding to buy? Surely you will type in related keywords and perform searches, right? Well, the information obtained is what is the origin of the niche.
The reach of the niche is very broad, it can be anything. For example, in order to stay up-to-date with fashion news, the blog you follow is a fashion blog.
On the other hand, if you don't want to miss out on the latest music info, the blog you follow is definitely about newcomer songs and singers. Actually, what is a niche?
Your niche is the topic or area that is the main focus of your blog. For example, you are a musician by profession. So, the blog niche will tend to talk about music. Since the topic of music is so broad, get specific. You can review hip-hop songs or pop genres.
How to choose a niche
Choosing a blog niche does take a long time. However, by following the steps below, niche selection can become easier.
Make a list of things you enjoy or are good at, such as work, daily activities, or gardening.
Do your research by looking for information about blogs that take the same niche. Check the target market to find out whether the chosen niche can be explored deeper or not. Take note of the content reviewed on each blog, such as a glossary, tutorial, or specific project.
As already mentioned, look for a more specific niche. For example, gardening is a very broad topic. Of course, there are many blogs that cover this topic. Therefore, narrow down the space by discussing how to grow vegetables for beginners or how to turn gardening into fun activities for children.
If you want the blog to make a few dollars for you, look for a niche that 'sells'. Are there any products for sale within the chosen niche? Does the product use AdWords? And do competitor blogs offer ad space or put up banners? Check all these things to determine your next steps.
Choose a niche that you are good at. Every reader wants to get complete information and satisfy their curiosity. If you just 'just' write a post, blog readers will also get 'halfway' information. So, ditch the topics you don't like and look for a niche that you really understand.
Do blog walking related to your niche? Something that competitor blogs overlook can be an interesting niche to review.
Don't worry if you still haven't found the right niche. Blogs that are currently successful must have used various methods and strategies when looking for a niche.
We advise you not to give up easily. Keep looking for a niche blog that really interests you.
#2. Choose a web hosting
After determining the blog niche, the next step is to choose a blogging platform. A blogging platform is a software or service for publishing blogs and their content. There are two types of platforms, namely free platforms and self-hosted platforms. Here we will explain in more detail the two types.
Free platform
Beginners who want to know how to create a free and easy blog can choose this platform. However, like free services, this platform has restrictions and rules that must be obeyed.
Apart from using the platform subdomain behind the blog URL ( bloganda.sitesplatformblog.com ), you also cannot delete or deactivate the ads that are installed on the blog.
Inevitably you have to accept the existence of this ad even though it is not in accordance with the concept of a blog or even cannot be cashed. If you want more freedom in controlling ads and URLs, we recommend creating a blog on a self-hosted platform.
Self-hosted platform
The self-hosted platform allows you to use your own domain name. That means there will be no more platform subdomains behind the blog URL.
You are also free to install a Content Management System or CMS for short. WordPress, Joomla, and  Drupal are three examples of CMS that are widely used these days.
The self-hosted platform is not free. You will have to pay some fees to subscribe to web hosting and create a domain. After that, you can activate the CMS. Usually, CMS is open-source and free.
Hostinger continues to develop server infrastructure to provide the best blogging experience for every user.
With Hostinger's self-created and developed control panel, you can quickly set up your blogging platform in just one click! If you need help, you can always contact a 24/7 Customer Success agent.
Web Hosting
What is web hosting?
In order for your blog to be accessible on the World Wide Web, you must subscribe to web hosting first. Later there will be a certain amount of space allocated to store files and blog data.
Web hosting services are provided and managed by web hosting companies, for example, Hostinger. The amount of space or space allocated depends on the type of hosting you choose. At Hostinger, you can choose Shared Web Hosting, VPS Hosting, Cloud Hosting, or WordPress Hosting.
It's time to subscribe to Hostinger hosting! There is a 30-day money-back guarantee if you are not satisfied with our service.
Buy Hosting
Hosting type
Before deciding to subscribe to web hosting, we will discuss the types in full below.
Shared Hosting
For those of you who are looking for a way to create a blog for beginners, you can start by subscribing to shared hosting.
This type of hosting hosts multiple websites on the same physical server. All resources (such as disk space, RAM, and bandwidth) are shared on each website.
Shared hosting servers are always optimized and monitored so that every website has the same power.
Here are the advantages and disadvantages of shared hosting.
Advantages:
The price is cheap and easy to use.
Uptime and server updates are managed by the hosting provider.
24/7 customer support.
Has a 1-click installer tool to install blogging platforms.
Deficiency:
Share server resources with other users.
Limited configuration options.
No root access.
Shared Hosting
Cloud Hosting
Cloud hosting is aimed at both online business owners and large-scale website owners. This service combines the power of a server and the simplicity of shared hosting.
Even though it is bigger than shared hosting, cloud hosting is still a great platform for learning to blog. You will get more resources and you don't have to worry if the incoming traffic starts to increase.
Unlike shared hosting, all available resources are entirely yours. With cloud hosting, your blog has more room to grow.
Advantages:
Dedicated IP address and resources.
24/7 customer support.
Resources are for you alone.
Has a 1-click installer tool to install blogging platforms.
Allows an account upgrade from shared hosting.
Deficiency:
Compared to shared hosting, the monthly subscription fee is higher.
Limited configuration options.
No root access.
Cloud Hosting
VPS Hosting
A virtual private server, or VPS for short, is a hosting service that gives users more freedom and control.
However, the operation is quite difficult, especially for those of you who are not familiar with server management.
If you just want to experiment with how to create your own blog, we recommend choosing another hosting instead of VPS hosting.
However, if you really want to create a bigger project than a blog, this virtual server is the best choice.
Advantages:
Give root access to the user.
Dedicated IP address and resource.
Users have complete freedom and control over the environment and the website.
Users can change settings from the server side.
Deficiency:
Requires users to understand technical knowledge.
Requires that the user has server management capabilities.
Are unmanaged.
More difficult operation than other hosting types.
VPS Hosting
Keep these five points in mind when choosing web hosting:
Do you want to create a blog that will bring high traffic?
Is the setup process easy?
Is there customer support or customer support?
Are there features to create a functional and professional blog?
How much is the subscription fee?
#3. Register a domain name
The unique URL address that each website has is called the domain name. Since a domain name determines the success of your blog, there are many things to consider. Also, don't be in a hurry to register it. Do it with care. If necessary, use the domain name generator tool to get potential domain names.
If there is already a potential domain, check its availability with the domain check tool. This tool will display the domain name combined with various extensions. Choose the extension that you think fits best.
If you are still confused about the terms domain and extension, please check the tutorial on what is a domain.
You can also read our guide on how to buy a domain on Hostinger for more details.
#4. Installing a blogging platform
A Content Management System ( CMS ) is the perfect platform if you are looking to try out how to create a new blog. With a CMS, you can:
Create a blog without having to learn coding and other programming languages ​​first.
Publish content and create new content.
Dedicate yourself entirely to writing content, without having to worry about technicalities.
Adding new features with the help of plugins and modules.
Set the appearance of the blog by applying a free theme in the  CMS library.
Three blogging platforms that we recommend:
All three platforms can be installed easily and quickly on Hostinger. Just one click!
WordPress

WordPress is the most popular CMS. No wonder so many people use this platform to create blogs. In addition, WordPress also provides an easy setup because it doesn't require users to understand coding.
We are also WordPress users because we use this CMS as a blogging platform for Technadvice.
Advantages:
Easy to use and beginner-friendly.
Has a  library of free plugins and themes.
Provides easy SEO management.
Deficiency:
Frequent updates ( updates ).
Require maintenance ( maintenance ) periodically.
Joomla

Joomla is a WordPress competitor that is both open-source and home to many blogs.
This CMS can be installed and managed without having to master the coding system first. In fact, according to some people, publishing blog content on Joomla is easier than on other platforms. However, it all comes back to the assessment of each user.
A large collection of free extensions and plugins makes Joomla the perfect platform for blogging.
Advantages:
Can be installed and managed easily by beginners ( beginner-friendly ).
Has an intuitive admin dashboard.
Offers more than 70 language choices.
Deficiency:
Less flexible than WordPress or Drupal.
The security system was weakened.
Drupal

Drupal is a popular content management system among web developers.
This CMS offers the best customization options, especially when it comes to using complex features.
Unlike WordPress and Joomla, Drupal requires users to understand the coding system. However, blogs are made more flexible.
Advantages:
More dedicated to web developers.
Offers adding and activation of more complex features.
Flexible and safe.
Deficiency:
More difficult operation than WordPress and Joomla
Requires mastery of technical fields.
The scope of the blogging community is narrower.
After exploring the advantages and disadvantages, then we will describe how to install the three blogging platforms above.
How to Install WordPress
How to create a blog on WordPress is very easy. But before that, you have to install this CMS first. For those who have an account at Hostinger, installation can be done via the control panel. Select  Auto Installer.

Select  WordPress and follow the required steps.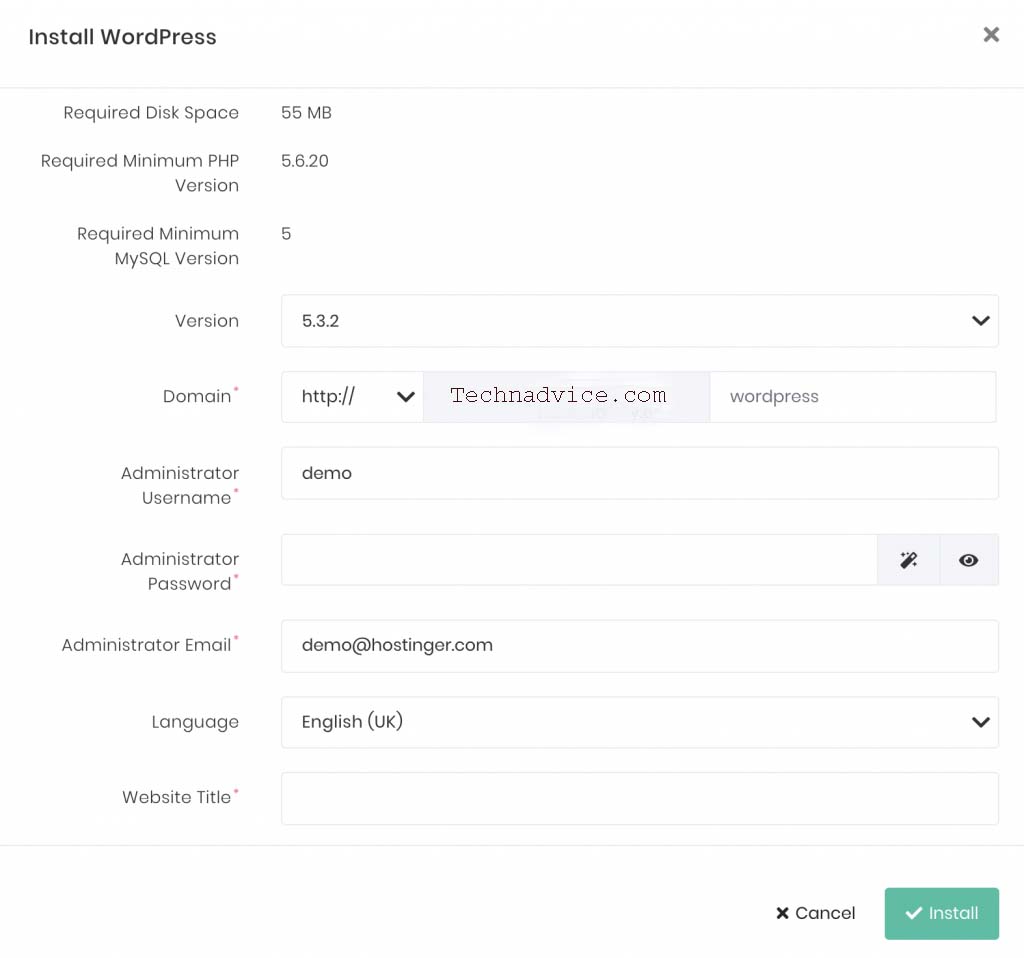 Admin Area
WordPress makes blog management easy through its intuitive dashboard.
To access the WordPress dashboard, type  yourdomain.com/wp-admin in a browser.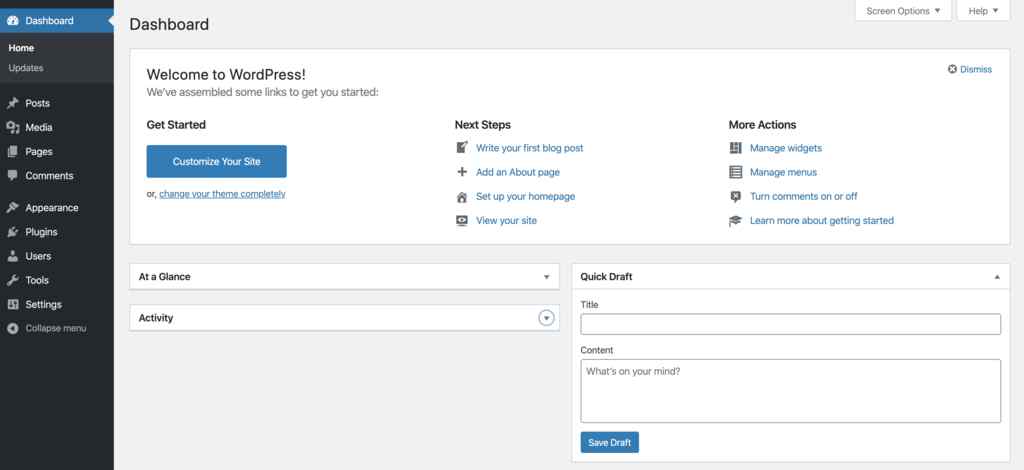 Theme
Click  Appearance to view a collection of free WordPress themes. Choose the theme you want.

Confused by the choice of themes? You can try reading articles on free WordPress themes first.
Plugins
Click on  Plugins to see a collection of free plugins. The plugin will enhance the functionality of your blog.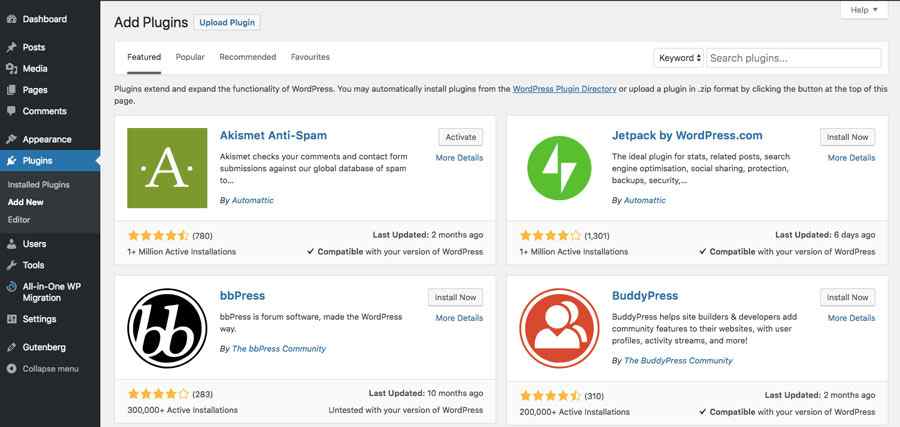 Here are  three plugins that are mandatory for every type of blog:
Yoast SEO – optimizes posts to be SEO-friendly.
Akismet Anti-Spam – secures comments from spam.
Jetpack – offers a feature set for system security, performance, statistics, and much more.
How to create blog posts and blog pages
Click on  Pages and create a new page (for example, About Us, Contact Us, etc.) for your blog.

Click  Posts to see a list of blog posts. Select  Add New to create a new post.

Check out the WordPress tutorial if you want more complete information about this CMS.
How to Install Joomla
Joomla can be installed easily on Hostinger. First, select  Auto Installer and then follow the steps that appear.

Admin Area
To enter the Joomla admin dashboard, type yourdomain.com/administratorURL in the browser address field.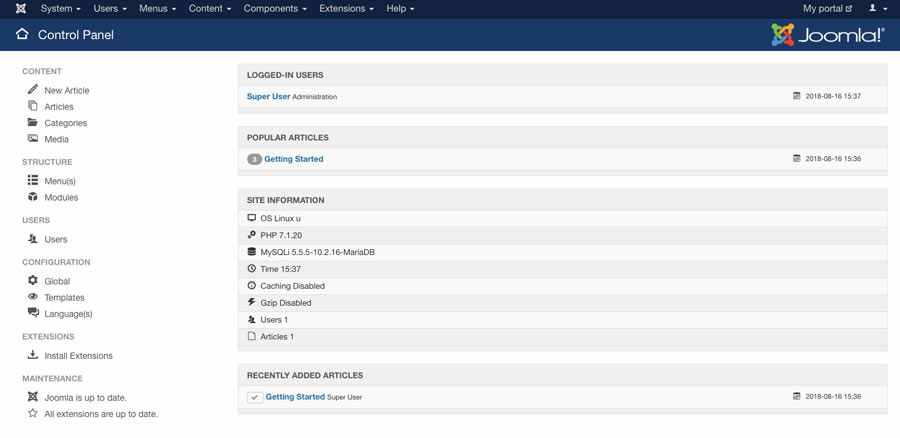 Templates
Click  Templates to change the look and design of your blog and choose a new theme.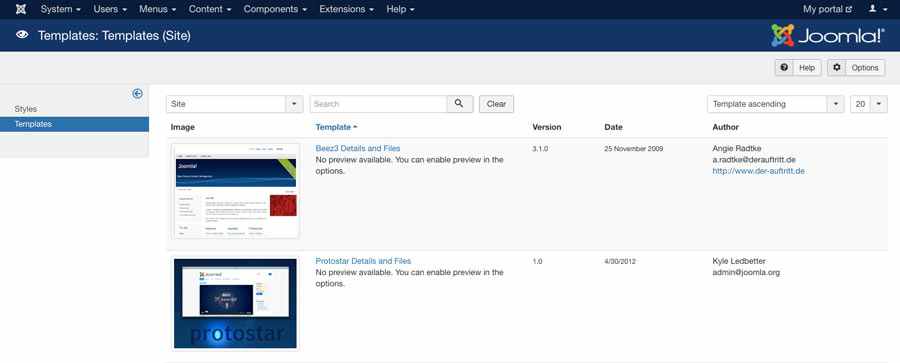 Module
Click  Modules to manage functions or features.

Here are  three plugins or modules that are mandatory for every blog created on Joomla:
K2 – added features and functions to make content management easier.
EasyBlog – replace the default article system with a more efficient one.
Komento – helps you manage comments effectively.
How to create a blog post
Go to  Articles and create a new post.

How to Install Drupal
Just like WordPress and Joomla, Drupal setup on Hostinger is also done through the control panel. Select Auto Installer.

Admin Area
To log in to the Drupal admin dashboard, type  yourdomain.com/user/login in the browser field.

Theme
To change the look and design of the blog, open  Appearance.

Module
Open the Extend tab and activate a number of new features and functions on the blog by installing the module.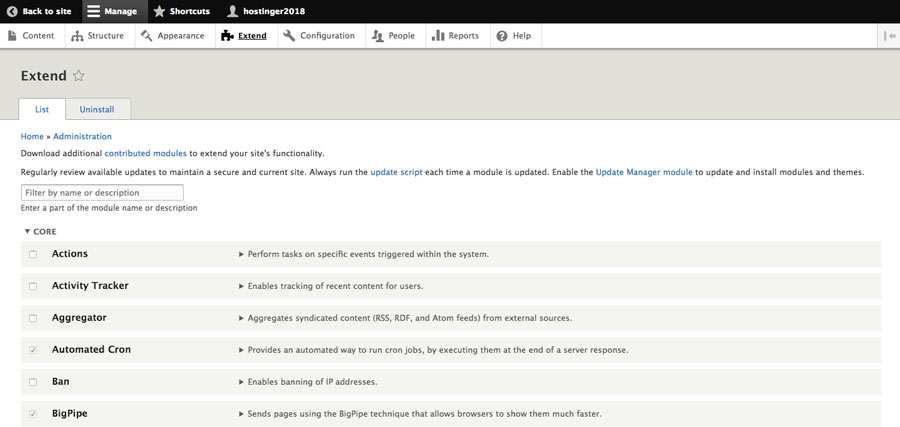 Here are  three modules we recommend for Drupal-based blogs:
Admin Toolbar – replace the old toolbar with a new, more flexible toolbar.
ShareThis – makes it easier for you to share posts on social media platforms.
Image Effects – add effects to images in blog posts.
How to make a blog post
Open the Content tab and create posts, pages, etc. related to content. In this tab, you can do everything from writing to editing content.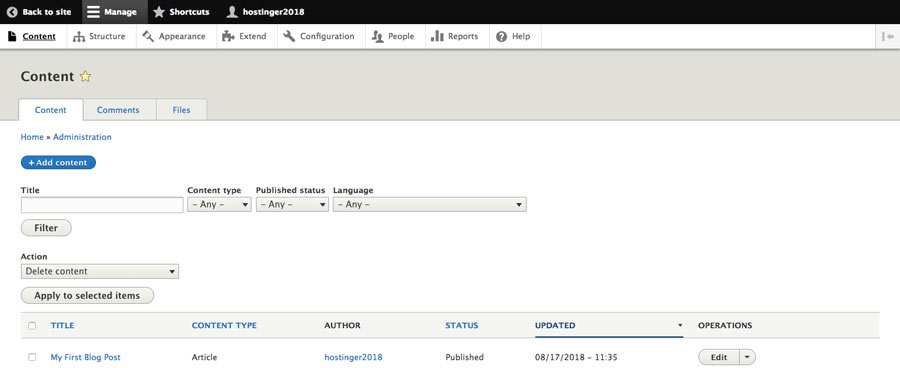 #5. Publish content and build blogs
You already know three blogging platforms on how to install them. After this, we'll cover another important part of the blog, which is content.
How should the content be created?
Make content that is informative and useful for your target audience. Never publish content that is not mastered or that you do not have time to delve into.
As a blogger, of course, you hope readers continue to visit your blog. Apart from ensuring quality content, you also need to be creative. To make it interesting, add photos, graphics, or other visual media that match your writing style to the content or post.
Enable the comments column in each post so that readers can virtually communicate with you. Ask for their opinion or suggestions and criticism about the post or what they want to read later on your blog.
When creating content, don't immediately expect the blog to be crowded. One post takes a long time to appear on the start page of search engines like Google. However, this should not dampen your spirits. Continue to make quality posts. Little by little, build a blog that offers a solution for its readers.
Static page
Static pages are pages that don't change and usually contain static content as well. Complete the blog with static pages, such as:
About us (about us) – On this page, add information about who you are and why this blog was created. Write the purpose of the blog, whether it is focused on business matters, hobbies, or personal stories.
Contacts – On this page, you can display your email address, social media account, email to subscribe to, or other contact addresses that make it easier for readers to communicate with you.
Sidebar / Menu – Columns or bars at the top of the screen, such as blog categories, advertisements, other static pages, etc.
Content and blog posts
Blog posts (blog posts) – In blog posts, you are free to publish anything, from text to photos to videos. You can also combine these three media to produce informative posts.
Seasonal content – That doesn't mean you shouldn't publish posts that are valid only at that time. That doesn't mean you shouldn't review content by following trending topics. You are welcome to write any content. It's just that, it would be better if the content created is content that is relevant to the audience whenever it is read. Make sure to always update the content with the latest and valid information.
What is a content strategy?
The content strategy referred to here is a long-term content management plan that is to be implemented on blogs.
If there is no careful planning, you will find it difficult to create posts that catch the attention of readers. Moreover, there are more than 4.4 million blog posts published every day.
This is where content strategy comes into play. Ask yourself the following questions:
Why do you blog and write content?
What type of content should you create?
Is the content created can achieve the expected goals? And how?
How to plan a strategy
Here's a quick guide to building a good strategy:
Set goals. Is there anything you want to achieve by creating a blog? Be specific. For example, suppose you want to bring  3000 readers to your blog at the end of the month or optimize two posts to appear on the first page of Google within two weeks.
Do audience research? Who is the target of your blog? Find out what kind of content they like, what problems they encounter, and what social media platforms they use.
List potential topics and keywords. Every post is required to have keywords. Determine the target keywords that can bring your post to the first page of Google. Use tools like Google Keyword Planner, Ahrefs Keyword Explorer, and SEMrush Keyword Research. The keywords used must match the niche.
Make a schedule. To keep you consistent and productive, make a schedule for when to blog and when to publish it.
Spread blog content on social media, create mailing lists, and run backlinks. Find out how your blog is performing in Google Analytics.
#6. Promote the blog
Because the appearance of posts on the front page of Google takes a long time, the existence of your blog is difficult to know. One of the ways to get your blog known to many people and reach the right audience is by promoting it.
Word of mouth, among family and friends – let those closest to you know if you now have your own blog. Ask for their help to spread it through social media. If necessary, add them to the mailing list so you don't miss the latest content.
Add a blog to the search engine – your blog will be indexed. That means your blog will be added to the search engine site list. Create an account on Google and select  Submit URL in Webmaster Tools. Apart from Google, you can also add blogs to Bing and other search engines.
Be an active blogger  – check out blogs, social media, forums, and other media relevant to your niche. Join the blogging community to build relationships not only with bloggers but also with your audience.
Be active on social networks  – In order for your blog to get more traffic, the first step you should take is to follow other blogs in your niche. Write comments on posts and create connections.
Guest blog  – offers writing services for posts on other websites or blogs. Make sure the blog you choose has a good reputation and uses the same niche.
Mailing list – send emails to readers with the latest articles or upcoming offers. The more people waiting for the blog post, the better the response.
Advertising or paid traffic  – advertising is seen as one of the best marketing strategies. You can promote your blog by placing ads on Facebook or Google AdWords. Use this option only if you really have a budget allocated for advertising.
#7. Make money through blogs
Apart from being a forum for channeling opinions and sharing information, blogs can also be a main or side source of income. What do you think about how to create a blog that makes money?
Advertise on the blog – choose ads that are specific and relevant to the target audience or according to the topic written. You can start this strategy using Google Adsense.
Affiliate program – through this program, you will work with businesses to promote their products and services. Later you will get a commission. To join this program, your blog must have high and credible traffic. As an affiliate, you will be given an affiliate link to post or include on your blog.
Selling products and services – You can sell your own products and services on a blog. Install an eCommerce plugin, for example, WooCommerce, and make it easy for your audience to find the product you want, add it to a shopping cart (cart), and make payments.
Sponsored posts – if the blog is crowded, the opportunity for other parties to advertise on your blog is even wider. The purpose of placing ads on high-traffic blogs is to increase exposure. Payment will be based on how many times the post was clicked, the number of visits, or transactions.
Turn your blog into an online portfolio – if you have good writing skills, turn your blog into a site that provides writing services. You can also hold online writing workshops or volunteer as a freelance writer.
How to display ads on a blog
There are two ways to display ads on a blog, namely by using the Google AdSense tool and providing advertising space.
How to create a blog that makes money with Google AdSense:
Create an account on Google Adsense.
Connect Google AdSense to the blog and wait for confirmation in the form of an approval email.
Create an ad unit and add a widget to embed AdSense code on your blog.
How to create a blog and make money by providing advertising space:
Add attractive media to display status and important information related to your blog.
Send an email to the advertiser (advertiser) and let them know if you provide advertising space on the blog. By email, also state your intention to cooperate.
Manage ads with Google Ad Manager.
Make a report on their ad performance on your blog or offer a discount.
Affiliate Program
You don't always have to sell products to make a profit on the blog. As a blogger, you can earn commissions from businesses by promoting their products or services. Look for merchants that offer affiliate programs to join. Before deciding to join, make sure the merchants or products are promoted using the same niche as your niche.
After creating an affiliate account, you will receive various marketing materials, such as affiliate banners and links. Post anywhere or include it in posts. Every time a new visitor clicks on an ad and makes a payment, you will earn a commission.
For those who review web development content and web hosting-related posts, You can join Hostinger's Affiliate Program.
You don't have to pay anything to join this program. Apart from getting marketing materials, you will also be given an account equipped with an affiliate control panel, an Affiliate Manager, and a minimum commission of  60% for each sale.
Amazon Associates is a form of affiliate program that Amazon offers. This program can be followed by various blogs because it offers a variety of niches. There are also affiliate networks available, such as CJ Affiliate and ShareASale. Check out the merchant groups in the network and choose an affiliate program that fits the blog niche.
Write/sell eBooks (digital books)
For those of you who like to write or master certain fields, making and publishing your own digital books can be another interesting solution to increase your coffers.
If you are not confident, you can start with a blog post. Review one specific topic. Here's a summary of the guidelines:
Pick a topic and start writing.
Choose the ebook format – PDF, EPUB, AZW, or MOBI.
Choose software to create an ebook – Caliber, Any eBook Converter, Google Docs, etc.
Publish ebooks on blogs or platforms such as Kindle Direct Publishing, Kobo Writing Life, and eBooks.com.
If you don't have time to write a book, you can join an affiliate program. For example, reviewing and recommending other authors' books. Later you will be given a commission if a visitor clicks on the affiliate link and makes a purchase.
Digital book retailers, such as eBooks and Free-Ebooks, have affiliate programs that they can join for free. This retailer has its own commission system.
Cooperation affiliate ( affiliate partnership ) is also offered by many famous bloggers, for example, Remez Sasson ( Success Consciousness ).
Tips for Blogging Success
If you want to be successful, you have to plan carefully. In addition to providing more efficient results, having clear goals and views will make it easier for you to complete each job.
Likewise with blogs that are owned today. You can't just stop at the search for how to make a good blog. However, you also have to understand how it works.
Each post generates organic traffic (organic traffic) and brings new readers to the blog. For this reason, you must have a goal to present what kind of content blog visitors deserve to read.
Here are some effective blogging tips:
#1. Learn the basics of SEO
Search engine optimization is one of the skills you must have if you want your blog to appear on the front page of Google.
By understanding the basics of SEO, you can compete fairly with other bloggers. You also know how to write or create SEO-friendly content while sticking to a niche.
Here are three tutorials that can be used as resources for learning SEO:
#2. Do keyword research
Keyword research is part of SEO. If a post contains target keywords, it will rank faster on Google search pages.
First of all, identify the niche you are using. Join online communities and read blogs on the same topic. Later you will find similarities in each blog or maybe there are blogs that do not provide a solution for their readers. List and search for potential topics.
Another way to research keywords is with Google Keyword Planner. To use it, you only need to create a Google account. This tool will display a list of keywords and topic ideas based on the blog niche.
If you want more comprehensive keyword data, you can use premium tools, such as Ahrefs Keyword Explorer and SEMrush Keyword Research. This tool will suggest a number of keywords along with search volume and SEO metrics.
Other tools that offer free membership services are:
Google Trends – will categorize keywords based on popular phrases and search terms (search terms).
Answer the Public – displays the most searched questions and keywords.
KWFinder – not only keywords, but this free tool will also show you search volume and other statistics.
#3. Competitor research
As a new blogger, you have to know who your competitors are in the same niche. Besides being more aware, researching competitors also provides ideas and ideas for creating new content.
First of all, make a list of  5-10 blogs that rank well. Then, use a special tool, such as SimilarWeb, to generate a performance report.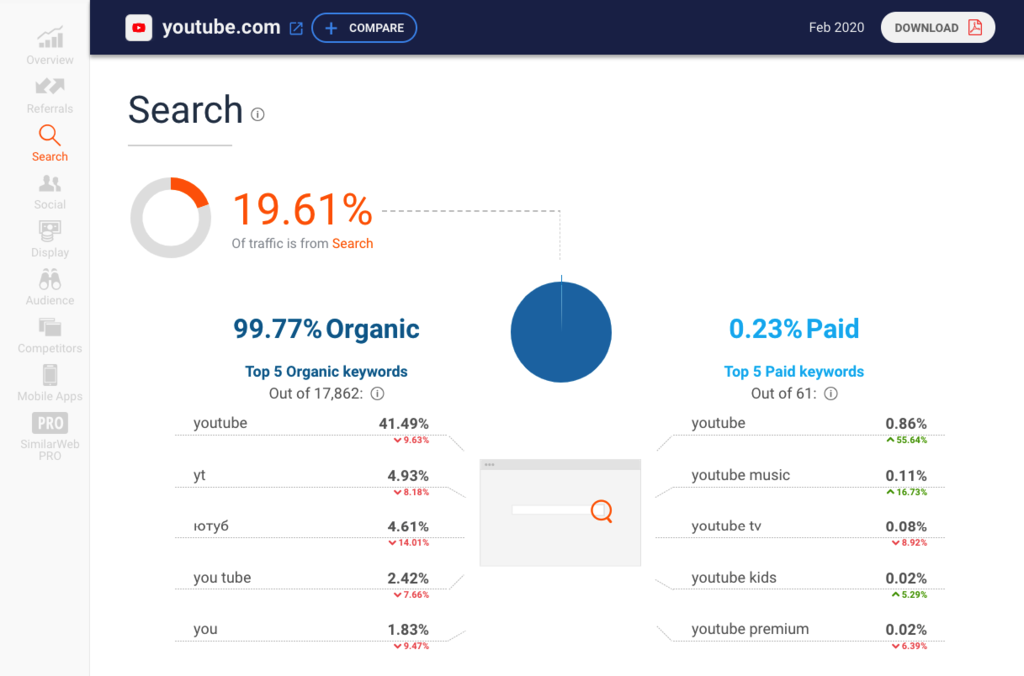 Although the free version provides limited statistical data, you can still view data for  5  paid and organic keywords. From this report, you can determine what kind of content should be published on the blog.
#4. Planning for content creation
Create a spreadsheet and add potential ideas to it. Start with a general topic, then narrow it down by describing more specific topics. If there is a specific topic that you really master, you can use it as the main content.
After publishing it, don't immediately expect that the post will bring in lots of new readers. So, you have to be patient while still posting quality content. Enable the schedule feature to publish articles automatically and monitor the progress of your blog.
#5. Create social media accounts
Building an online persona is not an easy matter. Fortunately, in this online era, there is social media. This platform makes it easy for anyone who wants to perfect their online persona on the internet.
Having a social media account means that it opens up wider opportunities for user engagement. You can share new articles, plans for upcoming articles, and articles that have been updated with the latest information.
Facebook and Twitter are examples of social media with huge followers. Apart from building friendships with blog readers, you can also ask for feedback from them. This way, you will know what they are really experiencing and feeling.
Social media is also a powerful marketing strategy because it can attract new readers or visitors. If your content is useful, they will not hesitate to share it through social media channels. Gradually, blogs will develop and opportunities to make money will also be wide open.
#6. Write a guest post
It is called a guest post or guest blogging because you write an article on another website and include one or two links that point to your blog. By creating a guest post, you have the opportunity to introduce your blog to a wider audience. In addition, guest posting is also a strategy to get external links or links from other websites.
Then, how can you write guest posts on other websites or blogs?
Do some research. Look for blogs and bloggers who have a good reputation in your niche and in the industry you are currently in. See how they write the content. Consider style, voice, or tone to achieve uniformity. After that, read the conditions set for the guest post.
Make connections. Write comments, share content, subscribe to newsletters, and follow their social media accounts. Dare yourself to join the community and convey that you have the same values or views.
Ask for approval to write a guest post. Submit a draft of the article and wait for their response.
Create quality content. If they agree, create informative content. Include two internet links, one to your blog and the other to other online sources. Add short sentences that invite readers to write suggestions and criticisms in the comments column.
Follow up. Check articles frequently after they are published. Answer questions in the comments column or maybe make a new guest post. Keep in touch with the blog owner.
If you want to explore guest posts, please read Ahrefs's article entitled Guest Blogging for SEO: How to Build High-quality Links at Scale.
#7. Using Google Analytics
One way to create a blog to be more successful and able to compete with competitors is to check the amount of traffic that is coming.
Traffic seems to tell what the audience is looking for and wants. These results you can use to create content.
The best tool for checking visitor numbers, their behavior, and other social metrics is Google Analytics.

There is no fee to be paid to run this software. Every blogger and website owner can record everything related to the audience.
If what you're looking for is how to create a blog with WordPress, this guide to adding Google Analytics to your CMS platform is worth reading.
8. Adding new content to Google
Every day thousands of new websites are created and millions of blog articles are published. It's no wonder that Google and other search engines need time to index new content. Fortunately, there are 'shortcuts' to getting your content indexable.
Adding a content page or blog to Google Search Console will make it easier for you to:
Monitor blog performance.
Receive alerts in case something goes wrong on your blog.
Using various testing tools.
Get more insight and learning material.
This strategy will also 'force' Google to crawl your blog or content.

#9. Creating backlinks
Apart from entering keywords, strengthening the blog profile by building backlinks is also important. Even backlinks are one of the factors that influence Google in ranking a website or blog.
Publishing a lot of content at once or updating posts with quality information is not enough. If you want your blog to appear on Google's search pages, at least you have to get links from other websites (backlinks).
To understand this strategy, read the following guides:
#10. Patience is the key
How to create a blog until finally visited by many readers takes a lot of time. It's no wonder that for some people, blogs are a long-term investment
Blogs do not automatically appear on the Google SERP, especially those that are new. According to some SEO specialists, there is a period of time during which your content is 'buried' and ultimately 'noticed' by Google (also known as the Google Sandbox ).
So, do not immediately be prejudiced if the blog has not yet surfaced. Wait a few moments, and see how your blog is performing on Google.
#11. Adding a CTA (Call to action)
CTAs or call-to-action can be in any form of text, for example inviting readers to subscribe to a newsletter, read the latest posts, buy products, upgrade services, etc.
Every blog post must have at least one CTA even though it's simple, such as inviting readers to leave comments in the provided column.
#12. Check the blog loading time
Not only does it determine the ranking of the blog on search engines, loading times also affect visitor behavior. If blog pages take longer to load, readers don't hesitate to click the exit or exit button.
To check the loading speed of blog pages or content, use a tool, such as Pingdom or GTmetrix.
Meanwhile, to optimize pages to speed up loading, check image sizes, install caching plugins, or subscribe to web hosting that offers server speed.
#13. Maintain (maintain) the blog
Let's say there are two types of blogs. Blog A contains great content but there are errors in a number of areas and the installed plugins don't work at all. Meanwhile, blog B has performed well from all sides. Which one will the readers choose? Of course blog B, right?
Maintain a blog by updating CMS software, plugins, and themes. Make a schedule to back up the site and check for broken links in previous posts. Optimize the database and complete articles with the latest valid data and information.
#14. Auditing content
The way to make a blog even cooler is by auditing the content. Check blog posts regularly and update any information. Give readers an up-to-date article.
If there are two posts discussing the same topic, combine the two topics. On the other hand, if there is a post that you think is no longer relevant, feel free to delete it. Create a 301 error page to redirect readers from deleted posts to the newest posts. Lastly, remove all broken links.
Other Important Tools and Resources for Running a Blog
Whether it's how to create a personal or business blog, you need important tools in managing every post. Especially if you plan on adding images, or editing content, or publishing scheduled posts.
Picture
Apart from making the blog more attractive, using images also increases the SEO-friendly factor.
Every blogging platform has special tools for adding titles, descriptions, tags, and alt text to images. Also, include relevant keywords in the image name or description text to make it easier for Google to index it.
Unsplash is one such website that provides millions of high-resolution images. You can download it for free and use it for your personal or commercial blog. You don't need to create an account or upgrade to a paid plan.
Apart from Unsplash, there are also Pixabay and Life of Pix which provide various collections of interesting images for your blog.
Unfortunately, because they are free, these images are also used by other websites. If you want a unique, off-the-shelf image, switch to the premium images that Death to Stock provides.
The sale price for each photo varies, from  $ 99  for personal use to $ 299 for commercial use. You can also directly subscribe to the Brand package at a cost of  12 USD / month, which is paid annually. This package offers a free trial period of 14 days, a collection of images that vary each month, and a license.
Design
The appearance and attractive design of the blog will amaze blog visitors. If you don't have any design skills or doubt that you can produce an elegant look, use the best design tools below.
Canva
Canva is a free design tool that we recommend for you. But first, it's a good idea to take an online course or read the tutorial first at Canva's Design School. This way, you can better understand the basics of design and branding.
Canva has an easy-to-use admin dashboard and editor area. There are various templates available for various uses, such as posters, logos, infographics, websites, social media posts, and much more. You can also create your own templates from scratch.
You are free to arrange and customize each element. What's more, Canva also comes in the form of a mobile device application. So, you can edit your blog or logo design from anywhere. However, the smartphone application settings are limited, it's different if you use Canva via a computer.
Canva's help page contains many articles and guides that will make it easier for you to operate this design tool.
Canva complements the free version with  1 GB of storage, thousands of templates, photos, and graphics. You are also allowed to export your designs in PDF, PNG, and JPG formats. Canva also allows collaboration between team members.
Visme
Another alternative design tool is Visme. Make posts more engaging by adding infographics, blog banners, social media graphics, charts, videos, and much more.
There are templates and customizable icons and millions of images. The Visme editor is also very intuitive because it uses drag-and-drop features and granular controls. You can mount content from outside and convert the design to an animated format.
With the free plan, you are allowed to create up to 5 designs. The allocated storage space is  100 MB in size. The template collection is limited, and you can only download files in JPG format. For the premium package, the subscription fee starts from  14 USD to  25 USD / month, payable annually. Upgrade to this package if you really need additional resources.
The Noun Project
How to make a blog more attractive, namely by adding an icon. The Noun Project is a platform where you can start creating icons. To access its millions of icon collections, you don't need to create an account. Just type your desired icon name in the search field.
Download the Creative Commons-licensed black and white icon for free. If you don't want a Creative Commons label, buy a premium icon. Each costs 2.99 USD.
Pixlr
Pixlr is an online photo editor tool that is supported by an artificial intelligence system to provide convenience in photo editing. One example of its AI tool is AI Cutout. The function of this tool is to remove the background and other elements that you don't want.
This platform has two types of editors. First, Pixlr X is aimed at those who are new to the world of photo editing. This type provides an easy interface with various editing options.
Second, Pixlr E is more for those who are good at photo editing. So that even the details do not go unnoticed. This type of editor offers a clean interface and intuitive navigation.
Pixlr is also available in a mobile version. In the free package, you will get limited resources, basic editing tools, and ads. Meanwhile, for the Premium package, you have to pay a subscription fee of  3.99 USD / month. With this package, you will get a variety of powerful features without ads.
PicMonkey
Apart from being a premium photo editor, PicMonkey also functions as a design tool. With this tool, you can improve image quality, add text, and apply filters or effects. All changes will be saved on the internet automatically.
PicMonkey has thousands of design assets, such as graphics, fonts, and textures, which can be used to create logos, advertisements, announcements, infographics, etc. There are customizable templates as well as a blank canvas for those of you who don't want to design from scratch.
This platform can be accessed from anywhere because it is available in a mobile version on iOS and Android. This tool is free to try for seven days. After that, you have to pay  72 USD / year to access 1 GB of cloud storage, a top-tier font library, premium effects, tools, and templates.
Google Docs and Google Calendar
Google Docs is a very effective collaboration tool for you and your team planning to manage a blog. This online editor similar to Microsoft Word can be accessed for free. You can create, edit, and share files or documents.
Team members can immediately write comments or suggestions on the same document in real time. To see changes in the document and who did it, you can check in the history or history section. Google Docs can also be edited in offline mode and is available on iOS / Android devices.
Google Calendar, on the other hand, will help you in setting a schedule for blog post editing and publishing. Set a date or deadline and share it with team members. This tool is also integrated with Hangouts so you can more easily schedule meetings or meetings.
Screen capture application (screenshot)
To support your explanation, there are times when a capture or screenshot has to be added to the post.
Lightshot
Lightshot is a free screen capture software. This software is available for Mac, Windows, Chrome, and other popular browsers.
Screenshot of everything you need, whether it's a large or small screen. Copy and drop the screenshot to the clipboard or save it on your computer. Lightshot also comes with a simple editor tool.
FastStone Screen Capture
If you want to capture your screen in video format, FastStone Screen Capture is the solution. Record screen activity with sound and mouse movements and save it in the WMV file format.
Here our previous article I discussed:10 Best Screenshot Applications for Windows 10 PC
Screenshots can also be saved in eight other formats, such as PNG, JPEG, PDF, and GIF. Equipped with a feature-rich editor, FastStone Screen Capture allows you to add annotations, watermarks, effects, etc. Image files can also be uploaded directly to a blog post.
FastStone Screen Capture offers a free trial period of  30 days. After that, you have to pay for a lifetime license of  19.95 USD.
Snagit
This premium tool has a unique scrolling feature. If you come across a long web page, use this tool, and just scroll down. The screen will be screenshot vertically or horizontally. Snagit can record screens, webcams, and audio. Recordings can be trimmed or formatted into animated GIFs.
Apart from extracting text from screenshots, you can also edit text. Change words, change colors, sizes, and fonts without having to redesign the image.
Try this tool for free for  15 days. After that, you will have to pay a once-in-a-lifetime fee of  49.95 USD.
Check spelling and grammar
In addition to quality, make content that is easy to read and understand. Make sure the content is free of spelling as well as grammar mistakes. Simplify long, complex sentences.
Grammarly
Grammarly is one of the programs that is widely used to check and correct writing errors. This artificial intelligence-based tool will also help you improve the quality of your writing style. It's easy to use, you just need to copy and paste the text.
Grammarly's function is to simplify words, and complete clauses, and also give suggestions on how you should correct any typos you made. The suggestions given are accompanied by a brief explanation so that you can understand what is meant and not repeat the same mistakes.
Grammarly can be integrated with any Word device. Install this tool in a web browser for later use in email and social media.
The free version will only check spelling, grammar, and punctuation. By subscribing to the Premium package for  11.66 USD / month, Grammarly will check text clarity,  engagement, content delivery, and plagiarism.
Ginger
Ginger will check spelling, grammar, and punctuation as well as suggested phrases with different formats. The word predictions feature will also appear as you write content.
If you want to get another perspective, activate the text reader and listen if your content is read in a loud voice. Ginger will analyze the mistakes created and provide practice sessions so that the content can be corrected and updated.
Ginger also offers translation services in 40 languages. This platform is available for Safari, Chrome, Mac, Windows, iOS, and Android keyboards.
You can use the feature checker grammar, spelling, and proofreader at no cost. However, the character length is limited to  450. To get full access, you have to pay a subscription fee of  7.49 USD / month which is payable annually.
Hemingway Editor
Hemingway Editor will turn your content into content that is easy to read and understand.
The free version will detect adverbs, the passive form, phrases that have simpler alternatives, and complex and very complicated sentences. The readability score is in the form of a value or number displayed in the upper right corner of the page.
The desktop version,  Premium, requires you to pay  19.99 USD. By subscribing to this package, you don't have to rely on an internet connection. Edited posts can also be published directly on Medium and WordPress, or exported to other Word tools.
Online Correction
An online Correction is also a free tool for detecting basic errors in grammar. Later this tool will display suggestions or solutions to fix the error. Don't want to bother? You can activate auto-correct.
Apart from English, Online Correction is also available in German, French, and Russian. Including the dialect. Because it's free, there are character limitations.
Work with a team
For some people, the way to create a blog to be more organized is to form a work team. Posts can be published regularly, and can also be updated when needed. Following are the must-have project management tools if you manage a blog together with a team.
Slack
Slack is a communication tool that comes in web, computer, and mobile versions. This instant messaging application provides a channel for a private chat or a channel for a chat with the team. It's just that, because of the many options and settings that it has, new users need time to understand it.
In Slack, you can share files from your computer or Google Drive. Audio, video, and screen-sharing features are also available. Notification settings can be adjusted to your liking.
Slack can be integrated into more than  2000 applications, such as Gmail, Trello, Google Calendar, and Office 365. Data and information will be negotiated with a two-factor authentication system and SAML-based single sign-on (SSO).
The free version offers more than enough features, for example, there are no restrictions on creating channels, one-on-one calls (calls between two people), and file sharing. Upgrade to the Standard package if you need additional storage space, group calls, security system, etc. The subscription fee is  6.79 USD / month for one person.
Asana
The next team collaboration tool is Asana. Besides being equipped with an attractive dashboard display, Asana also provides real-time communication, multiple workspaces, a drag-and-drop feature, and easy navigation.
With this platform, you can create a to-do list and add tasks to the board. Use the Timeline and Calendar to schedule content creation and track progress. To see the tasks of each team member, check Workload.
Integrate Asana into various applications, such as Slack, Office 365, Power Bi, Tableau, etc. Enable automatic features to save time and minimize errors. For security systems, Asana is SOC 2 Type II certified.
In the free version of Asana, you can work with 15  people. However, if you want to get more advanced reports and maximize tool management, upgrade your free account to the Premium plan. The subscription fee is  10.99 USD per month for one user. You can try the Premium package for 30 days at no cost.
Trello
The way to make a blog to be more organized is to add project management tools like Trello. Inside, there is a board, list (list), and task card along with drag-and-drop features, and an intuitive interface.
You can create your own board or use a template. This board can be set to private,  team, organization, or public. To make it more interesting, change the background and board color. To add team members, you only need to include a username, link, or email.
Trello cards can be labeled, and accompanied by a checklist, attachments, and deadline dates. Delegate tasks to individual members with just one click. Integration add-ons and power-ups are available. Connect Trello to Google Drive, Slack, Dropbox, etc.
If you use the free version, you can create as many boards, lists, and cards as possible. If one day you want to create a team board without any restrictions and also get other advanced features, upgrade the free package to the Business Class package. The fee is  9.99 USD / month for one person.
Online Community
It is very important for a blogger to build communication with readers and followers. Create an online community on the blog and open discussions with visitors.
Facebook Group
The number of Facebook users is predicted to increase to 1.69 billion. With Facebook Group activated, it is likely that your posts will appear in other users' feeds.
Facebook Group privacy settings can be adjusted according to your goals, whether you want to open it to Public or Private and Visible.
If you choose  Public, anyone can join or view group posts and activities. Your blog post can also reach new readers and followers. To keep the flow of discussion in line with the blog niche, make strict rules.
If you select  Private and  Visible, members who want to join the group will be confirmed manually. Only those who are already members can read and leave comments on group posts.
LinkedIn
The way to create a blog to have lots of visitors is to introduce it through the community or group on LinkedIn. Although not as big as Facebook, LinkedIn has 690 million users.
LinkedIn is a professional platform. Not only will you get more new readers, but companies that are in the same niche as you will also be interested in reading your blog posts. Who knows in the future there will be cooperation?
A community management feature is available to send weekly emails and provide daily or weekly information about group activities.
The manager's Choice feature lets you pin ( pin ) posts to the top of the feed group.
Reddit
The number of monthly visits to Reddit is over a billion. With these fantastic numbers, your blog posts can generate high traffic.
The platform is home to millions of communities covering a wide variety of topics. These communities are called subreddits. Anyone who has created an account on Reddit can contribute but still comply with applicable policies and regulations.
As a subreddit moderator, you can filter the post types allowed in the sub, remove inappropriate content, and suspend users from the community. You can also personalize the subview.
One thing you should know, Reddit is different from other social media. This entertainment platform has a downvote system. If your content is bad, users will 'downvote' as a sign that they don't like your post.
Schedule a blog post published on social media
One of the ways to create a blog so that it is better known to people is to promote it through social media platforms. If you have multiple social media accounts, the following tools will help you make blog post publication easier.
Hootsuite
Hootsuite offers the convenience of managing multiple social media accounts from just one platform. You can set a schedule and publish posts on social media according to a set time. This tool will track social media activity and marketing campaigns and also monitor their performance.
The free version of Hootsuite only allows you to manage three social media accounts, schedule up to  30 posts, and integrate them with the basic app.
If you have more than ten accounts, we recommend subscribing to the premium package. The amount paid starts from 19 USD / month with a free trial period of 30 days. There is no limit to the number of posts that can be published, and you can view performance metrics as insights on your blog.
Buffer
An alternative to how to create a blog to make it more lively is Buffer. Create interesting content, then publish it to various social media networks from just one admin dashboard. Set the schedule on each social media account, and check the timeline via the calendar.
Buffer can also be relied on for marketing on Instagram. Show the first comment while setting the post-publishing schedule. Add a blog link in the Instagram bio and get traffic from there. A reminder will appear when it's time to publish a blog post.
Get to know the advantages and disadvantages of this tool by taking advantage of the 14-day free-trial guarantee. The use of a credit card is not required. The subscription fee for the base package is  12 USD / month and is payable annually. Later you can manage eight social media accounts and set a publication schedule for up to  100 posts.
Time management
Sometimes writing can be a tedious activity. In order for you to stay focused and 'stick to' a set schedule, try using some of the tools below.
E.gg Timer
This time management tool is free and easy to use.
Writing is a way of keeping a blog busy and full of quality content. However, sometimes writing is tiring. Naturally, if you want to take a break. With E.gg Timer, your rest time becomes more organized.
Set your own time or use the available time, for example, one hour,  Podomoro system, morning routine, and so on. E.gg Timer also comes with an alert type, volume, and pop-up box.
Toggl
Toggl is specially designed as a time management and productivity tool. Apart from keeping track of time, Toggle also functions as an editorial calendar – setting a schedule for publishing blog posts.
With the freemium plan, you can set timers, change reminders, and integrate Toggl with more than  100  online applications, including calendars. This time management tool also has a reporting system that will export tracking data to PDF, Excel, and CSV files.
There is a dashboard to create a project timeline and track its progress. Toggl is available for computers, iOS, Android, and Chrome.
Why You Should Start a Blog?
There are a number of reasons why until now there are still many people who type in the keywords how to create a blog in search engines. One of them is that blogs are known as a platform to hone writing skills and other creativity.
Even though blogs are closely related to writing activities, some of the reasons below can be the basis for why you should have a blog from now on.
Develop yourself and your abilities. In general, bloggers use blogs as a forum to express opinions and deepen their knowledge in a field. Even if managed properly, blogs can be a weapon to show a portfolio when you want to find a full-time job ( full-time ) or casual work ( freelance ).
Increase brand awareness. Not only pursuing profit and profit, business people must also be able to increase brand awareness. By having a blog, you can share information with your audience, and even take your business to a higher level and to a wider reach.
Acquired user. Many premium channels ask you to pay a subscription fee (for example, Google Ads) in order to attract attention and acquire new users. If you blog, you don't need to be constantly spending money. Although it takes time to generate a lot of traffic, blogs can be a platform that will generate new sales and increase conversions.
Easier to be tracked on a search engine. To get more organic search ( organic search ), blogging is one solution. The key is to keep traffic stable.
Opportunity to be the next influencer. Let's just say you have mastered a field well. By having a blog, you can channel these skills and share them with your readers. Blogging will build online personas, make new relationships, and even introduce ideas and ideas you have.
Learn WordPress
Many articles contain guides on how to create a Blog or a website on WordPress. However, do you already know and understand this CMS platform well? On the internet, there are tons of articles and tutorials online that make it easy for you to learn WordPress.
As a first step, you can start from the WordPress help page. On this page, you can find all the information you need, from how to install WordPress, and how to customize it, to how to maintain a website.
There is also a website that dedicates a page of the knowledge base  (basic knowledge) to discuss things related to WordPress, such as the Hostinger tutorial and HostingWiki. Everything you can access, such as glossary articles and other comprehensive guides.
Google and YouTube are also great sources if you need a video tutorial.
Can You Change Your Blog Name?
You are free to replace the old blog name with a new blog name. However, this replacement will have a number of consequences. So, when creating a blog name, we recommend careful consideration.
You are allowed to change the blog name if you are in this situation:
The current blog name is not original or confusing to readers.
The blog name and URL do not match.
The blog niche was changed.
The consequences if you change the blog name:
Confusing readers who frequently visit your blog, the online persona that is built will feel useless.
External links from other sites pointing to your blog will be affected.
You will need to create a 301 redirect page.
How Much Traffic Does It Take To Get A Sponsor?
Unfortunately, there is no specific answer. If the blog has received visits of at least  1000  readers, you can apply for cooperation. The blog should be kept up to date and maintained, showing the sponsor that you are serious about this.
Here are some tips for getting blog sponsorship:
Have a media kit. Include a brief introduction about yourself, your blog, and its mission. Add contact information, social media accounts, number of unique visits, page views, page rank, and reader analytics.
Proactively seek sponsorships. If the blog traffic is still low, feel free to look for sponsors. Show your intention to advertise through a blog post.
Make a list of partnerships or collaborations. Do your research and look for sponsors who have the potential to work with you.
Join the network of sponsored posts. Acorn and TapInfluence are two examples of networks you can join. Complete your profile data and you will be matched with companies interested in working together.
Do I Need to Know Coding for How to Create a Blog?
How to create a blog doesn't have to involve coding and other programming languages. With your programming classes you can order Python homework help to solve any issues but for Website builders, like Zyro, will make it easier for you to create the website you want.
This tool is equipped with a user-friendly dashboard, a WYSIWYG editor (what you see is what you get), and a drag-and-drop function. Thanks to the collection of customizable templates, you don't have to create a blog from scratch
Another option for beginners is how to create a blog on WordPress. This content management system has a slightly more complex interface and features than free platforms like Blogspot. However, with many websites that cover WordPress as well as tutorials, forums, and articles, you can easily learn about this platform.
For those who want to apply how to create a free personal blog, you can choose Medium. On this platform, you don't need to subscribe to web hosting and activate a domain. Content creation and publication are the main focus of Medium.
How to Create a Professional Email from a Blog Name
If you want to make money through a blog, you must have a professional email that includes your blog's name. To make it, you already have to subscribe to web hosting and have your own domain.
Later you will use the blog domain name in an email instead of the name of the email platform. For example,  [email protected]  instead of  [email protected]. This way, your email won't end up in your reader's spam box.
Hostinger offers an Email Hosting service that consists of a variety of attractive packages. The prices are affordable, starting from Rp. 14,129 / month. This service is separate from general hosting packages because it is intended for users whose blogs have been online at other providers.
For those who subscribe to hosting at Hostinger, please check the tutorial for creating a business email or follow the three steps below to create an email:
Sign CPanel, scroll to the  Email and choose  Email Accounts (Email Account ).
On the Create a New Email Account page, enter your name and password.
Click  Create.
What are the factors for the success of a blog?
A blog is said to be successful if it is able to generate high traffic and is continuously updated.
Surely there will be a sense of boredom if you continue to write for a long time. Therefore, the way to make a blog to be more qualified is to write a topic that you like. In this way, you will enjoy each process more.
Remember, blogs and their content don't appear on Google immediately. Even if it appears, it may not be on the front page of a search engine. Don't give up quickly if the results are not what you expected. Set standards and goals so that you have the motivation to keep going.
Always be consistent with the blog niche. If the blog niche changes, readers will be confused.
Write content that is informative, quality, and interesting. Such content will bring in lots of visitors and also build a community on the blog.
Apply SEO practices both on the blog itself and in each of its content. Raise the blog's position on search engine pages. If the content is ranked first in Google (organic search), the resulting CTR average is  31.7%.
The visual appearance of the blog is equally important. Find a theme that fits the concept of your blog. Refine the design and layout to ensure reader satisfaction and comfort when browsing the site.
The marketing strategy also plays a big role in blog success. Set target audiences, promote content, and track blog performance to improve its quality.
What Are the Factors for Blog Failure?
There are many factors that cause a blog to fail.
Lack of passion. There's no more excuse for blogging.
The wrong niche. Blog management will become increasingly difficult.
Just focus on writing.
Not implementing SEO practices. And you also don't seem to 'care' whether the content is able to drive more traffic or not.
Create less quality content. The information presented is completely useless and worthless. So why do readers return to your blog?
Promote content with the wrong method. It could be that the target audience is not right or the content is not made for the current blog readers.
Blogs are not mobile-friendly. As much as 51.98% of internet traffic comes from users of mobile devices.
By the end of 2020, the number of bloggers in the United States is predicted to increase to 31.7 million people. Then, what about Indonesia? What's more, with this global pandemic, almost everyone spends time at home. It is possible that there will be many new blogs popping up. So, if there are no differentiating factors that make it unique, your blog will fail.
Read more:
Conclusion:
So, friends, This is the explanation of how to create a blog, and what is needed for a successful blog to attract readers and increase traffic. What are you waiting for? Choose the hosting package you want and start a blog today at Hostinger!
If you still have questions about how to create a blog or just share criticism and suggestions, please leave a comment in the column below.
Don't forget to bookmark and always visit every day Technadvice.com because here you can find the latest technology information such as How-to Guide Tips and Tricks Blogging Digital Marketing Windows Android Root Social Media games, ETC. Best of luck.