How to Restore Deleted Files on Windows Defender (Quarantine) – If you are looking to restore deleted files on windows? then properly follow this guide. Windows Defender is a security feature found on the Windows operating system. This feature is also known as Windows Security and acts as the default antivirus Windows 10.
When a file is detected as a virus or malware, Windows Defender will delete it automatically, even though sometimes the file is the file we need.
Read more:
You will get a pop-up notification when this happens, which reads " Virus & threat protection. Threats found. Microsoft Defender Antivirus found threats. "
Files that have been deleted by Windows Defender can still be recovered. The file is entered into the Quarantine directory. It is in this directory that all files deemed to contain malware will be stored.
In this article, we will discuss how to restore files that have been subject to Windows Defender's Quarantine and how to prevent them from being spared back on the files we still need.
How to restore deleted files on Windows Defender (Quarantine)
1. Enter the Settings menu
The first step is to enter the Settings menu by clicking on the Windows button> selecting Settings.
2. Select Update & Security
Then select the Update & Security menu.
3. Click the Windows Security tab
Once the settings window opens, click on the Windows Security tab.
4. Select the menu Virus & threat protection
In the right panel, click on the menu Virus & threat protection.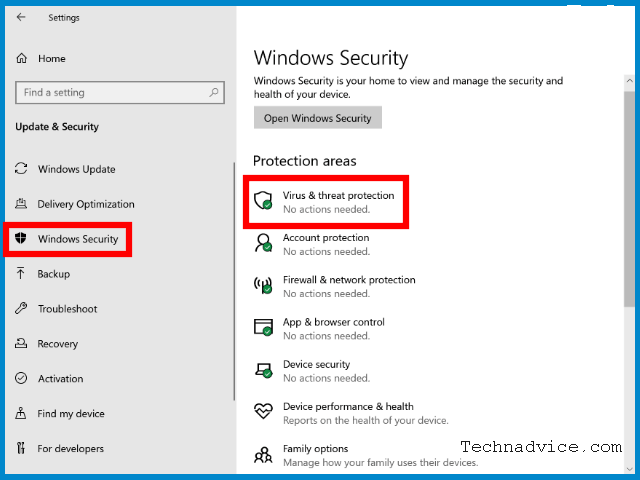 5. Click on Protection history
Then under the menu, Current threats click on Protection history.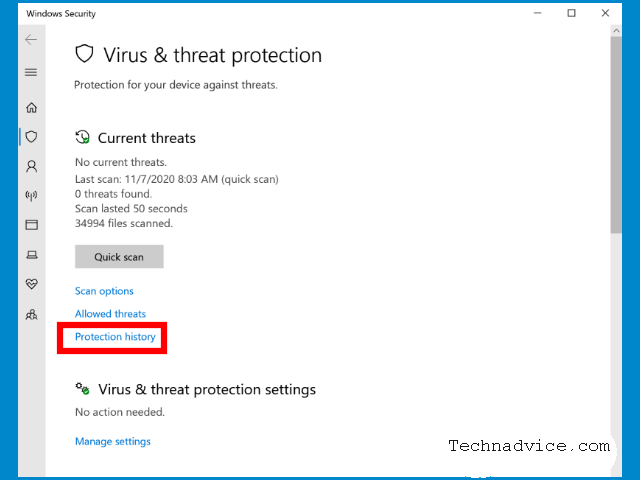 The files in the Quarantined Windows Defender list will appear. There you will find deleted files.
Click on the file> a UAC window will appear> click Yes.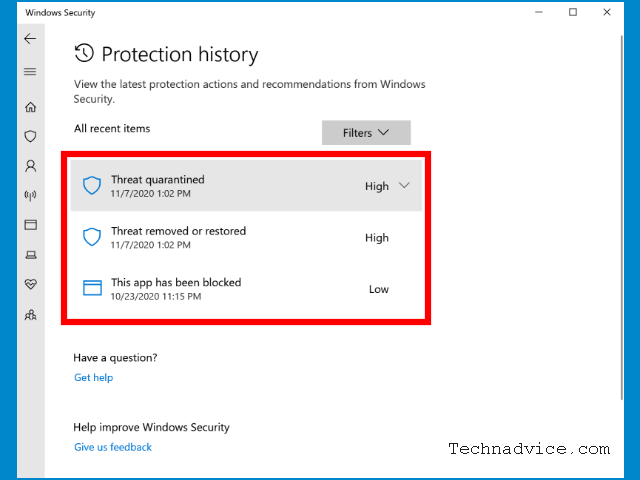 7. Click the restore button
The final step to restore deleted files is to click on the Action button > select Restore.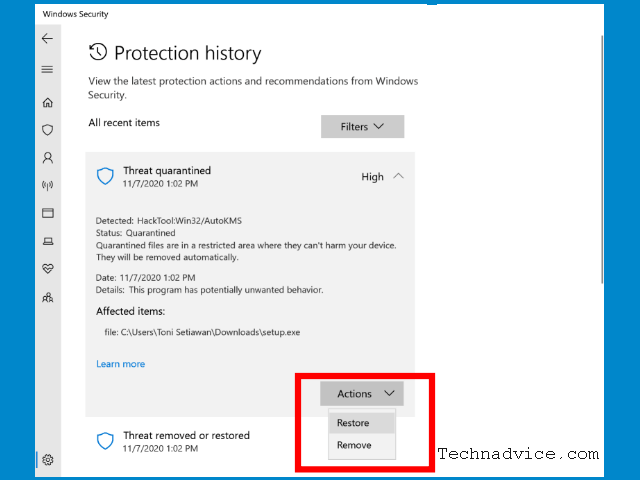 The file will return to its original location.
How to prevent files from being deleted by Windows Defender
Windows Defender will continue to work automatically to detect files that are considered to contain malware, both on local storage and from flash drives and external hard disks connected to the laptop.
Every time you use a flash disk, for example, Windows Defender will automatically scan the files in it.
If there is a file that is considered dangerous, it will automatically be exposed to the Quarantine and deleted from the flash. This is useful for preventing viruses from the flash from entering the computer.
Likewise, when downloading files from the internet, especially programs that have an executable (.exe) extension, whenever the program is considered to contain malware it will be automatically deleted.
To prevent this from happening, we can exclude certain directories so that Windows Defender does not scan there.
It is possible to completely turn off Windows Defender, but this is not recommended considering its function as one of the best antivirus Windows 10 which is powerful to prevent viruses from entering the computer.
Follow these steps to prevent files deleted by Windows Defender Windows 10:
Click the Windows button
Select Settings
Select Update & Security
Click on the Windows Security tab
Select Virus & threat protection
Select Virus & threat protection settings, click Manage settings
In the Exclusions, section click on Add or remove exclusions
Click the Add an exclusion button then select Folder
Select the Folders you want to exclude from the Windows Defender scan
Add other locations such as flash and external hard disks by repeating steps 8-9
Windows Defender Quarantine file storage location
Some users may also have questions about the files that Windows Defender Quarantine will move to where.
Please note, deleted files with Quarantined status are not actually deleted by Windows Defender. The file is still stored in an altered form for security purposes.
You can find it in the directory:
C: \ ProgramData \ Microsoft \ Windows Defender \ Quarantine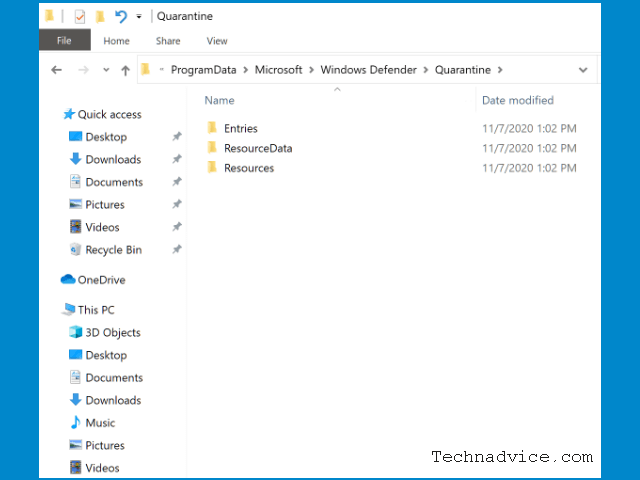 The Program Data folder has a hidden attribute by default, to bring it up you must change the setting to show hidden files, click the View menu in explorer then check the Hidden items option.
If you try to open the files in the Quarantine directory then their shape is no longer like the original file, but has changed and can no longer be opened in the normal way.
Read more:
Conclusion:
So, friends, that's on above how to restore deleted files on windows defender, In other words, the files in the Quarantine directory have been "tamed" so that they can no longer be executed by the user.
Don't forget to bookmark and always visit every day Technadvice.com because you will find the latest Technology Android games, Mod Apk, and apps ETC, that we will update every day.