How To Manage The Relocation Of Your IT Assets – Relocating your IT assets is a high-risk and costly project regardless of the size of your company. It involves more than disconnecting computers and plugging them at the new location.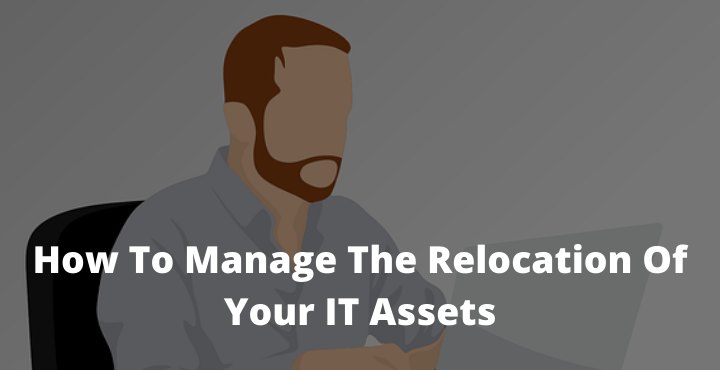 How To Manage The Relocation Of Your IT Assets
IT asset relocation involves intense planning to the finest details and considering the industry regulations regarding IT assets and data during relocation.
Read more:
The IT department and business executives must develop a plan that facilitates relocation without disrupting daily activities or remote operations that depend on the IT infrastructure.
The process of disconnecting, packing, moving, and reassembling the infrastructure must also guarantee the integrity of data contained in the computers and other gadgets.
Furthermore, regulatory requirements like GDPR are not suspended and will not understand that the data breach happened during relocation. That said, how do you pull an error-free IT assets relocation?
Compile an Inventory of all Your IT Assets that Need to Move
Computers, tablets, servers, and mobile phones, among other gadgets are not mere devices. The devices require careful handling alongside the information contained.
An inventory helps you to assess the physical and data safety needs and the precautions to be taken in each case. Wrong people handling gadgets or a blind spot in surveillance would result in extensive breaches.
An inventory helps you to identify assets that can be grouped because of their data sensitivity and physical delicate nature.
You will also identify a reasonable relocation protocol to ensure minimal disruption of services or operations at the office. With full knowledge of the assets involved during relocation, you can budget accurately and achieve a smooth relocation.
Determine What Will Move and When
IT assets are interconnected. Servers, for example, operate with the assistance of monitors. Networking systems connect different departments remotely or physically, meaning that they can remain in place as you relocate one department at a time.
Developing a plan on what moves and when it moves helps you to develop a path of least disruption, maximum efficiency, and lowest cost.
Compatibility issues should also be considered and the need for seamless layering where the unit at the door is not installed first, causing disruption when installing others in the future. Consider damage warranties and the need to upgrade your assets.
Expert IT relocation services recommend movement at a time of the lowest business activity. It could be at night, over weekends, during holidays, or off-peak business season. It provides a cushion for testing the new location and restoring services before welcoming the first customer.
Always remember that relocations come with dismantling and disconnection of services. Expect hitches as you reassemble your IT system. The hitches will be too expensive during peak hours.
Select an Appropriate Relocation Method
Will your IT assets move in phases or with a single swipe? The best choice depends on the complexity of the system and its interaction with your daily operations. It also depends on how much cushion time you have before the assets are needed for normal operations.
A single move is only effective when you have the advantage of time. It is fast, cheap, and reduces downtime. Viewed from a data security perspective, it is safer because the period of exposure is minimized.
Phased relocation reduces disruption. It could be expensive since you are engaging the movers for a longer period. Extended relocation period and engagement with strangers also increase the chances of a data breach. However, with an expert IT assets relocation team you can choose the most appropriate method.
Hire Relocation Experts or Use your Internal Team
A small team or company with the experience and expertise in handling IT assets migration can do the work. Divide the team and assign each member a role to play.
However, the dismantling, packaging, movement, and reassembly of IT assets are risky when left to amateurs. Your employees could be excellent programmers but do not understand networking components.
You risk damage to vital components that are expensive to replace or will disrupt operations at the new location.
The best method is to hire IT relocation experts who will guarantee a seamless process. Furthermore, relocation is usually timed to cause minimal disruption.
If, for instance, you use your staff at night, they will be unavailable in the morning when customers require services. Internal politics and complacency may prove expensive and disruptive.
Document, Test, and Launch
The checklist used during relocation is the same one to be used during reassembly. The checklist ensures that all components are in place just as they were picked from the original site.
The people handling each element, relocation time, route, and activities involved must be documented. In case any of the protocols is breached, raise the issue and note it for impact assessment. Test to see that the reassembled system is working. Launch your assets for use at the new location.
Read more:
Conclusion:
IT assets are delicate and subject to damage in the process of relocating. The data contained in these assets may also be lost, damaged, or compromised. The expertise and assistance of seasoned IT relocation experts will guarantee an effective and seamless relocation process.
Don't forget to bookmark and always visit every day Technadvice.com because here you can find the latest Technology information such as How-to Guide Tips and Tricks Blogging Digital Marketing Windows Android Root Social Media games, ETC. Best of luck.