Beginner's Complete Guide to Setting Up Email with Zoho mail – In business, you definitely need an email. Have you ever heard of Zoho Mail? One of the most famous e-mail platforms in the world, Zoho Mail offers many features that you can use, both for personal e-mail and business e-mail. You can also use an email with your own domain with this one email provider. Want to know how? Come on, continue reading the article.
What is Zoho Mail?
Zoho mail is one of the email platforms targeted for business and professional use. Zoho Mail Webmail itself is free from ads and has a minimalist interface with powerful features.
Read more:  Effective Email Newsletter Psychology for Your Customers
With Zoho Mail, you will get webmail that has powerful features compared to other client emails. You can easily control your inbox. In addition, Zoho mail also has Zoho Docs. With Zoho Docs, your team can create, collaborate, and edit documents, presentations and excel documents with an online editor. Through Zoho Docs, Zoho mail can help increase the productivity of your team.
The advantages of Zoho Mail
Zoho Mail offers various domain management options for companies. For example, your company can register a new domain, handle multiple domains, and quickly activate email hosting for those who already have a domain.
Zoho mail also provides a powerful admin control panel. With a simple interface, this software gives you the freedom to manage from your domain to your team and much more. In addition, Zoho mail can also block emails that you don't want to be based on your IP address, subject content, and domain for the entire organization. Not only that, but you can also handle incoming and outgoing emails from corporate users and handle spam lists. As an Admin, you will be able to manage all this.
For the migration process, you also don't need to worry. The experts at Zoho mail can help you to use the tool self-migration.
Migration to Zoho Mail is very easy. Zoho Mail Support can also guide you through the processor if you want you can download the independent migration tool. The server is also stored in a secure data center. They also use 256 bit SSL encryption. It contains a state of secure infrastructure and has the highest software security to ensure the security of your data.
Zoho mail features
One of the reasons Zoho mail is widely used is because of the various features they provide. The following are some of the features of Zoho Mail.
Organized inbox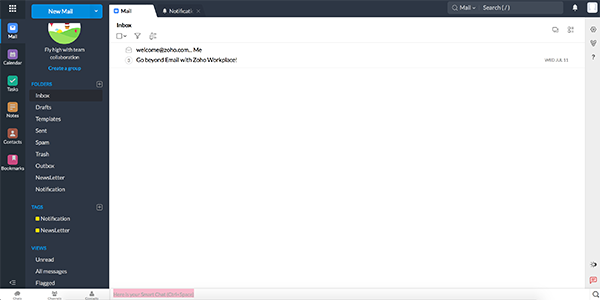 Zoho Mail webmail interface does not display ads, even for a free plan. In addition, on Zoho Mail webmail you will also get the option to organize and categorize your e-mail through folders, labels, and flags. Zoho mail also provides filters.
Zoho Webmail supports different multi-level folder structures with other webmail interfaces. With this feature, you can arrange your e-mail to be structured to your liking. This way, you can navigate your inbox easily.
You can also automatically manage the emails that enter your inbox. Zoho mail allows you to automatically filter your e-mail from one folder to another. In addition, you can also put labels on your e-mail according to the criteria you set up. You can also import filters from other sources.
If you have an email thread that continues, Zoho mail will show it with a conversation view. This way, you can easily track an email thread to see email interactions.
Integration with CRM
In marketing, of course, you need CRM or customer relationship management. Finding leads, making them potential customers, and making them your customers is certainly an important step in business. One important factor in this step is communication. Email is certainly one of the most effective types of communication.
Maybe you have installed an opt-in to collect email lists. Of course, after you get the emails, you need to have a place to store them. With Zoho Mail, you can manage your CRM database.
In your Zoho Mail CRM database, not only can you store your customer details, you can also leave a note in your customer data so that you can create a reminder for yourself if you need to contact the customer. With this CRM integration, you will not lose your customers.
Scrub: clean your inbox
Sometimes our emails can receive a lot of e-mail. You must be lazy if you see your inbox full of emails that don't know where it came from. Therefore, Zoho Mail provides a scrub feature. What is that? With this feature, you can easily clean up your inbox. You can directly enter an e-mail to the archive or delete e-mails from certain senders at the same time. For one "Scrub" you can choose up to five senders.
Smart Compose
Zoho has features similar to social media features. This was deliberately done to make it easier for users to send emails. This feature is called smart compose. After you have finished compiling your e-mail contents, you just press the @ button and enter the name of the person you want to send the e-mail to. The email will automatically be entered in the email address section at the top. Easy, right?
Bookmark
Maybe the bookmark feature you usually see on an internet browser. However, Zoho provides a bookmark feature for its users. Select the "Bookmark" tab in the left panel in your Zoho Mail inbox and click "Create". After that, enter the website URL that you want to bookmark. Later these bookmarks will be available in Zoho as "Apps". With this feature, you can easily visit websites that you might want to read later.
How are you interested in using Zoho Mail? If so, let's continue reading the article.
How to Register Zoho Mail Personal
You can get Zoho mail for personal. You will get an email with the zoho.com domain and get a storage area of 5GB. The following is how to sign up for Zoho Mail.
Enter the 

Zoho Mail sign-up

 page
Click the radio button in front of the Personal Email option under the Get started with ad-free email option
Enter the username you want in the "Email ID you wish to have" section. Your username will be your email address because this will appear in front of @ zoho.com.
Enter the password you want. Choose a password that is strong but easy to remember.
Enter your first name and last name in the section provided
Enter an active mobile number so that you can receive SMS. Don't forget to confirm by re-entering your mobile number. When entering your telephone number, you do not need to enter a line (-) to separate your number. Just enter your phone number without spaces or other punctuation marks.
Check the box that says "Terms of Service" and "Privacy Policy"
Click Sign Up for Free
Enter the verification code that you received via SMS on your mobile
Then click Verify Code
Voila! You already have your Zoho Mail account. To log in to Zoho mail, you just have to visit the Zoho mail login page and enter your email address and Zoho Mail password.
Zoho Mail For Business: Zoho Workplace
For those of you who want to use Zoho Mail for business purposes, they offer Zoho Workplace. Zoho Workplace is a collection of applications that are placed in the cloud and integrated. Zoho Mail is part of nine integrated collaboration applications in Zoho Workplace.
In every job, someone used to use tools such as spreadsheets, editors, and presentation tools to carry out planning, proposal, drawing, presentation and evaluation activities. Often teams gather and collaborate to achieve their business goals. They also communicate with people inside and outside their organizations – such as customers, partners, and possibly other teams. This is where Zoho Workplace can help you. With cloud technology, you can save and directly share and collaborate with your colleagues.
The following are the nine integrated applications in Zoho Workplace.
Office Suite. Just like G Suite and Office 365, Zoho Workplace also offers office suites that you can use to collaborate with your work team to make things. They provide Zoho Writer (document editor), Zoho Sheet (spreadsheet editor), and Zoho Show (editor for presentations).
Collaboration Tool. Zoho Workplace also facilitates collaboration between your work teams by giving you various collaboration tools such as Zoho Docs (file storage), Zoho ShowTime that you can use to share presentations and tools for audience engagement) and Zoho Sites, which is a website builder.
Communication. Of course, Zoho Workplace will not be complete without communication tools. You will get Zoho Mail, Zoho Chat (which is an instant messaging tool), and Zoho Connect (a social network for corporations). These three tools are expected to facilitate communication between work teams.
How to Setup Zoho Mail with Your Own Domain Name
With Zoho Mail, you can also create emails with your own domain. Here's how to register for Zoho Mail by using your own domain name. If you already have a domain, you can immediately start to set up Zoho Mail.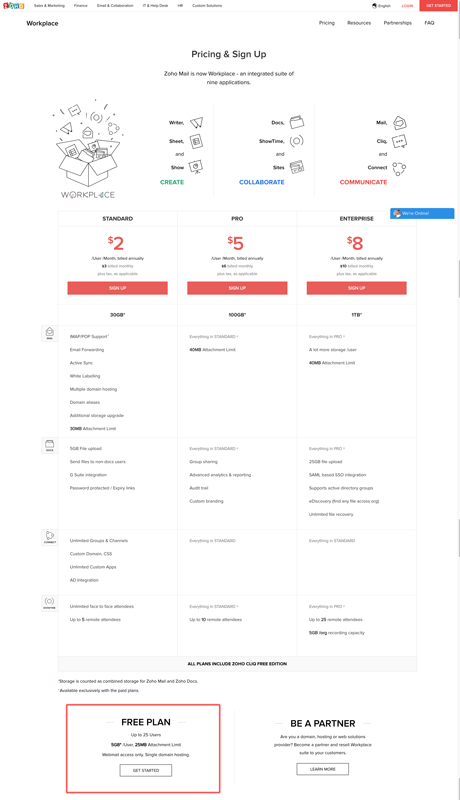 First, open the Zoho Mail sign up page for business email. You will see the display above and you can choose the package you want. If you still want to try using Zoho Mail, they also provide free account choices. Of course, a free Zoho Mail account does not have as many features as their paid package. If you want to try their free account first, scroll down until you see the Free Plan option that we have marked above. Click Get Started.
As you can see, you have the choice to sign up with a domain that you already have (Sign up with a domain I already own) or buy a new domain for your business (Buy a new domain for my business). Because we already have a domain from Example, we will choose the option to sign up with a domain I already own.
After that, you will be asked to fill in your personal data. Starting from the name, mobile number, desired e-mail address, password, and your home country. After completing the filling, don't forget to check the box I agree to the Terms of Service and Privacy Policy. Then click the Signup button.
And now Zoho Mail e-mail with your own domain is ready! They will offer you to immediately activate two-factor authentication. However, you can do it at any time so it doesn't have to be at that moment.
The next thing you have to do is verify your domain. To do this, you need to access your cPanel. To open your panel, enter http://namedomain.com/cpanel. You will be directed to your website cPanel.
On your Zoho Mail page, the first thing you have to do is choose a DNS hosting provider. For this tutorial, we will use cPanel. Select cPanel from the drop-down menu. From there, Zoho will give you the code that needs to be entered into your cPanel.
Now on the cPanel page, look for the Zone Editor option under the Domains section. Click the zone editor and you will see a screen like this.
Select CNAME Record then you will see the form that must be filled out. Copy the information on the Zoho Mail page to the form that came out on your cPanel.
After you enter the CName Record and are declared successful by cPanel, return to your Zoho Mail page. Click on the green button that says Proceed to CNAME Verification. After that, you will see a screen like the one below. Click Verify Now.
Congratulations! You have successfully verified your account. You will be asked to ensure that the email address that you entered when you signed up was as you wish.
The next process is to add a user. You can do this now or later. In this section, you can add the number of users. For free Zoho packages, you can add up to 25 users.
Create Groups is a Zoho Mail feature where you can create one email address for a team in your business. For example, you can create a [email protected] email for all members of your marketing team. So if someone sends an e-mail to the e-mail address, all of your marketing team will get the e-mail. You can add this at any time.
One of the important things that you must configure is email delivery. To start receiving an email, you need to configure your MX records domain. MX Records are special entries in DNS that are compiled to receive emails on your domain. Enter the MX Record on your Zoho Mail page on the MX Records form in cPanel.
If you have trouble adding an MX entry, you can get cPanel support, to update the MX record from your domain.
Now your email can be accessed. You can access your email with Zoho Mail webmail. To log in, you only need to enter the Zoho mail login page and enter your email and password. Now you can use Zoho email with your own domain.
Read more:
Combining Your Email List with Facebook Messenger Bot

4 Tips to Increase the Effectiveness of Ads Campaign on your Facebook
Conclusion:
In this article, we have discussed what is Zoho Mail, what its advantages and features are, and how to register for Zoho Mail. With its complete features, Zoho Mail can be a good alternative to Google G Suite or Microsoft Office 365. If you want to ask further or share experiences, you can leave a comment at the bottom of this article. I hope this helps!
Don't forget to bookmark and always visit every day at Technadvice.com because you will find the latest Technology Android games, Mod Apk, and apps ETC, that we will update every day.