What Is MiniTool Partition Wizard? MiniTool Partition Wizard is a professional and feature-rich partition manager tool. It allows you to change, manage, and check partitions, like creating partitions, formatting partitions, checking file systems, and converting file systems between NTFS and FAT.
MiniTool Partition Wizard Free Review – All Things You Should Know
In addition, you can also use the partition manager to make some changes to the disk, such as cloning, cleaning, and checking disks. Meanwhile, you can also use it to manage dynamic disks and to create a WinPE-based bootable media.
Read more:
The latest version update is MiniTool Partition Wizard Version 12.7. These are the things that are new for the upgrade:
Optimized the position of the scanning progress bar in Data Recovery.
Optimized the data filtering function in Data Recovery.
Optimized the data recovery from exFAT partitions.
Fixed unallocated space not showing up after disk copy.
Fixed software crashing issue when changing cluster size.
Key Features of MiniTool Partition Wizard
Although MiniTool Partition Wizard free edition only offers some basic features, it is enough to satisfy most needs. Here are several notable features:
Move/Resize: It can move the location of the partition and extend and shrink the partition.
Wipe: It can erase the data on the partition.
Merge: It can combine two partitions into one.
Split: It can divide one partition into two partitions.
Convert FAT to NTFS: It can convert a FAT partition to an NTFS partition.
Disk Benchmark: It can test the write and read speeds of the disk.
Surface Test: It can detect if there are bad sectors on the disk.
Space Analyzer: It can scan the partition and list all the files, making it easier to delete unwanted files.
The paid editions offer more advanced features compared to the free edition. Some of these features are related to the dynamic disk, which makes it easier to manage your dynamic disk. Additionally, it provides other helpful features, such as:
Data Recovery: It can recover lost/deleted data from a partition, disk, or a specific location.
Partition Recovery: It can recover the lost/deleted/damaged partition.
Change Cluster Size: It can change cluster size without data loss.
Convert NTFS to FAT: It can convert the NTFS partition to a FAT partition.
Copy System Partition: It can copy the system partition.
Change Partition Type ID: It can change partition type ID more easily.
Change Serial Number: It can change the serial number without formatting.
Convert OS Disk to GPT Disk: It can convert the OS disk to a GPT disk without deleting partitions.
Copy System Disk: It can copy the system disk.
Migrate OS to SSD/HDD: It can migrate the OS to another hard drive.
Boot Media Builder: It can create a Win-PE-based bootable media.
Plan & Pricing
To meet the different demands of users, MiniTool Partition Wizard offers various editions for users to order. They are the Professional, Server, and Enterprise. You can get this information by clicking Register in the top-right corner.
Language
MiniTool Partition Wizard supports multiple languages, like French, German, Italian, Japanese, Korean, Spanish, and Portuguese. You can switch to your target language by clicking View > Language, and selecting the specific language.
Technical Specification
MiniTool Partition Wizard can help you manage storage devices like HDDs, SSDs, SSHDs, external hard drives, SD cards, USB flash drives, hardware RAID, and dynamic disks.
On file system aspects, it supports these file systems: FAT12/16/32, exFAT, NTFS, and Ext2/3/4. Meanwhile, it works with a variety of operating systems, including Windows 11, 10, 8.1, 8, 7, and Vista.
Limitations of MiniTool Partition Wizard
There are also some limitations to MiniTool Partition Wizard. Firstly, it is only available on Windows systems, not on MacOS or Linux.
Besides, the layout of the disk on MiniTool Partition Wizard is a little different from Disk Management and Command Prompt. For example, the first disk in Disk Management and Command Prompt is Disk 0, while it is Disk 1 on MiniTool Partition Wizard.
How to Use MiniTool Partition Wizard?
Here's a step-by-step guide to using MiniTool Partition Wizard:
Step 1. Download and install the MiniTool Partition Wizard. Launch it into its main interface.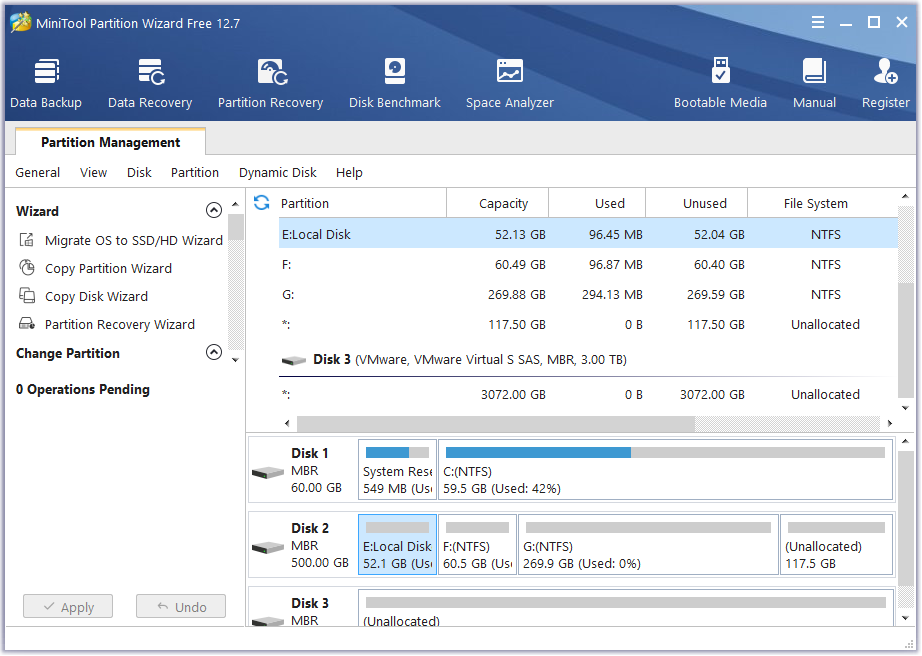 Step 2. Choose the target partition or disk that you want to check or change.
Step 3. Scroll down to select the needed feature from the left pane.
Step 4. Follow the on-screen instructions or choose the needed options to prepare for the operation.
Step 5. Click Apply and Yes to execute the changes.
Tip: If you want to create a Win-PE-based bootable media, you just need to click Bootable Media on the top-right of the toolbar.
Conclusion:
To sum up, MiniTool Partition Wizard is a highly efficient tool for managing partitions on Windows computers. It offers a variety of helpful features and is ideal for both personal and business use.
The disk partition software also has a user-friendly interface, allowing you to easily manage your partition. While advanced features require payment, it still remains a viable option.
Don't forget to bookmark and always visit every day Technadvice.com because here you can find the latest technology information such as How-to Guide Tips and Tricks Blogging Digital Marketing Windows Android Root Social Media games, ETC. Best of luck.