4 Tips ForA Successful Social Media Strategy – Social media marketing uses various social media platforms for advertising a website, service, or product. One advantage to this strategy is you can reach an unlimited audience with minimal effort and make it far easier for you to connect with your target audience.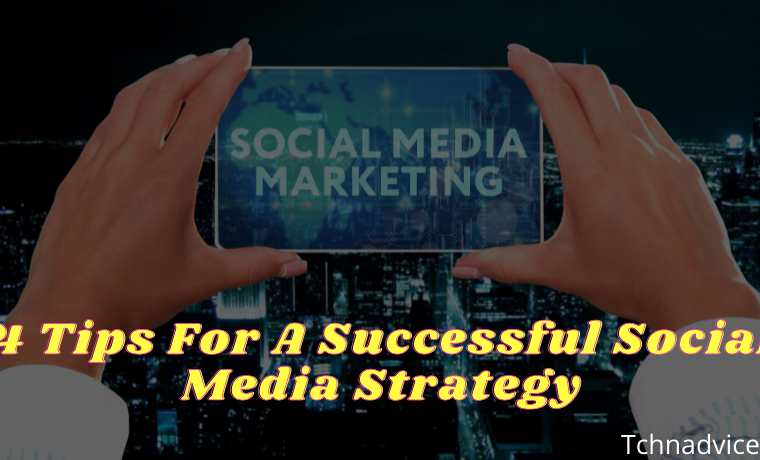 4 Tips For A Successful Social Media Strategy
That's why more and more businesses are creating a social media strategy to increase their sales and website traffic.
Read more:
To become successful in social media marketing, you need a social media strategy. A social media strategy is an overview of what you plan to do on social media and how you intend to accomplish it. It directs your activities and helps you see if you're progressing, succeeding, or failing.
If you plan to include a social media strategy in your digital marketing plans, you can read Slickplan's informative article to guide you in your project. Below are also some tips to help you become successful in your venture:
Plot Your Goals
Start by creating and setting goals for your social media strategy. What are your targets for a social media marketing strategy? Do they include increasing traffic, building relationships, or driving sales? These goals can be your starting point. All other aspects of your initiative need to reflect these goals.
Next, decide which social media marketing goals will help you most and which ones you may have to adjust as time goes on. A well-defined strategy will lead to more measurable results, and therefore will be more successful.
The more detailed your strategy is, the more successful it'll be. However, keep it concise. Too many goals or too many details can confuse you and your marketing team as they may be challenging to track in the long run. Focus on the goals you want to achieve at the moment, and then you can move towards creating long-term goals once you complete your short-term goals.
Regularly Monitor and Measure Your KPIs
Having KPIs or key performance indicators is essential in your social media strategy. These KPIs will help measure your goals and determine if your social media strategy is working or not.
It's also an excellent way to evaluate how the business has grown since the implementation of your different social media strategies. When monitoring your performance, you should also refer to the following questions:
What are the current goals you're trying to achieve?
How far have you come towards your goals?
Are there new goals set for the future?
Without clear goals and measurements, it's almost impossible to see how much traffic your website is attracting, if you've increased your revenue, and whether or not your efforts are yielding results.
Continue Engaging With Your Audience
On a business level, social media plays an enormous part in customer engagement and marketing. Customer engagement refers to the extent you're communicating with customers on a more personal level.
This aspect will allow you to create more personalized journeys for your customers, and it'll enable you to generate more loyalty amongst your customers. It'll also allow your business to stand out from the competition, get more new customers, and gain additional revenue due to loyal and return customers.
Indeed, social media is an excellent platform for customer engagement. Your audience can comment on your post and send you private messages when they have questions or comments regarding your product or service.
Hence, you must have a sales or marketing representative who can respond immediately to your customers' comments or messages. When customers feel that you're unreachable, they'll lose their trust in your brand.
Be Consistent
In a successful social media strategy, consistency is very critical. It would be best if you were consistent with the quality of your content, level of engagement, and frequency of your postings.
When you don't engage well and consistently with your audience, you'll lose their trust. When you don't post content regularly, you'll lose relevance and online visibility. One way to ensure that you're on the right track is to have a social media posting plan by creating a content calendar.
Content calendars are simply an online calendar of your planned posts. To help in this process, create separate accounts for each of the goals you're targeting. With the calendar on hand, you can classify posts according to different categories, ensuring posts in each category receive the appropriate level of attention and engagement from your readers.
Understand that it's also essential to ensure the consistency of your posts' quality. When people see that your posts aren't relevant to your niche or aren't giving them helpful information, they'll lose interest and trust in your brand.
As a result, you may lose your following. You must ensure you have high-quality posts and learn to use hashtags to increase your posts' online visibility.
In this era of the internet and technology, social media is an important marketing strategy for your business. And because of its wide reach, social media has been widely used for marketing and customer engagement.
Conclusion:
These tips will help you create a successful social media strategy to reach your business goals. Thus, don't forget to continuously monitor your KPIs, be consistent in engaging with your audience, and post high-quality content on your social media business accounts.
Don't forget to bookmark and always visit every day Technadvice.com because here you can find the latest Technology information such as How-to Guide Tips and Tricks Blogging Digital Marketing Windows Android Root Social Media games, ETC. Best of luck.