10 Perfect Sites to Improve Your Grades at College – Each student wants to be peerless in their studies. Many years ago people could just go to the library, take some books there and study.
They made notes using many notebooks, pencils, and pens. Today studying might be more interesting for everyone.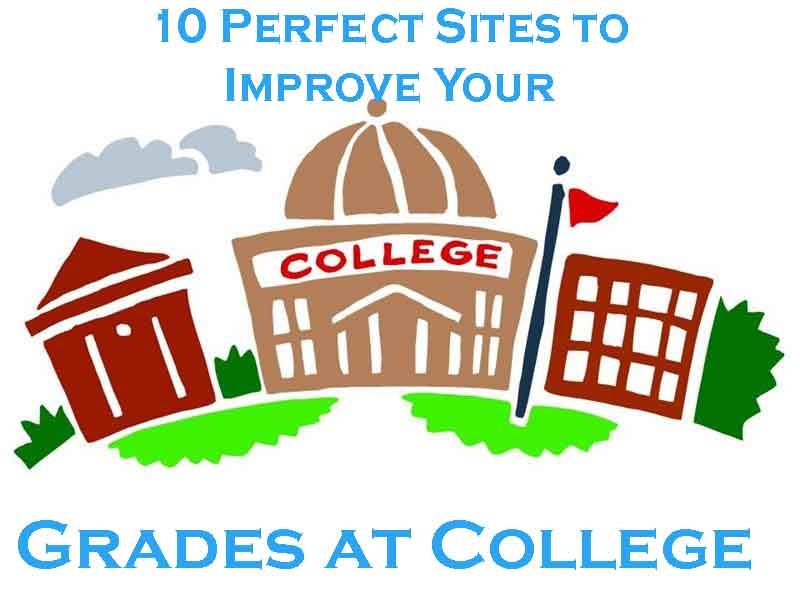 The Internet provides numerous free websites and expert essay writing services that can bring variety and help improve grades at college.
TOP 10 Websites to Have at One's Fingertips
The following ten web resources give a chance to become more educated and increase college ratings. They help to master writing, reading, listening, and speaking.
Google Scholar. This website contains qualitative and reliable literature one can use to conduct research. There are many books and articles devoted to topics in various life spheres. The site is absolutely free, but some books and researches need payment. Everything depends on the author and the uniqueness of the source.
Dragon Anywhere. Sometimes a person is full of ideas and inspiration, but he or she has neither a piece of paper nor a pen to jot everything down. Dragon Dictation comes to one's rescue. A person can record ideas and use them at any time. Users store their files in the cloud. The other benefit is that the writer can give voice commands, and the program will perform them. No more need to print each word and waste time. There is also an option that allows correcting spelling. By the way, it is limitless, and everybody can say the required number of words. There is one more tool that might be very helpful. This is Google Docs. People can dictate the text, and the tool will turn it into a printed text. Moreover, Google Docs offers an offline mode that lets a person work when there is no Internet.
ESOL. The best way to remember something is to practice. There are two effective methods. The first one deals with oral speech. One should speak as much as possible and choose different styles (formal and informal). The second one is to write and memorize data. ESOL suggests solving exercises that turn monotonous studies into an interesting process. A student finishes expressions, fills in the gaps, and does a great number of other things.
Newsela.com. This website provides content that perfectly fits teachers and students of different age levels. It contains ELA texts, Science, Mathematics, Social Studies, and Elementary sections. A person does not only read simple texts. He or she has a chance to learn many new things and improve her level of English.
TedEd.  This is a source of lessons for both students and teachers. Everybody can register and share ideas on this platform. Students have an opportunity to watch video tutorials and even share their own creations. It helps to systematize knowledge, get feedback, and enlarge the scope. There are lessons devoted to various subjects like Maths, Biology, Psychology, Literature, History, Philosophy, and others.  Due to that, individual studies and develops creativity.
The Purdue Writing Lab. This site is the best friend for those who want not just to memorize but also to understand. Here everyone could clarify difficult points in writing. The service answers questions concerning research papers, resumes, reports, and other matters.
Thesaurus.com. On this web page, a learner might find two sections. The first section is the Dictionary, and the second one is Thesaurus. Dictionary gives the meaning of the inserted word, and Thesaurus shows possible synonyms and antonyms to the word. Thanks to that, a writer avoids repetitions and mistakes in the use of lexical units because of enlarged personal vocabulary. The site posts articles which are interesting for curious individuals.
Hippocampus. A user of the Hippocampus explores subjects (Maths, Natural Science, Social Science, Humanities) via videos, simulations, and animations for free. The site helps in studies and preparation for exams. Users are free to comment and ask questions here.
Study Guides. If someone needs a book summary or some guides, Study Guides will supply its customers with them. The interface is user-friendly, and a person looks for the required source by either printing the author's name or book's title in the search line. The literature is arranged in ABC order which makes its usage more convenient and easier.
Grammarly. This service is perfect for those who deal with academic writing. It gives an opportunity to set goals paying attention to style and language peculiarities. The app underlines mistakes and offers corrections. It points to a wrong word selection, missed or extra punctuation marks tell about improper grammar constructions, etc. This program is free for basic needs but demands payment for Premium service.
Tips to Become Better Students
Sometimes it is not enough to have the best sites. To be successful, a person must:
learn daily
1.1 read books related to studies and for general awareness
1.2. watch and listen to the news
1.3. meet new people
to improve regularly
2.1. create a schedule for studies and follow it
2.2. increase the load regarding the desired level
2.3. remember that knowledge is limitless
set a goal
3.1. decide what is the final aim of the studies
3.2. do not give up in case of difficulties
3.3. write a step-by-step plan (nobody becomes successful in one day)
Conclusion:
Students should think of rewards. For example, a week ago a professor gave D, but today he gave C. It is a positive result, and there must be some awards (visit a cinema, skating rink, favorite cafe, etc.). Such a method stimulates and lets achieve the desired.
Don't forget to bookmark and always visit every day Technadvice.com because here you can find the latest Technology information such as How-to Guide Tips and Tricks Blogging Digital Marketing Windows Android Root Social Media games, ETC. Best of luck.