15 Best Free Audio Editors Software for Windows and Mac – The editor software is not only in the form of videos and photos but can also be in the form of music. Audio Editor, that's the name for software that can edit audio. You can use this audio editor to modify music or other types of audio according to your wishes and creativity.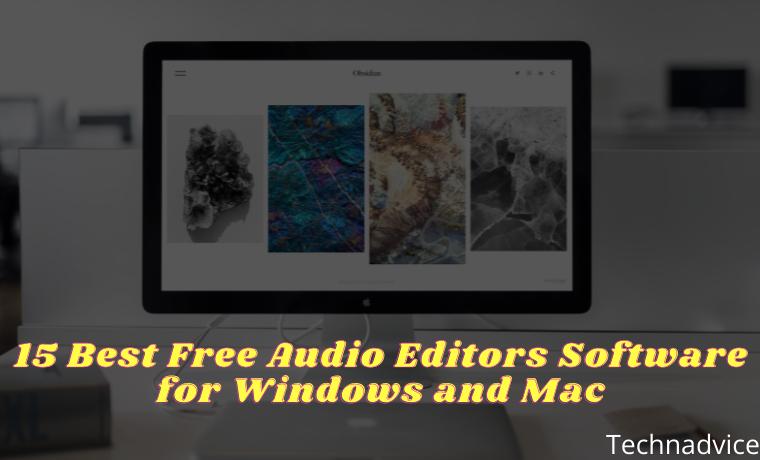 15 Best Free Audio Editors Software for Windows and Mac (Totally Free) 2023
Music will not escape the editing process. In the editing process itself, Audio editor software is needed. The better the audio editor used, the more likely the resulting audio will be better. Currently, there are many audio editor software available out there. Starting from light, simple, heavy, powerful, easy to use, and difficult to use. All of them have their own advantages and disadvantages.
Read more:
Of the many audio editing software, the author has summarized several software that the author can recommend for you to try.
If you have a hobby related to music and need Audio editor software. You can try one of the following software recommendations…
#1. Adobe Audition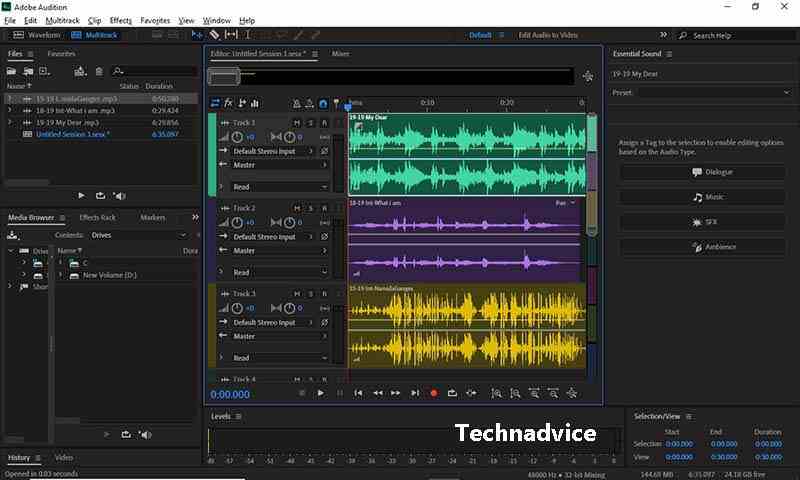 Just by looking at the name, you may already be sure of this one software. Yes, Adobe has always succeeded in making its users feel satisfied when using their software. This is the result of a long experience in developing software.
However, all quality must have a fair price. Adobe Audition is not software that you can use freely, you are required to pay in advance to be able to use Adobe Audition to its full potential. But before buying this software, you can use the trial first.
Adobe Audition itself is a software developed by Adobe to assist professionals in modifying music. Adobe Audition itself is equipped with various interesting features such as Multi-track editing, and Mixing. Adobe Audition is also equipped with AI that will help you during the modification process.
[ Windows ] [ macOS ] [ Linux ]
#2. Audacity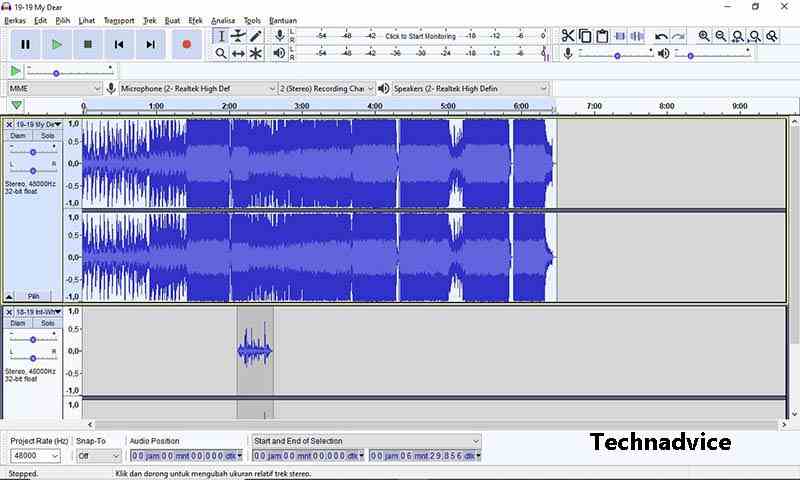 This next software is arguably the strongest competitor to Adobe Audition. In fact, it could be that this software is more widely used than Adobe Audition. Audacity is a free audio editor software that is free to use by anyone, quite a lot of professionals use it. This software is also very easy to use, even for beginners.
One of the factors that make Audacity easy to use is its simple interface and strong intuitive feel. One of the advantages that Audacity has that Adobe Audition does not have is that it supports more devices. Not only that but this Audacity can also be added with various interesting plugins and effects. Apart from that, Audacity has more or less the same functionality as other Audio Editors.
[ Windows ] [ MacOS ] [ Linux ]
#3. Cubase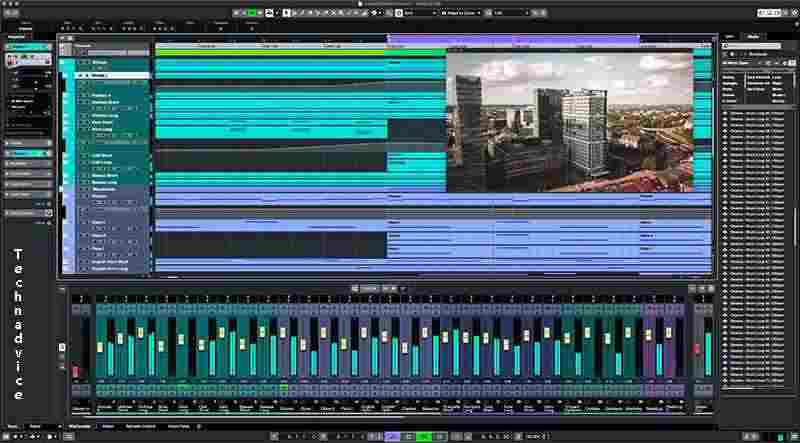 The next software is the software offered by Steinberg, Cubase. This software is another audio editing software that the author recommends for you to try. Cubase is not offered for free, but you can use the trial version to try it out.
By using Cubase you can modify your audio to be even more interesting. You can add various filters and effects that can be separated from the audio track with the Audio-Ins feature. Not only that, but in Cubase, you can also use the equalizer to adjust the frequency of your music to make it much smoother.
[ Windows ] [ MacOS ] [ Linux ]
#4. Audio Tool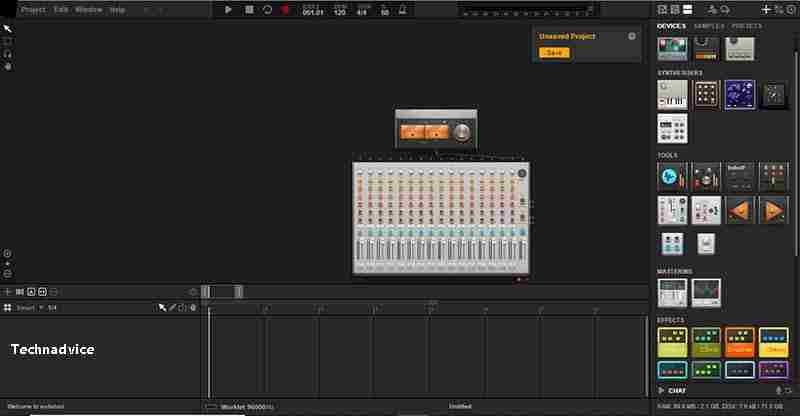 Slightly different from the previous one, the software that is in fourth place is software that you can access freely on the site. Audio Tool, is an audio editor web app software that the author recommends for you to try.
In Audio Tool, you can modify your music to be even better. You can also use the various features that are freely available. One feature that is quite special is the feature where you can collaborate with other music editors who also use the Audio Tool. The disadvantage of this Audio Tool lies in its appearance which is less intuitive, so for those of you who are still beginners, this software is quite difficult to use.
[ WebApps ]
#5. Wavepad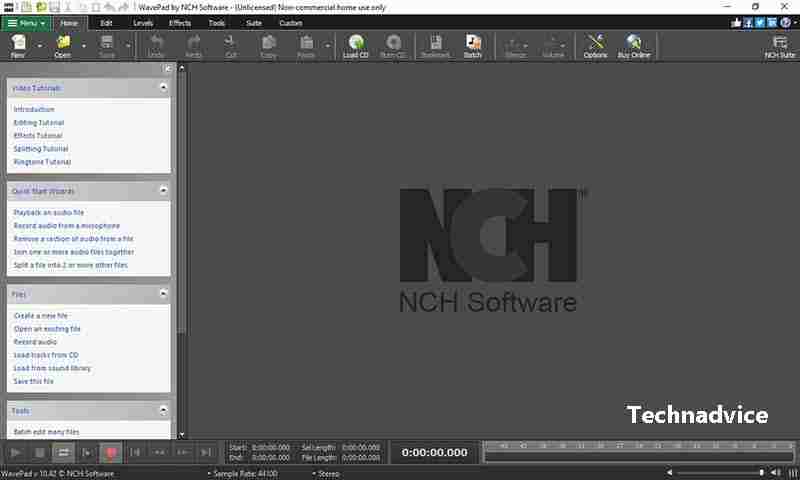 The next software comes from developers who are famous for their various editing software. Wavepad is a software developed by NCH ​​Software with the aim of helping you modify music.
By using Wavepad you can edit your own music at home, and you will also get access to the use of various filters and effects. Wavepad is also rich in interesting tools, some of which are batch processing, scrub & search audio. Wavepad also supports various types of audio formats, such as ( .MP3 ), (.WAV), (.AAC), and several other audio formats.
[ Windows ] [ macOS ] [ Linux ]
#6. Reaper
Still with the recommendation of audio editing software, in the sixth place, there is a software called Reaper. Reaper is another audio editor software that I highly recommend you try. In Reaper, you will get many interesting features that will be very useful for you. One of its capabilities that are quite eye-catching is the ability to record live audio in mono, stereo, or multi-channel audio mode. However, Reaper is a software that is intended for veterans, so beginners will find it difficult to use it.
[ Windows ] [ macOS ] [ Linux ]
#7. Wavosaur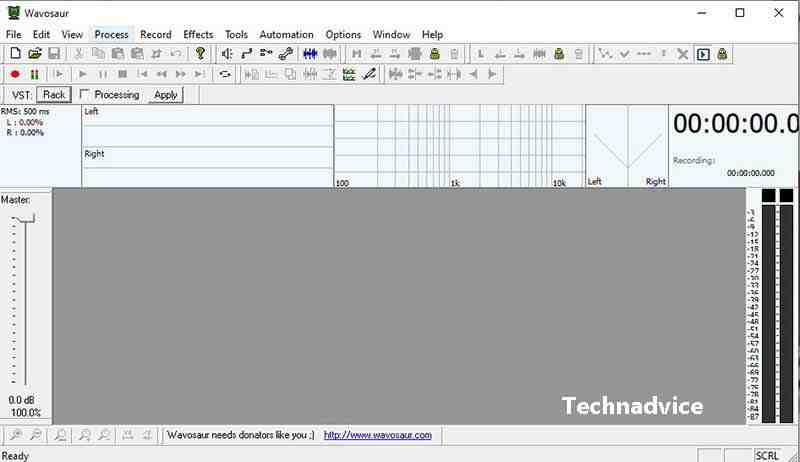 The next software is Wavosaur. This software is another audio editor software that I recommend enough for you to try. As with other Audio Editor software, here you will also find professional features that will help you modify music. Such as cutting, adding tracks, merging multiple audios into one, and other uses. Wavosaur has a simple interface, so you don't have to worry about not being able to use it.
[ Windows ] [MacOS] [Linux]
#8. Ardor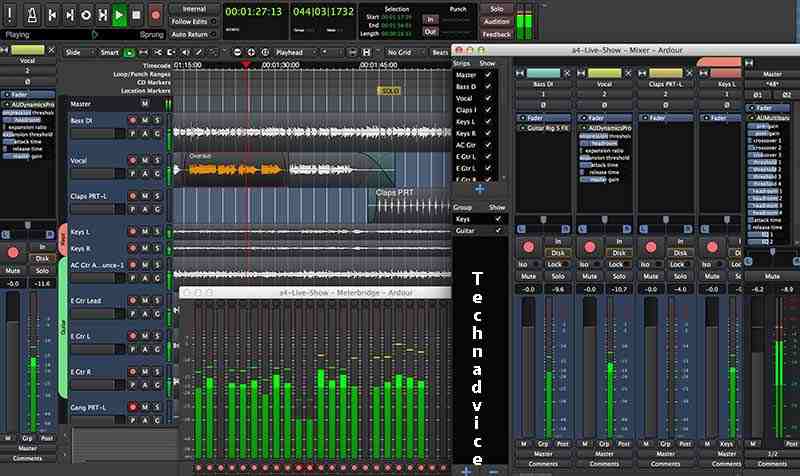 Ardor is a music editor software with great capabilities, it can also be used on any computer OS. Starting from Windows, macOS, and even Linux though. By using this Ardor, you can modify your music with the various features it provides. Not only cutting and adding tracks, but in Ardor, you can also make your own recordings, you can use a microphone or MIDI. Ardor also provides unlimited undo and redo, so you don't have to worry about making some mistakes.
[ Windows ] [ macOS ] [ Linux ]
#9. Qtractor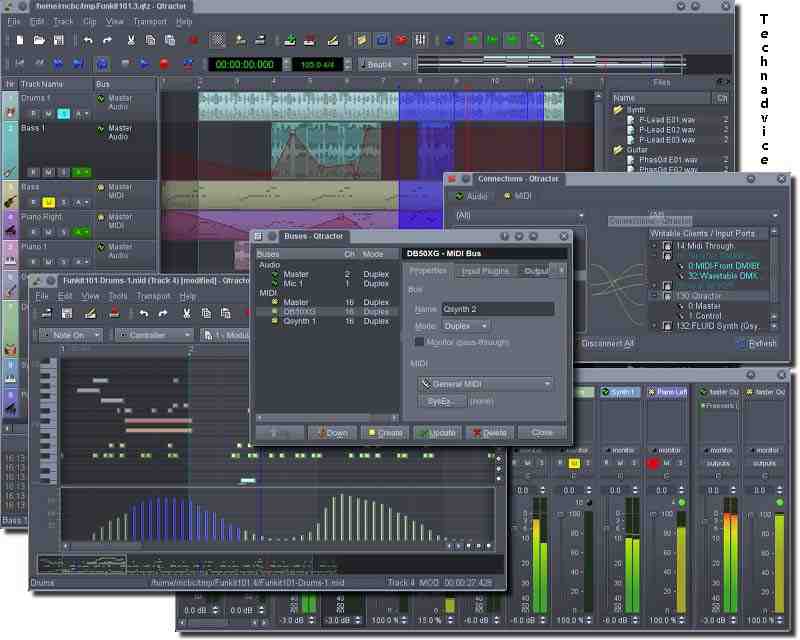 Still like the previous software, Qtractor is an audio editor software that can also be used as a music recording at the same time. This can be done thanks to the support of the use of the MIDI Controller. Not only that, but Qtractor also provides various cool features, such as Multi-Track Audio MIDI recording, and MIDI Sequencing. This software is indeed very good for you to use, especially for those of you who want to produce your own music.
[ Windows ] [MacOS] [Linux]
#10. Power Sound Editor Free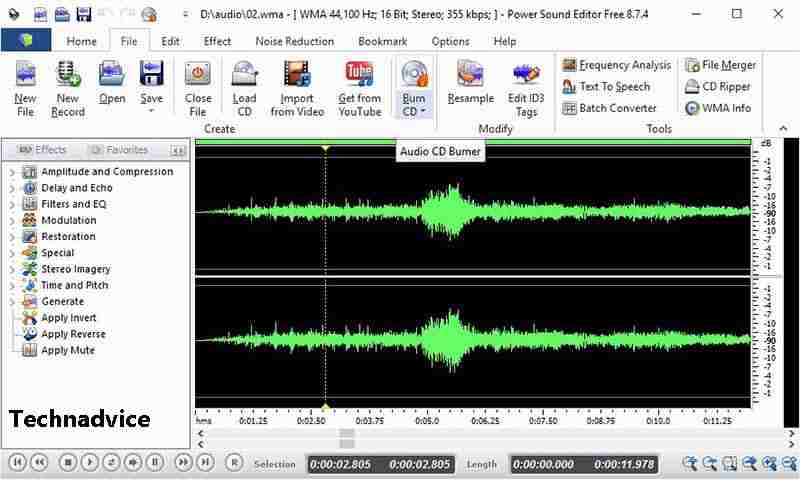 Decent audio software editors, software latter is also a software that is good and I recommend you try. As the name suggests, Power Sound Editor Free is available for free and can be used freely by anyone. Many say this software is similar to Audacity which is in second place. By using this Power Sound Editor Free you can produce your own music. Starting from recording, editing can be done here.
[ Windows ] [MacOS] [Linux]
#11. MP3 Cutter 

Another audio editing application is MP3 Cutter. This application can be used to cut songs, cut sounds, and cut MP3 format music. Not only supports MP3 format, but this application also supports other audio formats and can convert from one audio format to another audio format.
In addition, you can reduce the size of the audio file that is too large. For example, size of a song with a duration of 5 minutes has a size of 30 MB and can be reduced to the standard size or under 10 MB. Oh well, the advantage of MP3 Cutter is that this application is online, so you don't need to install it first. Just try it by visiting the official website.
#12. OcenAudio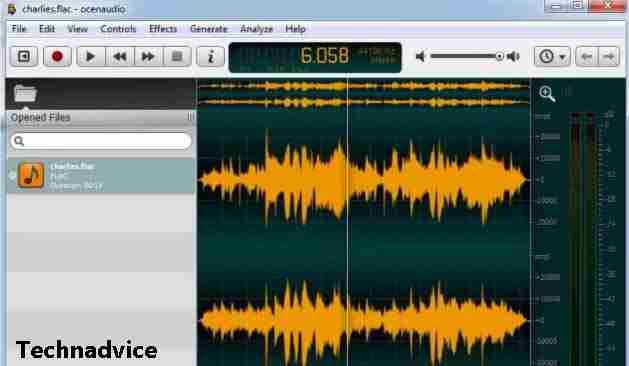 Another audio editing application is OcenAudio. This application comes with a simple interface that makes it easier for you as a user to use the application. Moreover, this application is available on various operating systems.
Some of the interesting features offered by this application include support for editing large audio files, spectrogram features, and support for VTS plugins, namely plugins so you can access various effects. Apart from that, the app supports features for complex audio editing. Interested? Please visit the official OcenAudio website to download it.
#13. MP3 SPLT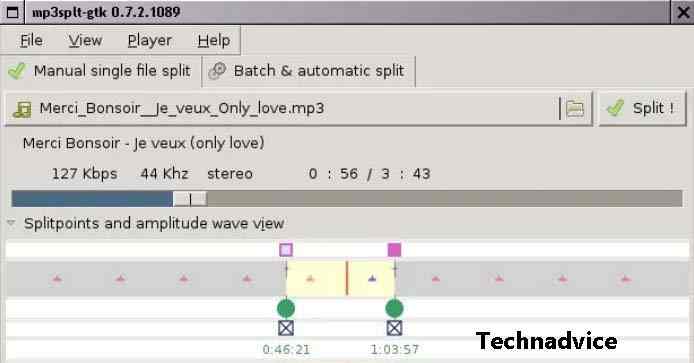 Another audio editing application that you can try is MP3 SPLT. This application is an easy-to-use application. In addition, the interface of this application is also simple so it makes this application easy to use even by users.
This application itself supports various audio formats such as Ogg, FLAC, and others. In addition, this application is open source and supports various computers such as Windows and macOS. There are also many Linux distributions that can run this application. You can download the MP3 SPLT here if you are interested in using it.
#14. DJ Audio Editor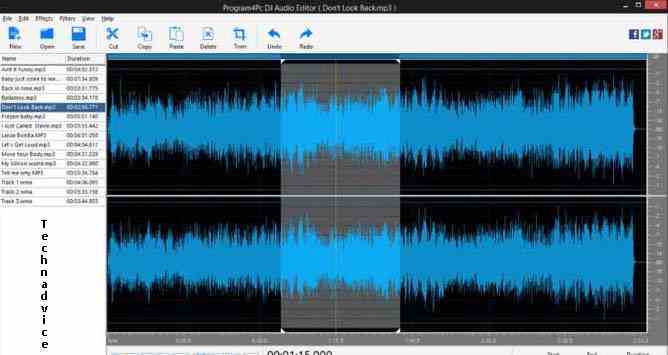 For those who want to learn to be a DJ, we can use this application. Using the DJ audio editor, we can process audio as easily as a professional DJ.
By using this application, we can cut songs, merge music, delete certain parts, record, and so on.
The various filters and effects available also support various media files.
#15. Music Editor Free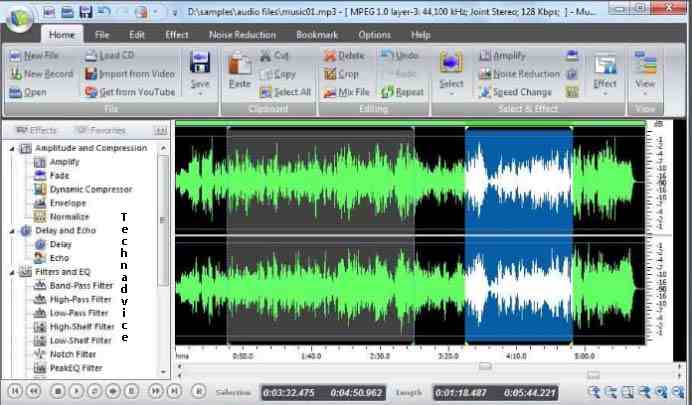 This app has become very popular. Applications that seem simple and easy to understand allow beginners to choose this application.
By using this PC song editing application, we can edit music easily. In addition, there are various interesting functions, such as adding effects, amplification, normalization, reverb, echo, and so on.
Read more:
Conclusion:
In fact, there are many other PC audio editing apps that you can choose from. Some are free, some are available. However, no matter what audio editing app you choose, you should only use it when you need it.
If you need complete and qualified features, of course, there is no harm in using a paid PC audio editing application.
Don't forget to bookmark and always visit every day Technadvice.com because here you can find the latest technology information such as How-to Guide Tips and Tricks Blogging Digital Marketing Windows Android Root Social Media games, ETC. Best of luck.