3 Quick Ways to Remove Old Windows on PC Laptop – Have you recently upgraded your computer but the drive on your system is immediately full? Usually, this is because the old OS is still stored. In this article, I will guide you, on how to delete old windows on your laptop, which can be a solution to fix this.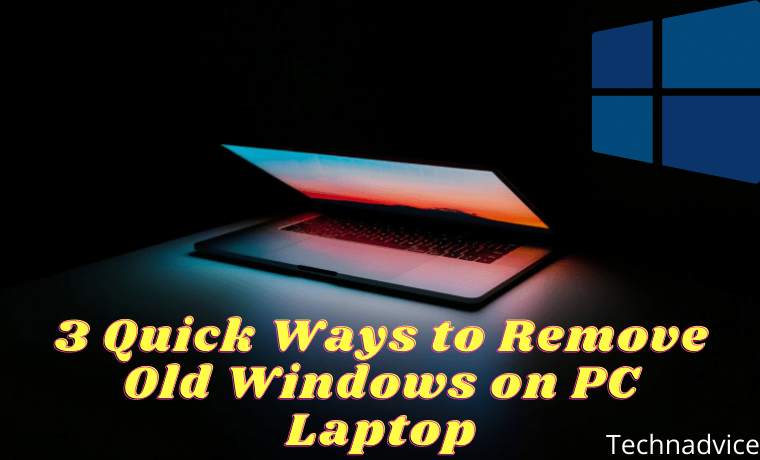 How to Remove Old Windows on PC Laptop 2023
Some people are often wrong in overcoming problems like this. They actually overcome this by deleting unnecessary data on the computer or uninstalling unused applications.
Read more:
While doing so may leave a bit of space on the drive, it's basically less effective. The reason is, the problem is the old Windows or Windows. old files that are still stored.
What Is Old Windows?
Old Windows is a folder that contains old windows system files before you upgrade. Generally, this folder is deleted automatically after a while after you start using a new OS.
As is generally known, windows have a fairly large size. That's why this old windows folder can make the drive on the system fill up fast.
Windows. old is created automatically when you have upgraded the system. Its purpose is to create a backup of the old system so that it can be used for restoration if needed.
For example, if you are not satisfied with Windows 10's performance after being upgraded, then you can restore it or downgrade it to the previous Windows using the help of this old windows folder.
So vice versa, if you feel at home with Windows performance after upgrading, then you can delete the old windows folder which is still stored on the computer drive.
How to Remove Old Windows on Laptop PC
Delete old windows by direct delete, sometimes it doesn't apply. So that the old windows folder can be deleted, there are some special steps to do it.
But don't worry because the method is quite easy to do. In fact, there are several different ways that can be alternative options.
Delete files from the old windows folder can be done in Windows 10, 8, and 7 permanently and is proven safe.
#1. Disk Cleanup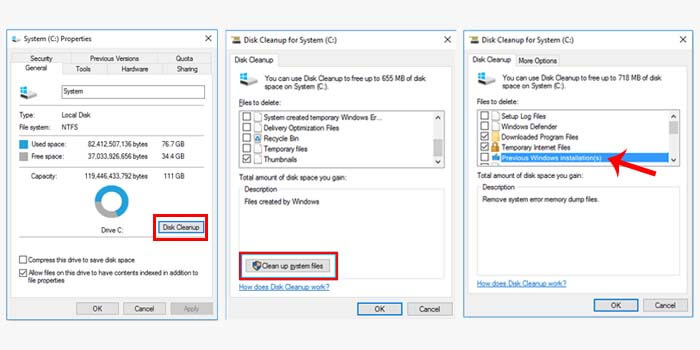 Disk Cleanup is a feature of Windows that functions to clean the drives on the computer. Generally, this feature is used to safely delete junk files including the old windows folder.
Here's how to safely remove old windows:
Open a file explorer on your laptop or PC.
Then right-click the drive (C :).
Then select the Properties option.
Click the Disk Cleanup button.
Then click Clean Up System Files.
Check the Previous Windows Installations box then OK.
Click Delete Files then select the Yes option to accept.
After that, wait for the process to complete.
The length of time it takes to delete the old windows folder depends on its size. When it's finished, don't forget to restart your PC or laptop.
#2. Using CMD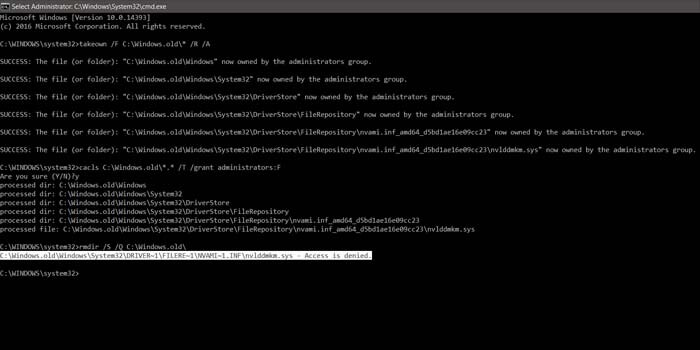 Command Prompt or often referred to as CMD is a program in windows that is capable of executing commands. You also delete old windows by giving this command in CMD.
How to delete old windows with cmd:
Press the Windows key + R then type CMD and click OK.
Then the CMD window will open.
Type the command takeown /FC:Windows.old* / R / A
Then press the Enter key on the keyboard.
Then type cacls C: Windows.old . / T / grant administrators: F
Hit the Enter key then type Y and hit Enter again.
Next, enter the command rmdir / S /QC: Windows.old
And press Enter to apply the command.
Now you just have to wait for the process to finish, and then restart your computer or laptop. Deleting the old windows folder using CMD can be a pretty good solution.
#3. With CCleaner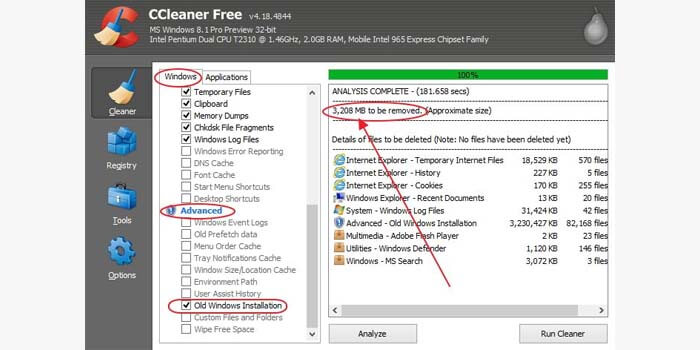 CCleaner is a popular and proven cleaning software for windows. CCleaner has a feature to permanently delete the old windows folder and its contents.
How to remove old windows with CCleaner:
Run CCleaner on your PC or laptop.
Then enter the Cleaner menu.
Check the Old Windows Installation box.
Usually, this option appears in the Advanced list section.
Now click the Analyze button to start scanning.
Then the size of the old windows folder will appear.
Click the Run Cleaner button and wait for CCleaner to finish removing old windows from the PC.
Done.
Although CCleaner can be used free of charge, it provides significant benefits for PCs and laptops. Some people even consider this software a must-have for every computer.
Conclusion:
So, friends, This is the explanation of 3 quick ways to remove old windows on a PC Laptop, those are some ways you can do to delete the windows. old folder and its contents are permanent until it is clean on win 7, 8, and 10 safely.
Don't forget to bookmark and always visit every day Technadvice.com because here you can find the latest technology information such as How-to Guide Tips and Tricks Blogging Digital Marketing Windows Android Root Social Media games, ETC. Best of luck.