Top 20 Best Download Free VPN For PC and Fastest – There are even some that turn to fully paid and some that offer free for a few hundred MB or just a few GB, then have to pay.
Top 20 Best Download Free VPN For PC and Laptop 2023
There are a variety of reasons for using a VPN, but the two main reasons are usually to open access to sites that are blocked by the government.
Read more:
But using VPNs also have risks, the possibility of VPN service providers will take your private data, such as the websites visited, the IP used, and others. But some of these risks will be ignored by most people.
#1. Windscribe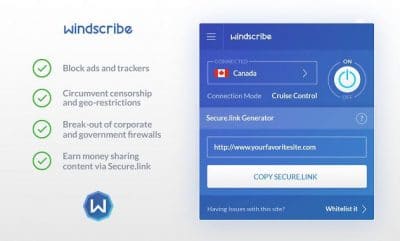 Windscribe is still new in the world of free VPN applications, but the amount of data access provided and the commitment to protect your privacy makes it the best free PC VPN available today.
In the free version, Windscribe gives you 10 GB of bandwidth per month and gives you the option to choose 8 server locations. Sounds enough right?
You only need to create a username and password to register, email is only optional. Windscribe itself does not store any data from you such as connection log, IP that you use or website visited.
Meanwhile, access to 10GB of data for a month is arguably large for the free category and we think it is enough for you who use a VPN for browsing purposes only. But if you think it's not enough, then the option to buy more data even unlimited can be done.
In addition to the special things above, Windscribe also has an adblocker and firewall installed by default, making it one of the best. Windscribe can also be installed directly in the browser as an extension.
Strengths and Weaknesses of Windscribe:
Large monthly quota, 10GB (+)
Fairly open in terms of the privacy policy (+)
Clients are sometimes not good (-)
#2. Hotspot Shield Free VPN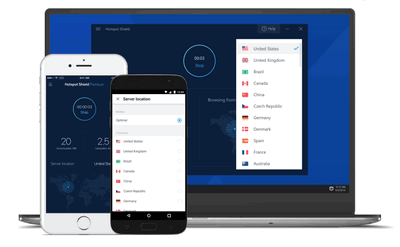 The popularity of Hotspot Shield as a free VPN is certainly unquestionable. You can choose up to 25 countries if you use the Elite version of Hotspot Shield, but if you keep using the free version, there are a number of limitations and it comes with advertisements.
The free version of Hotspot Shield provides a daily quota of 500MB or about 15GB a month and can connect to 5 devices.
Compared to other competitors, 500MB is quite a lot, especially if you use a VPN just to simply open a blocked site without downloading or streaming.
In addition to being generous enough to provide quotas, Hotspot Shield is also very easy to use, be it the mobile or desktop version. You also get a premium trial opportunity for 7 days to enjoy the quality of one of the best VPNs for this PC.
Advantages and Disadvantages of Hotspot Shield Free VPN:
Safe to use because it does not capture your privacy data (+)
500MB daily quota (+)
Easy to use (+)
Unstable performance in the free version (-)
#3. Tunnelbear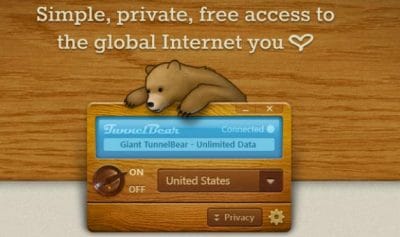 Tunnelbear might have a rather childish design, but TunnelBear is one of the free VPN applications that you can have. Although in the free version, you only get 500MB each month, the numbers are very small indeed.
But we think it's enough for you to run a VPN just to open certain blocked sites or for other minor uses. The performance of TunnelBear looks massive, fast, and very easy to use because you don't need to do any additional settings.
Read more: 10 Ways to Open Blocked Sites with Proxy Updated List 2020
Connect options automatically work very well, you can also set options to choose one of the 20 countries provided.
It's also worth noting that TunnelBear recently changed its privacy policy a little, so now TunnelBear only takes fewer data than usual so that your privacy is even more secure.
TunnelBear Strengths and Weaknesses:
Easy to use (+)
Low quota, 500MB per month (-)
#4. Speedify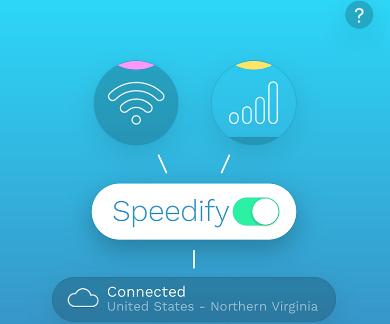 Speedify, as the name implies, has one clear goal in providing its VPN service, which is to make sure that when you activate a VPN, your internet connection speed will remain as fast as possible.
Therefore, Speedify will use all available connections as much as possible to get good performance, by combining various available connections, such as Ethernet with 3G / 4G networks.
But if you only use one connection, Speedify still claims that the connection will be accelerated with its own technology.
In addition to offering the maximum speed, Speedify also does not take private data from you at all and is available on various operating systems such as Windows, Android, iOS, and Mac and has access to 30 VPN servers. In the free version, Speedify offers 4GB of access in the first month.
But it dropped dramatically to 1 GB in the following month. 1GB might look a little to most people, but again it all depends on your needs in using VPN.
Speedify Advantages and Disadvantages:
Internet speed is not reduced (+)
Open privacy policy (+)
Cannot be used for Netflix (-)
#5. Hide.me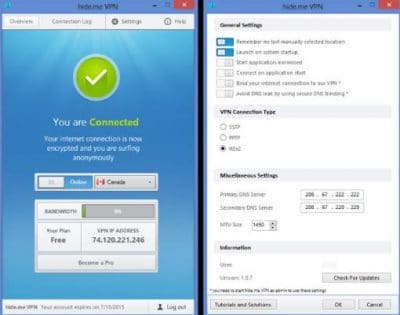 Hide.me is a VPN application from a developer from neighboring Malaysia. Although there are only 3 server locations available, namely Singapore, the Netherlands, and Canada, and maximum data usage of 2 GB per month.
There are various reasons for you to use it, one of which is the maximum speed, and can be paired with other Premium VPN speeds. But unfortunately, due to the small location of the server, it becomes a big drawback.
But for those of us who live in Indonesia, the Singapore server is the closest and can deliver extremely fast speeds.
More pluses, your browsing data or privacy will not be saved. Apart from Windows, Hide.me is also present in various other popular operating systems such as macOS. iOS and Android and Linux.
Hide.me Strengths and Weaknesses:
Privacy policy deserves thumbs up (+)
No adverts (+)
Internet speed not reduced (+)
Can only be used for one device (-)
Only has 3 location options (-)
#6. ProtonVPN Free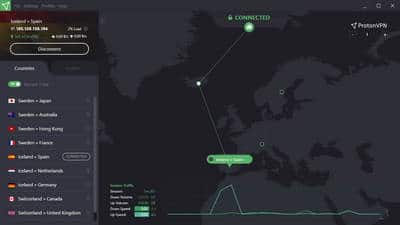 If you are looking for a VPN for a PC with an unlimited quota, then your choice must fall to ProtonVPN Free. This application does offer a VPN without quota limits. In addition to the free version, ProtonVPN also offers a premium version.
Very rarely certainly encounter a VPN that offers an unlimited quota like ProtonVPN. Although it looks very good by offering an unlimited quota, ProtonVPN also has some disadvantages.
An example, if ProtonVPN can only be used on 1 device, then there are only 3 locations to choose from, then free users also get lower priority in terms of speed compared to premium users.
ProtonVPN Free advantages and disadvantages:
There is no unlimited quota alias (+)
Open in terms of the privacy policy (+)
Can only be used for one device (-)
Only has 3 location options (-)
#7. Opera Browser VPN (SurfEasy)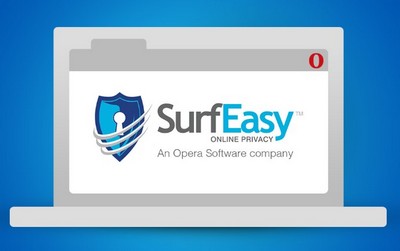 SurfEasy was developed by a company or organization that also makes the Opera browser. SurfEasy is also used by the Opera browser as a VPN integrated into the browser.
There are two versions available for this VPN, namely paid and free versions. For the free version, you can use one account for five devices at the same time, you can also choose 1000 servers in 25 countries which are also enjoyed by users of the paid version.
So for server business, free and paid users are treated the same. But there is a noticeable difference in terms of quota, as a free user, you only get a quota of 500MB per month.
With this thin quota, you certainly cannot use this VPN application too often. But the thing to remember, is if you use the Opera browser, then you can use VPN in it unlimitedly.
SurfEasy's Strengths and Weaknesses:
Can be used on 5 devices at the same time (+)
Have many servers to choose from (+)
There is only a quota of 500MB per month (-)
The speed is not too satisfying (-)
#8. VPNBook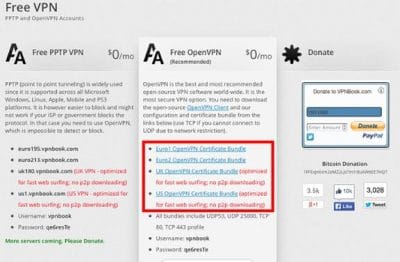 VPNBook is released for free and there is no bandwidth limit and no premium version. But don't be tempted first, because VPNBook is not designed for beginners. Because VPNBook doesn't have an application or how to use it.
You will only be given a list of servers and the rest will be left to its users. To use this VPNBook, you must choose to use PPTP VPN or OpenVPN.
PPTP VPN supports almost all operating systems, but it's easier for operators to block your VPN connection.
OpenVPN is even safer but requires a separate application to run with the configuration of VPNBook and various certifications. If you are already good, VPNBook is worth mentioning as the best free VPN application.
Advantages and Disadvantages of VPNBook:
Can be the best in speed and quota (+)
Difficult to use (-)
Not recommended for everyone (-)
#9. Freelan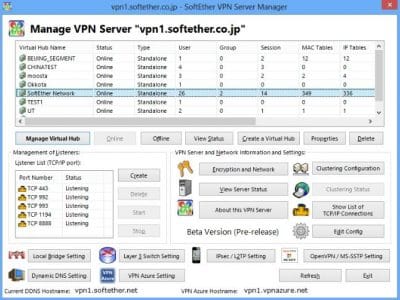 The installation process of Freelan is somewhat different from the others because it not only installs software as it should, but Freelan also installs new network drivers to take control of your web traffic.
Although actually, it will not be a problem, it still doesn't hurt us to say that.
Freelan is a free VPN application with code that can be seen by everyone, but the installation process can be more complicated for beginners. For users who already understand the ins and outs of VPN, Freelan is as good as VPNBook.
Maybe for those of you who are still new to VPN, you should avoid this application. But if you feel like learning by trying, it doesn't hurt to install Freelan to try one of the best VPN applications for this PC.
Freelan's Strengths and Weaknesses:
Can be the best in speed and quota (+)
Difficult to use (-)
Not recommended for everyone (-)
#10. Hola Free VPN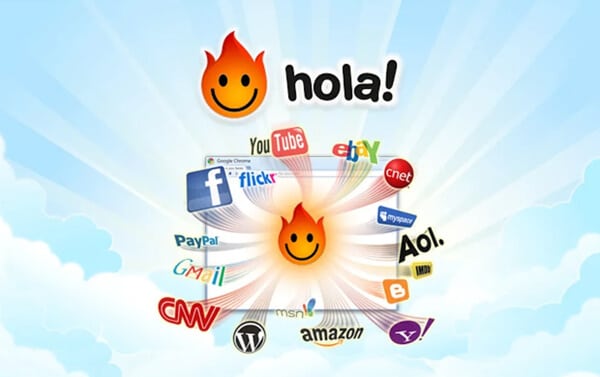 VPN application for PC that you can use is Hola Free VPN. With this VPN, you can open blocked sites, secure networks, and speed up internet connections.
This VPN will direct your internet service to other countries' servers such as Singapore, the United States, Canada, or other countries that have pretty good internet quality.
Well, this free VPN application can also be found on smartphone devices. And of course, the way to use it is almost the same, guys.
Simply connect, and you will be connected to a foreign network server. That way you can open all sites that are blocked in India.
| | |
| --- | --- |
| Name | Hola Free VPN |
| Size | 600 KB |
| Download link | |
#11. AVG Secure VPN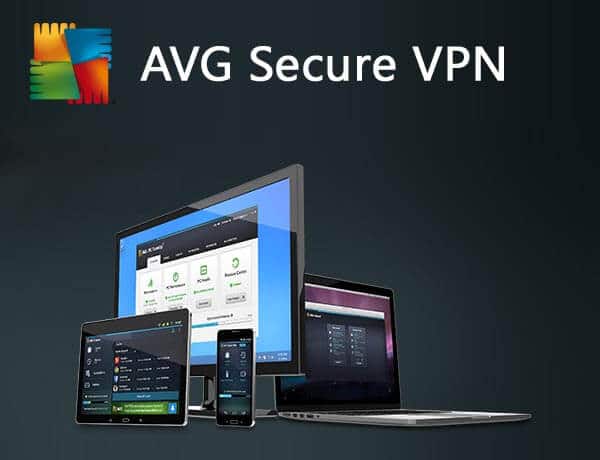 Well, the next VPN application for PC that you can download and try is AVG Secure VPN guys. By using this application, you can surf the internet with anonymous networks. In addition to providing VPN services, AVG also provides antivirus services, guys.
Wah completely yes, in addition to the VPN application, he can be used for Antivirus applications as well. Well, for Mac users and smartphone users, you just calm down guys. Because this application is also present for these devices.
| | |
| --- | --- |
| Name | AVG Secure VPN |
| Size | 20MB |
| Download link | |
#12. Pure VPN
PureVPN is a VPN application for PCs that has incredible speed. You can open various blocked sites using these applications guys.
There are more than 2000 servers in more than 140 countries when you use this VPN application. Of course, this application is very safe for you to try and use.
Not only on PC, but you can also use the PureVPN application on a smartphone. Oh yeah, PureVPN also has an exciting event, don't you believe it? Just check out the PureVPN site.
To get full service from this application, you need to pay, yes guys. Eits, although paid, the services provided by this application are very satisfying.
| | |
| --- | --- |
| Name | Pure VPN |
| Size | 32MB |
| Download link | |
#13. KeepSolid VPN Unlimited
KeepSolid VPN Unlimited
VPN Unlimited is the next VPN application for PC which is highly recommended for you guys. You can use this VPN for free for a trial period of 7 days.
Well, if you are satisfied with the service from Unlimited VPN, you can subscribe by paying some money guys.
Of course with this Unlimited VPN application, you can open sites that are blocked by the government, and speed up your internet network.
| | |
| --- | --- |
| Name | KeepSolid VPN Unlimited |
| Size | 34MB |
| Download link | |
#14. NordVPN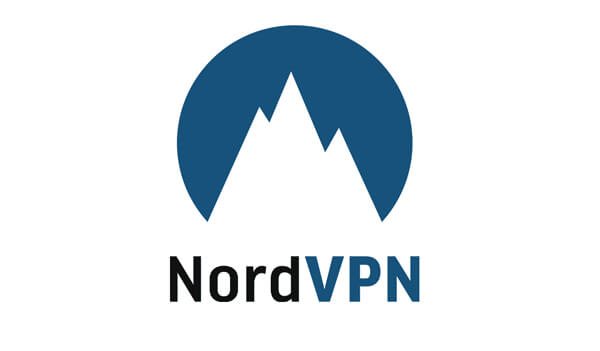 The next VPN application for PCs is NordVPN. With this application, you can connect to 5000+ servers in 60+ different countries.
Well, this application also has SmartPlay features like DNS that are smart and fast. These features are used to overcome geographical restrictions and unblock all other sites or services.
For speed issues, it seems like this application doesn't need to be doubted. Once you are connected to a server, your internet speed will increase 2x.
| | |
| --- | --- |
| Name | NordVPN |
| Size | 13MB |
| Download link | |
#15. SoftEther VPN Gate
SoftEther VPN Gate
We once discussed this application in the article on how to download and play PUBG Lite. So in addition to opening blocked sites, this application can also be used to run games or applications that are not available in our country.
How use this application is also quite simple and easy to do. There are even many servers that you can try to open blocked sites.
Moreover, the choice of internet speeds available makes it easier for us to choose which server has a very fast internet connection.
| | |
| --- | --- |
| Name | SoftEther VPN Gate |
| Size | 51MB |
| Download link | |
#15.

 Open VPN
Open VPN
Compared to other VPN applications for PCs, the Open VPN application is quite complicated for guys to use. Although complicated, of course very comparable to the results given.
You can get a VPN for free without the need to pay some money, without bandwidth limitations, or other restrictions guys.
So with this application, you will create your own Virtual Private Network (VPN). Well, to make your own VPN you have to get access to the Open VPN server.
Of course, you can find server access via a free VPN site or service provider. One free VPN provider that you can use is TcpVPN.com guys.
Besides TcpVPN, you can also search for free VPN service provider sites on Google with the keyword " free PPTP VPN " or " Free OpenVPN ".
| | |
| --- | --- |
| Name | Open VPN |
| Size | 3MB |
| Download link | |
#16. Hide Me
With the Hide Me application, you will look completely anonymous when browsing blocked sites. That's because the VPN application for PC will hide your identity and location on the internet.
In addition, this application can also protect your activities from hackers or other dangerous activists when connected to public networks.
Hide Me will unblock all the sensors that are on the sites so that you can browse any website at will without any restrictions.
| | |
| --- | --- |
| Name | Hide Me |
| Size | 5MB |
| Download link | |
#17. SurfEasy VPN
SurfEasy VPN can unblock internet access and secure your internet connection. That, of course, makes you able to surf the internet safely.
SurfEasy VPN also allows you to browse any website without any censorship or blocking from the government. How to Cool right guys?
This VPN application for PC also offers protection of your identity or privacy so that you will not be known to others online even when you are connected to a Public WiFi network.
| | |
| --- | --- |
| Name | SurfEasy VPN |
| Size | 44MB |
| Download link | |
#18. ZPN
ZPN is the next VPN application for PC that you can count on to open sites that are blocked by the government and other agencies.
ZPN will hide your IP Address while surfing the internet. That way you will really look anonymous when connected to public WiFi without fear of your activity being seen by hackers or trackers.
You can enjoy ZPN for free and get a 10 GB quota limit for each month, or you can subscribe to a premium to get unlimited data access and unlimited bandwidth.
| | |
| --- | --- |
| Name | ZPN |
| Size | 10MB |
| Download link | |
#19.

 HideMan VPN
The next VPN application for PC is HideMan VPN. This VPN application offers data anonymity and encryption for internet sessions and activities.
For free users, this application provides bandwidth and internet speed limits. But if you want to spend a little money, then you will not get the limit, aka unlimited.
Well, if you use free access, you can only connect to a few servers. Meanwhile, if you upgrade to Premium, you can connect to many different servers.
| | |
| --- | --- |
| Name | HideMan VPN |
| Size | 2MB |
| Download link | |
#20.

PrivateTunnel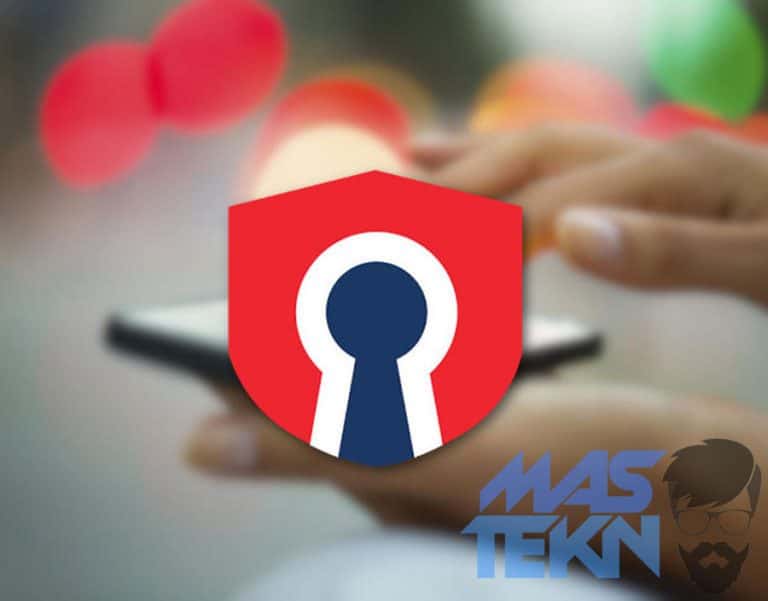 The last best PC VPN application that I recommend to you is PrivateTunnel. Just like other free VPN services, PrivateTunnel is available for various platforms such as Mac, Android, Windows, and iOS.
PrivateTunnel has a limited and free package apart from paid services. If you want to use the PrivateTunnel service at any time then I suggest you use the annual package with a $ 30 fee where you will get unlimited data.
As one of the best free VPN service providers, PrivateTunnel works well, although sometimes the connection is slow this application is very easy to use. Therefore you can consider this application if you are looking for a free VPN for your PC.
Read more:
Conclusion:
So, friends, This is the explanation of the top 20 best downloads free VPN for PC and the Fastest application recommendations for PC that you can use to open blocked sites or play games that are not available in your region.
Don't forget to bookmark and always visit every day 
Technadvice.com
because here you can find the latest technology information such as How-to Guide Tips and Tricks Blogging Digital Marketing Windows Android Root Social Media games, ETC. Best of luck