11 Best Google Hidden Games You Can Play on PC – A browser is software that may be currently very needed by most people Internet users. Yes yes yes, if no browser how do we browse here and there? here are the best Google Hidden Games for you.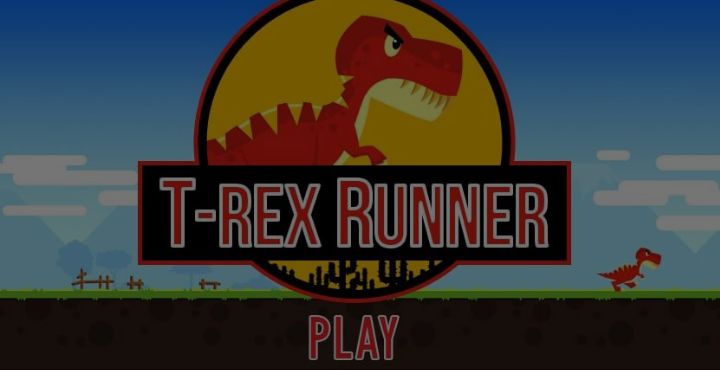 11 Best Google Hidden Games You Can Play on PC 2023
But of the many browsers I know, for example, Internet Explorer, Mozilla Firefox, Google Chrome, Opera, Safari, Baidu Spark Browser, etc.
Only Google Chrome provides the best features and facilities. And Google Chrome also does not take a lot of RAM so it does not make your laptop/computer is not too heavy to run.
Read more:
For the Year 2015, it seems Google Chrome is the best browser in terms of convenience in use, but Mozilla Firefox is still victorious with the number of plugins it has.
And Google Chrome does not stay silent, now Google Chrome is a game called T-Rex Runner when we want to open a web / URL address but we have no internet connection. Or usually, there is writing Unable Connect to the Internet if you use the Google Chrome India version.
Best Google Hidden Games You Can Play on a Laptop PC
#1. How to play this T-Rex Runner Game?
Make sure you have installed Google Chrome Browser first if you
have not installed it Download and install first Through this>https://www.google.com/chrome/
Make sure you are not connected to the internet.
Then enter the URL in the address bar and click Enter, eg http://Infomint.net/
Then there will be the words "Unable to connect to the Internet"

or if you use the Google Chrome India version of his writing "Can not connect to the internet".
5. To play the game T-Rex Runner NYC, you simply by pressing PASI or Up Arrow key from your keyboard.
And the game you've played, to jump can use/press PASI or UP Button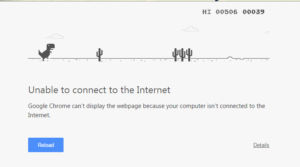 #2. Play the Chrome T-Rex runner online game, taken from Chromium
Because Chromium is an open-source browser and T-Rex runner games also function there, the source code game parts have been extracted and are available for download. You can access it here. Because this is entirely JavaScript, there is a way to install this on the disk and start playing.

To play the Chrome Dinosaur game while online, you can simply visit this GitHub page and play the game… This game was created using the same Chromium source by a  Chinese developer named Wayou Liu.
Not only that. Besides T-Rex, some games have been made that you can enjoy in your free time. Access them here:

#3. Play the Chrome Dinosaur Game written in Scratch
There are many versions of the Chrome Dinosaur game on the web. They are made by various game developers and coders. However, I have chosen to share the version written in the Scratch programming language because you can access the code (yes, I like open source) and see how it works. Play here. Please note that you need Flash support to play dinosaur games using this link.
By using "See Inside" in the upper right corner, you can access this Google game code, modify it, and download it.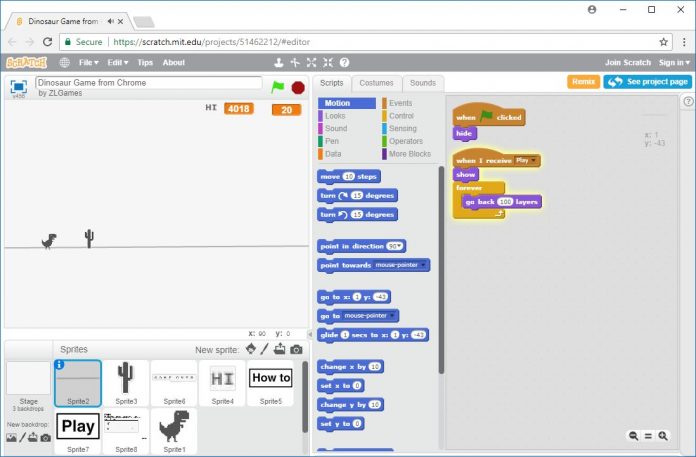 4. Play the game when the computer is online without turning off the WiFi
If you don't want to visit some external websites and play endless dinosaur games without turning off the internet, there are ways for that.
Simply press Ctrl + Shift + I to open the Developer Tools panel. There, visit the Network tab and look for the Offline option next to Disable Cache. Checkmark the Offline option and you are ready to go. Now, you can play the T-Rex game by trying to access any website.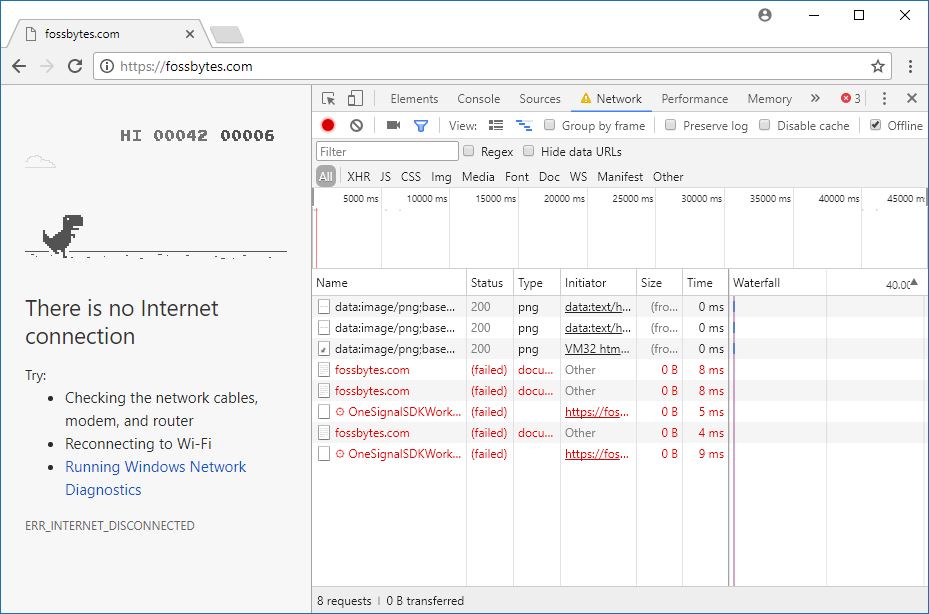 #5. Tic Tac Toe
The first hidden game is Tic Tac Toe, the name of the game is less popular in Indonesia because we more often call this game by the name of XOX or SOS. This game was very popular when I was educated in elementary school, of course when I knew this game with the name SOS.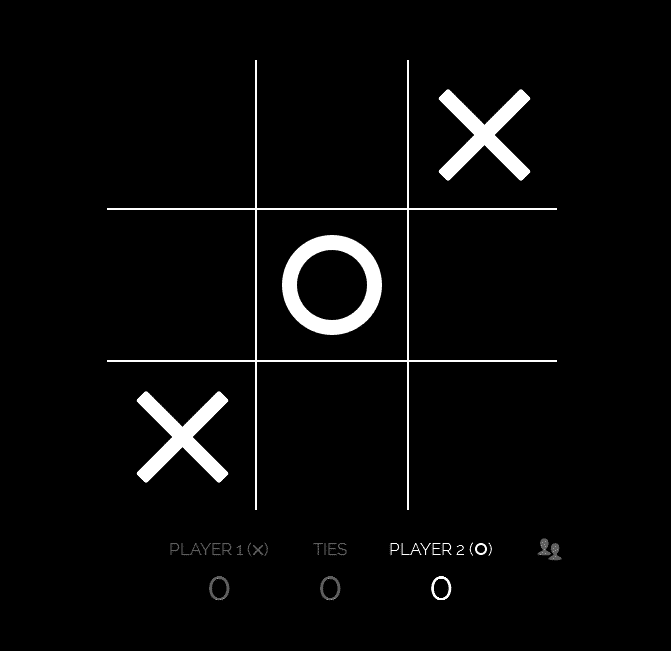 This game system is very easy, that is, we only need to write "crosswise" on a board that has a varied field (generally it is 3 × 3).
For those of you who want to be nostalgic about the game, you can access it through Google.com by typing the keyword "Tic Tac Toe" in the Google.com search field. Besides playing alone, you can also fight your friends by choosing the player mode you know.
#6. Atari Breakout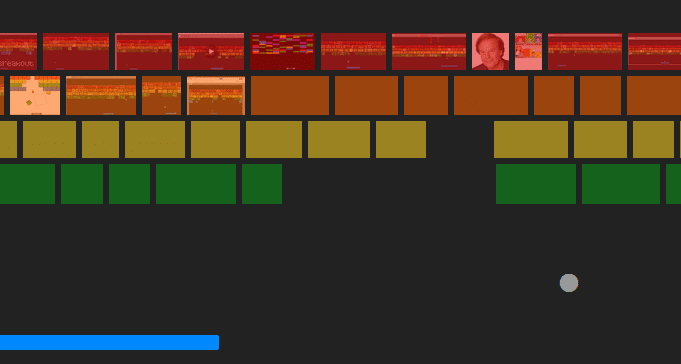 The second hidden game is Atari breakout which is also a game made by Atari. If you are confused as to what this game is like, actually this game is similar to Game House's Magic Ball where your job as a player is to bounce the ball by moving the board. So that the ball bounces and destroys the blocks above Google Hidden Games.
This game is very exciting to play to fill your spare time, especially when you are bored, or hit by confusion when accessing the Internet.
If you are interested, you can visit the Google site and write Atari Breakout in the search field to start playing the game.
#7. Pacman
Pacman, who doesn't know Pacman ?. Yup, the game developed by Namco was first released in Japan in 1980 ago. But Pac-Man never seems to die and continues to be popular until now, even its development has made Pacman has been released on many other gaming platforms such as Game Boy, SNES, and so forth.

In the Pac-Man game, you are required to move the yellow tokok, and carry it around the twisting aisles while eating small dots and other objects that you find while traveling through the hall. However, at the same time, you will be confronted by four ghosts who also wander around the clearing with the task of catching Pac-Man.
Well, for you Pac-Man game lovers or just miss playing it again. You can play it by utilizing Google's hidden game features that you can access by writing the keyword "PacMan" in the Google site's search field. In addition, Google itself released the Pacman game in 2010 to coincide with the 30th anniversary of the release of the PacMan game.
#8. Solitaire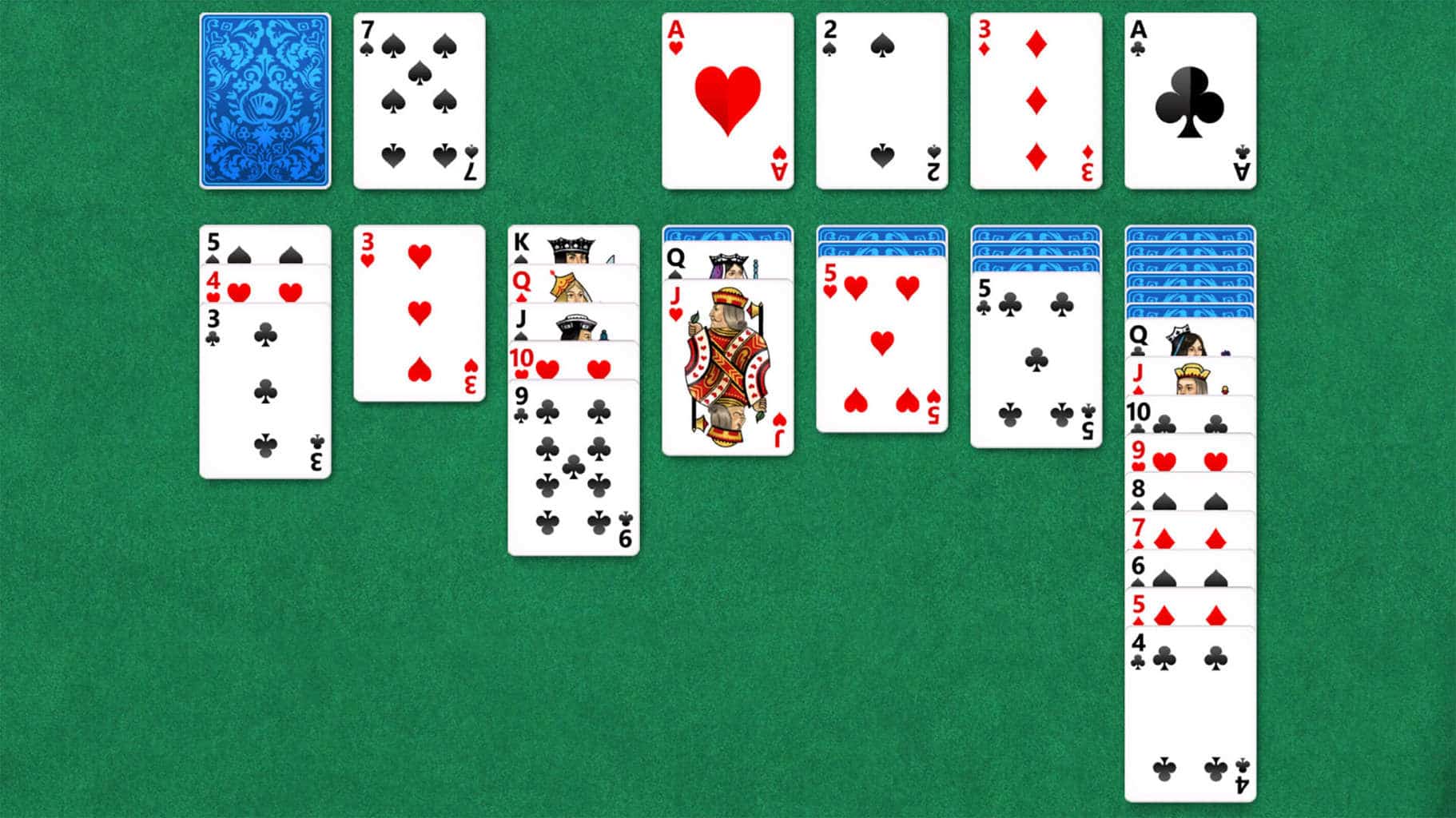 For your card lovers, of course, you are familiar with this game. Solitaire is a game that exercises the patience of the players. Played with 52 standard game cards, you must arrange and stack each type of card, using a sequence that starts with the US card and ends with a King card.
You can play this game on Google by using the keyword "Solitaire" in the Google.com search field
#9. Zerg Rush
Zerg Rush is a joke presented by Google, but not the same as other jokes that have been released by Google. Zerg Rush itself is a game produced by Google itself Google Hidden Games.
If you have played StarCraft, you should already know the true meaning of these keywords. Google might produce the game inspired by a tactic called Zerg Rush found in StarCraft.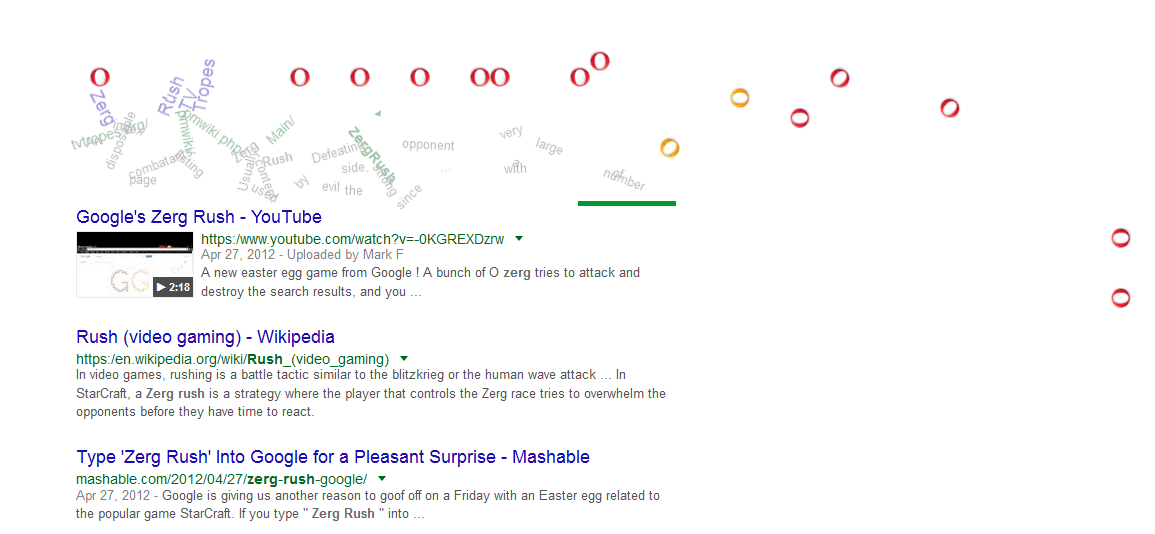 If you are confused about what this game means, how to play it is actually quite modest. In this game, you are assigned to kill the letter "O", which eats and eats away your search keywords by pressing the letter "O" with your cursor. You can also see the life of the letter "O" that you are fighting, and also the life of the search keywords that you must protect.
To play this game you can write the keyword "Zerg Rush" in the google search field. Furthermore, the letters "O" will soon fall on the computer screen, and you too are ready to fight them.
#10. Basketball 2012

This game is very suitable to fill the time when bored accessing the internet. Taking Google's hidden basketball game theme is very exciting for you to play Google Hidden Games.
How to play this game is fairly easy, where your job is just to press the spacebar to throw a basketball held by the character in the game.
To play this hidden game, you can write the keyword "Basketball 2012" in the Google search field. After that, you too are ready to play this game that is no less fun.
#11. Slalom Canoe

The last game I will discuss is a game called Shalom Canoe. In this game, your job is to move the canoe to pass obstacles around the river. You can use the directional buttons on your keyboard to move the canoe, and this game is more suitable if it is likened to white water rafting in the real world huh?
To play this unique and cool game, you can write the keyword "Shalom Canoe" in Google's search box.
Conclusion:
So, friends, These were the 11 best google hidden games you can play, Although seemingly trivial, but these games may be able to bring joy. Or maybe as a means to fill in spare time when we are bored and confused in accessing the internet. How, interested to play it?
Don't forget to bookmark and always visit every day 
Technadvice.com
because here you can find the latest technology information such as How-to Guide Tips and Tricks Blogging Digital Marketing Windows Android Root Social Media games, ETC. Best of luck.