12 Ways to Fix Windows Defender Can't Opening – Windows Defender is an antivirus software developed by Microsoft. This is a default application that serves to protect the Windows operating system from virus or malware attacks.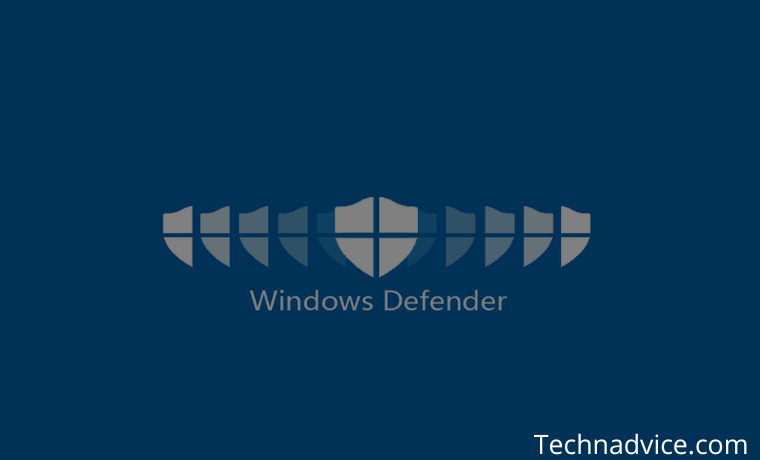 How to Fix Windows Defender Can't Opening 2023
There are tons of features you can use to protect your computer. You can perform periodic virus scans, remove problematic applications, and monitor device health, and performance, to protect you when accessing dangerous sites or links in a web browser. Seeing these functions, Windows Defender has a myriad of benefits for its users.
Read more:
But what happens, if the Windows Defender you are using has problems or malfunctions, such as Windows Defender cannot be opened or accessed.
This of course irritates you. This condition is usually indicated by the appearance of some error information when opening Windows Defender, such as " Windows Defender is turned off by group policy " or " Windows Defender has been turned off and isn't monitoring your computer ".
Then what are the causes and problems of Windows Defender that can't be opened? And how to solve it? To overcome this, you can see the causes and solutions to overcome them below.
Causes Windows Defender Can't Opening
There are several reasons why Windows Defender has failed to function, for example, due to problematic system factors, there are several colliding services until the device is attacked by a virus or malware. For a more complete explanation, please refer to the following points.
Troubled system – If your Windows system fails to function, then it is possible that some of the components in it are also having problems, including Windows Defender. This is reasonable, considering the role of the system is very influential on the performance of the program or application.
Service crashes – It could be that the main cause of Windows Defender not being able to open is due to system services that have crashed or are not running. This condition is usually marked by a statement not responding to several programs, which ultimately has an impact on other programs.
There is a problem with an antivirus application – You cannot rule out the possibility that an antivirus application also has the potential to be dangerous on your computer/laptop device. Even more so if you download the app from an unknown source. It is possible that these applications can also take full control of your device, So, it is recommended to be more careful in installing third-party antivirus.
Exposed to virus/malware attack – Virus or malware itself is able to change to delete files contained in the system. As a result, some files become corrupt and problematic.
etc.
How to Solve Windows Defender Can't Opening
There are several methods that you can use to fix Windows Defender that won't open. For example, by reloading the device, removing the antivirus application, restarting the Security Center, and using the scanning command with CMD ( Command Prompt ). In this article, I use Windows 10 as a medium and an explanation. If you have the same problem but are using a lower or higher operating system, please make some adjustments to the method used. The following methods and explanations;
#1. Restart your laptop/computer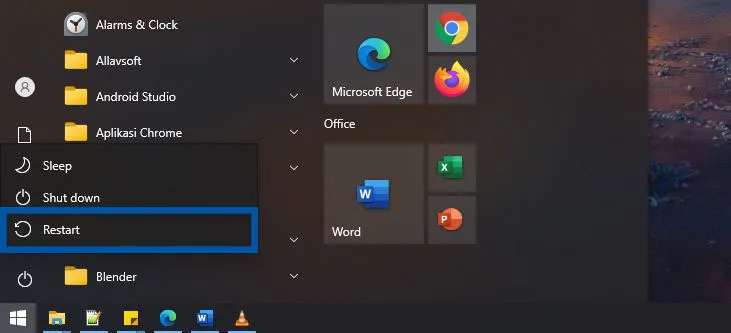 The first method to solve the problem of Windows Defender not opening is to reload your computer/laptop. This method does look simple, but in fact, many Windows problems are well resolved just by reloading the device.
However, this method applies when the problem is caused by a system service that crashes or is not running. If this method does not produce any changes, then please proceed to the second method.
#2. Removing antivirus apps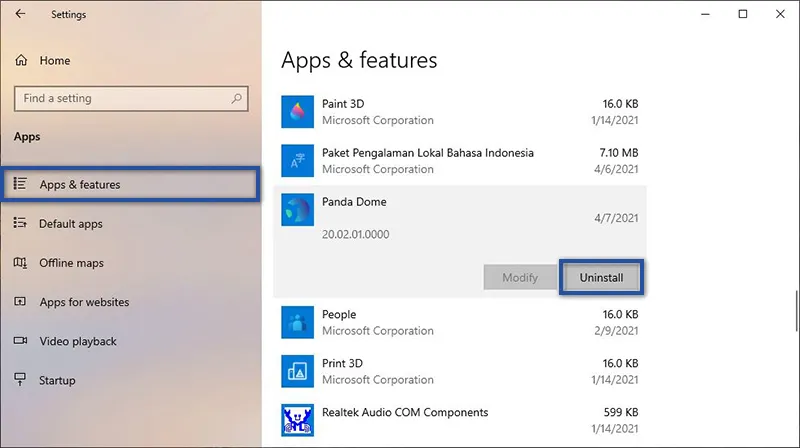 As I said above, there is a possibility that the antivirus application that causes Windows Defender cannot be opened. Conditions like this can happen if you use an antivirus from an unknown source. For this reason, it is recommended that you remove the antivirus application in the following way.
First, click on the Start menu » Settings » Apps.
Then select the Apps & Features tab.
Find and select the Antivirus application » click Uninstall » and click Uninstall again to confirm the removal of the application.
Follow the app removal process.
Done.
There are many ways you can delete an application or program in Windows. So you can use other methods that are easy to do and don't have to refer to one method above.
#3. Restart Security Center Service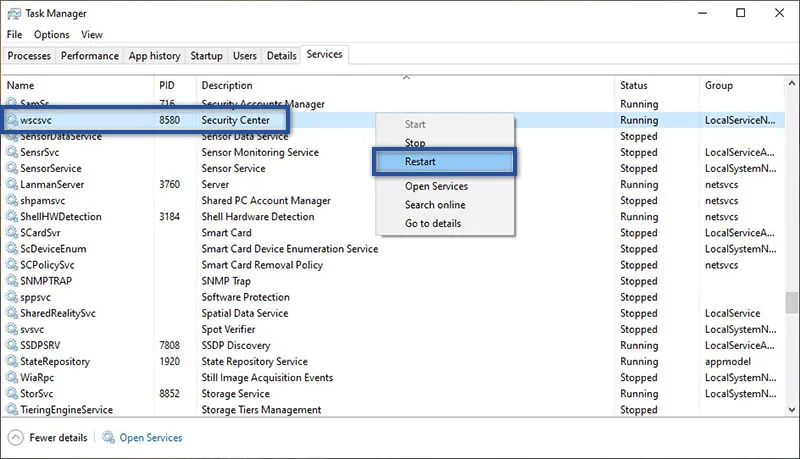 The next method is to restart the Security Center service. From the results of research that I did on several sites, there are those who think that this method can solve Windows Defender that cannot be opened. To do so, you can refer to the points below.
First, open the Task Manager.
Then select the Services tab, locate and right-click Security Center » and select Restart.
If so, check whether Windows Defender is still having problems or not.
Done.
#4. Run CMD Command
It is possible that the cause of this problematic Windows Defender comes from corrupted or missing system files. Therefore you can use some commands in the Command Prompt to fix the problem.
You could try running the System File Checker or DISM command. These two commands have almost the same function, namely to repair damage to system files.

sfc /scannow
First, click the Windows Start menu on the Taskbar.
Then scroll down to find Windows System.
If so, right-click Command Prompt » More » and Run as administrator.
Next type the command: sfc /scannow » and press Enter.
Wait for the process to reach 100%.
After that please restart your device to see the result.
Done.
If running an SFC scan still doesn't fix the problem. You can use the DISM command. To do so, just follow the steps below.

DISM /Online /Cleanup-Image /RestoreHealth
First, log in and run Command Prompt as Administrator.
Next type the command: DISM /Online /Cleanup-Image /RestoreHealth » and press Enter.
Wait for the process for a while.
After that please restart your device to see the result.
Done.
#5. Activate Windows Defender
Sometimes the Windows Defender problem that can't be opened occurs because the feature is turned off or off. In this condition, you can turn it back on through the Group Policy settings. To change it, please follow the steps below:
STEP 1: In the first step, please open the Group Policy Editor window.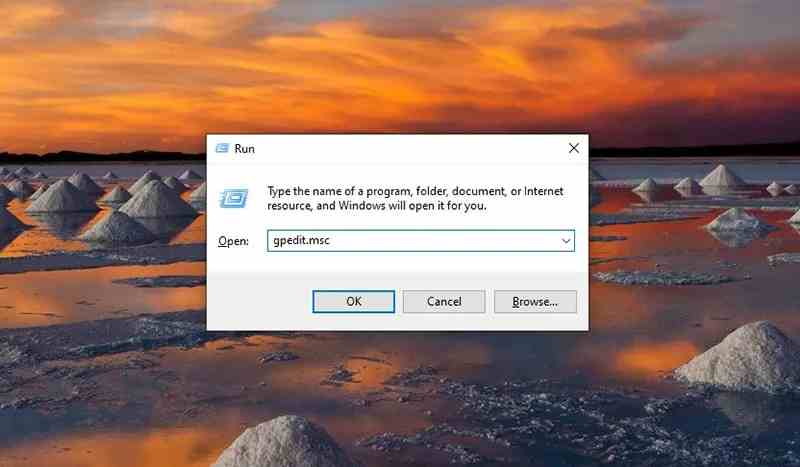 gpedit.msc
Press Windows + R on Keyboard.
Then type gpedit.msc in the Run » search field and press Enter/OK.
STEP 2: After that, enter the Windows Defender directory menu.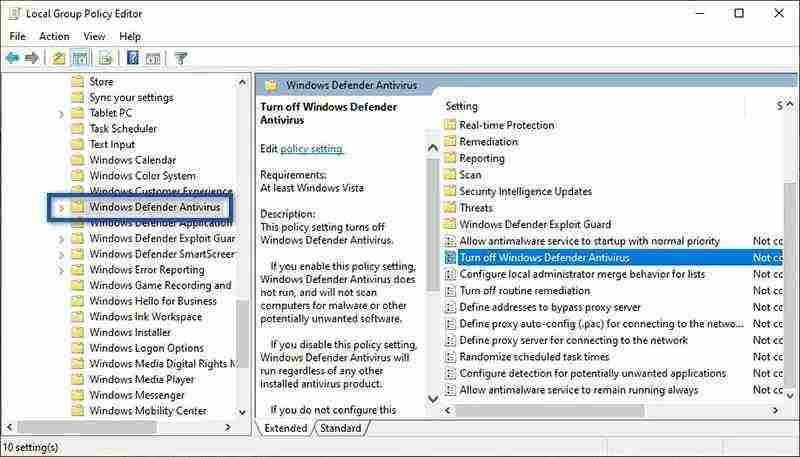 Computer Configuration > Administrative Templates > Windows Components > Windows Defender
Click the Administrative Templates directory in the left pane.
Then proceed by selecting Windows Components » and click Windows Defender / Windows Defender Antivirus.
If so, look at the panel on the right. Then double click Turn off Windows Defender Antivirus.
STEP 3: Change Windows Defender settings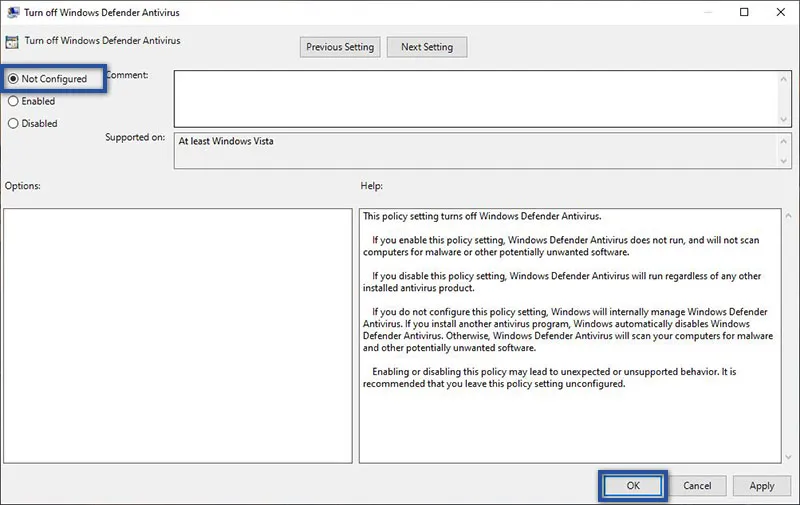 After that, click Not Configured on the available menu options » click Apply » OK.
Done.
Conclusion:
So, friends, This is an explanation of 12 ways to fix windows defender Can't open, If Windows Defender has an error, it means that your device is not getting maximum protection. Although this problem is rare, when you experience it, you will definitely feel confused.
Conditions like this are usually caused by several things, such as corrupt system files, problematic antivirus applications, or virus or malware attacks.
By trying some of the tips that I described above, hopefully, the Windows Defender error problem can be resolved properly. If there is something you want to ask or convey, please write it in the comments column below. Thank you and good luck!
What is Windows Defender?
Windows Defender is an antivirus application developed by Microsoft for the Windows operating system.
Does Windows Defender need to be activated all the time?
Depends on the user, but would be better if it was enabled. This is done so that your device gets maximum protection from virus and malware attacks.
Why can't Windows Defender run?
There are several things that cause Windows Defender problems, such as corrupt system files, colliding services/crashes, or virus or malware attacks.
Don't forget to bookmark and always visit every day Technadvice.com because here you can find the latest technology information such as How-to Guide Tips and Tricks Blogging Digital Marketing Windows Android Root Social Media games, ETC. Best of luck.