10 Best Graphic Apps for Your Android – Graphic design is a part and parcel of a marketing strategy, as it has a crucial role in the competition between the companies for being noticed.  It's an influential combination of images, headlines, slogans, and fonts that performs as a mediator between the customer and the business.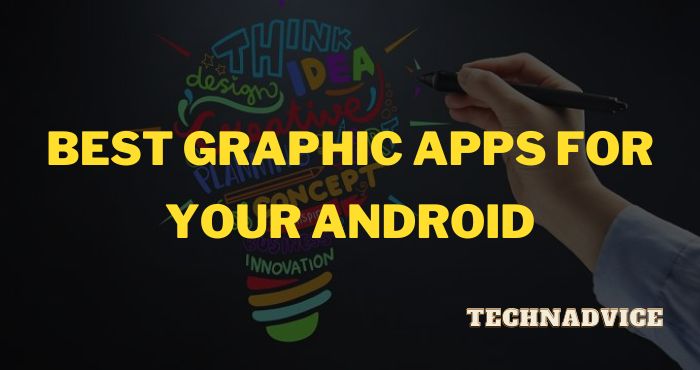 10 Best Graphic Apps for Your Android 2023
Graphic designers are highly valued for their skill to speak the message clearly, elaborating on every single detail. However, the efficiency of their work depends on the programs and applications they use.
When working from the office or home, there's a desktop computer with the required software. When on the go, it's important to have the apps at your disposal, to make quick sketches of the ideas that unexpectedly appear in your mind.
Designer programs are often thought to be one of many Adobe components because it's a leading player on the market. However, recent years have seen the rise of quite a few decent designer apps, which can be used with the Android system.  Sometimes, mobile apps offer more features than desktop ones.
We have prepared a list of the best graphic design apps for Android with their main characteristics, apart from the Adobe world.
#1. Canva
An application offers a big library of templates, icons, photos, and fonts, helping users to draw online and create high-quality visuals and presentations for social media.
#2. VistaCreate
This app is an abundant source of tools for creating brands, logos, posters, ads, videos, etc. Its service works efficiently from any Android device letting you create unique visuals and designs.
VistaCreate has a huge library of templates, fonts, illustrations, stickers, and other elements that complement the perfection of the picture. It is also a helping tool for regular users of social media platforms, who require high-quality content, yet have no basic skills in design.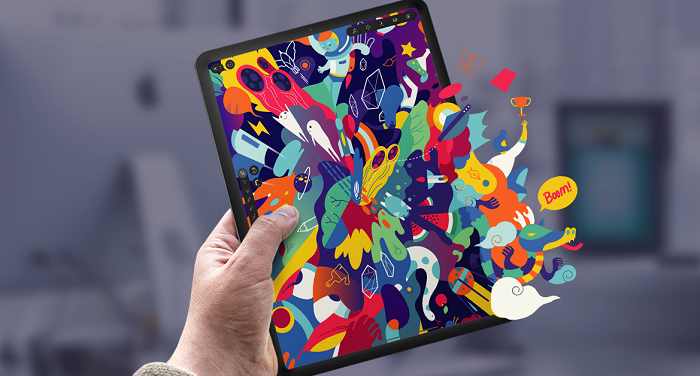 #3. Infinite Design
Infinite design is about the infinite possibility to create everything you see anywhere you are. Android combined with a tablet will replace professional software on the desktop.
The options are endless; scale, rotate, flip, distort, and skew the image; shape detection and grids for snapping. One of the main hooks for the users is an opportunity to create 3D images with five types of tools.
#4. Sketchbook
Sketchbook is fully equipped with all the necessary tools for creating simple sketches or complete artwork anytime you have inspiration. All the tools are highly customizable, giving the users freedom of expression and the ability to illustrate the tiniest details.
#5. Ibis Paint X
Popular application among users for its simplicity of usage and functionality: 2,100 materials, over 700 fonts, and 142 brushes create a good foundation for beginners, who just start their way in design, as well as for professionals, as the variety of tools is impressive.
This helpful tool comes in free form, however, the number of ads is quite annoying; Also, there's a pre-paid premium membership.
#6. Paint VR
Quite a budget option for VR painting which will also require headsets like Google Daydream or Samsung Gear VR. The choice of paints, colors, and brushes is quite limited, yet the experience is quite enjoyable. It may be too simple for professionals, however, only beginners will have fun and a basic vision of how everything works.
#7. Find My Font
If you are a music lover and hear a beautiful yet unknown song, you just Shazam it. If you are a graphic designer who notices the details of all the visuals around and wonders about every new type of font, you just find my-font it.
This application is a treasure trove, as it helps to identify up to 150,000 fonts. It initially was developed as desktop software, and later designed for Android devices. With this app, all the valuable and interesting bits and pieces around are stored in your library for later use.
#8. Paperless
Quite a basic app as it offers all the necessary tools for drawing and painting, including various brushes, feather ink, watercolors, pencils, a set of lines, and an eraser.
It can be used only for basic digital sketches, and the export is only to PNG. Have they developed the product, it could be much more functional.
#9. Color Reference
Color reference is the treasure trove of colors and their combinations; a perfect tool for those who like to play with pigments and shades as it allows you to create, export, and auto-generate color palettes, and import colors from the uploaded images. It also lets you create unique wallpapers for the devices.
#10. ArtFlow
A highly-rated application, suitable for beginners, as well as for professionals. The supported resolution is 4096×4096 pixels, which helps to elaborate on every single detail and create a unique vision of the message.
The free version offers 20 tools, which can fit the elementary level, If you upgrade the app, more than 70 tools, 16 layers, and many other professional features will be at your disposal.
Conclusion:
Graphic Design is a unique way to deliver the message of the product owner to the customer. The more precise and sophisticated the message is, the better the impression and connection it creates.
The variety of applications offers all the necessary tools to create masterpieces everywhere – at the workplace or on the go, letting your imagination build the best visuals and designs.
Don't forget to bookmark and always visit Technadvice.com every day because here you can find the latest technology information such as How-to Guide Tips and Tricks Blogging Digital Marketing Windows Android Root Social Media games, ETC. Best of luck.