Which is better cable or satellite – Whenever the question arises as to what is better, Satellite or cable TV, it gets difficult to get an absolute answer. While both allow you to access local channels, live TV, HD DVR service, and much more. The main differences may arise based on installation, cost, or equipment.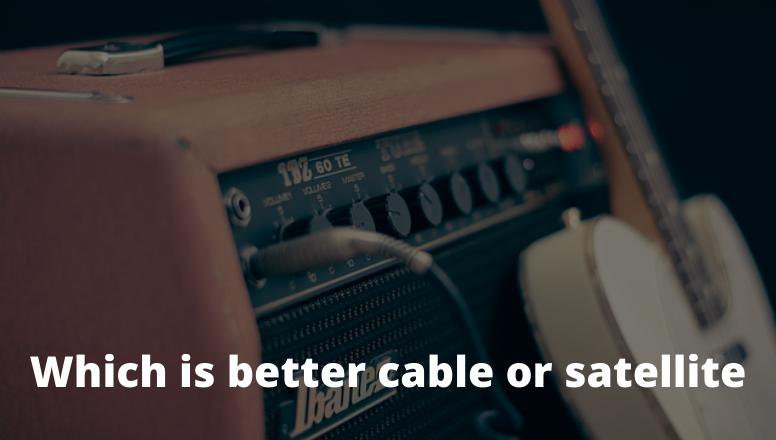 Which is better cable or satellite
Also, we have some of the finest cable TV plans like Spectrum Silver or satellite TV plans like DISH TV Extra that are successfully able to make the customers happy and satisfied. So it is indeed a tough choice to declare which among the two is better able to cope with the entertainment needs of their customers.
Let's discuss different aspects that can be taken into account to find out whether it is cable or satellite that can be regarded as a better option to avail.
Installation Procedure
Cable providers usually offer more flexibility when it comes to installation procedures. Less equipment is usually required and you can also opt for the self-installation process. In the case of a satellite subscription, a dish is to be installed in your house in the right direction.
So it is right to say that cable is easier to install as compared to dish installation when getting a satellite TV. You will require professional help for installing the dish at the right angle for making the most out of your satellite TV subscription.
Availability
For those living in rural areas, satellite TV can be a blessing since it is usually the only option available. No doubt satellite internet has a wider coverage as compared to cable TV due to the infrastructure required. Cable TV might at times, not be accessible in the rural areas because of the required infrastructure that is missing in the rural areas.
Cost
When it comes to pricing and bundling options, it might be difficult to choose between cable and satellite TV. Both seem to be the winner considering the provider and plan you pick. You might notice that satellite TV providers usually require a one or two-year contract signing while most cable providers might not want you to sign a contract.
But when it comes to the monthly cost, a satellite TV package without an extensive channel list, premium channels or HD might prove to be cheaper as compared to the cable TV plan. But if you opt for a cable TV bundle offer, it can be more affordable and budget-friendly.
Bundling Options
You might find more attractive cable TV bundles as compared to satellite TV bundles. Nevertheless, it still depends on the provider you choose and the availability of cable TV or satellite TV bundle offers in your area.
Channel Line up
Both cable and satellite TV offer thorough channel lineups. You can look for a package with a channel list that fulfills your entertainment needs and taste. It mainly depends on your desired channel list. You can expect both cable TV and satellite TV subscription to offer you access to hundreds of channels and movies.
Customer Services
When it comes to customer care services, both cable TV and satellite TV pay good attention to it. If we talk in terms of ASCI i.e. American Customer Satisfaction Index, both cable and satellite TV have around the same average score for the quality of customer care services.
Equipment Involved
You need to install wiring in the house to access the cable TV. While there is a need for a dish to be positioned rightly. Moreover, you have to take care of the dish since it can also be damaged by any poor weather conditions.
Weather Conditions
Satellite TV is more prone to weather conditions. On the other hand, cable TV is not easily affected by it. Your dish is likely to be damaged by rainfall or a storm. So you might experience a fuzzy or distorted picture.
Overall Conclusion
Generally speaking, considering all the aspects and ease, you might want to go for a cable TV subscription for easy installation, favorable channel line-up, impressive bundling offers, effective customer support services, and suitable pricing.
Read more:
Conclusion:
However, if you live in a rural area, there might not be any cable TV coverage around you. In that case, you would want to go for a satellite TV subscription.
Don't forget to bookmark and always visit every day Technadvice.com because here you can find the latest Technology information such as How-to Guide Tips and Tricks Blogging Digital Marketing Windows Android Root Social Media games, ETC. Best of luck.