Prepaway – Analysis of Test: What is NCLEX-RN – The main purpose of the NCLEX-RN test is to define the safety of permitting a person to practice as an entry-level nurse. This exam is different from any other one that you might have taken in nursing school.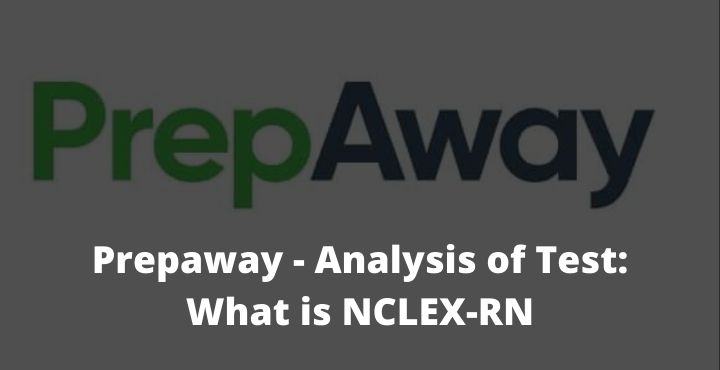 Prepaway Analysis of Test: What is NCLEX-RN?
This is because it evaluates your analysis and application skills through the use of the nursing knowledge you have learned while in school.
Read more:
The candidates taking this test will be evaluated on how they can use the skills of critical thinking to make accurate nursing judgments. This is one of the two NCLEX exams.
NCLEX-RN: ExamFramework
The structure of NCLEX-RN is based on the key phrase: 'Meeting Client Needs'. The exam is divided into four main sections with the relevant sub-sections.
The question format is mainly multiple-choice, although there are some alternate types of questions.
The alternate ones include multiple responses, fill-in-the-blanks, drag, and drop, chart/exhibit, and hot spot.
NCLEX-RN is a computer-based and computer-adaptive exam. The Computer Admission Test (CAT) is a format of testing that is highly interactive and is based on the response that the candidates provide.
Based on the student's skill level, the computer adaptive test ensures that no question is too easy or too hard for them.
When starting the exam, you will receive a relatively easy question, which is below the minimum level of competency. If you answer correctly, you will get a relatively more difficult one.
Besides, if you give a wrong answer, you will receive a slightly easier exam question. This process continues until you either use up the exam time or answer the minimum or maximum exam questions required.
The candidates get to answer a maximum of 265 questions and a minimum of 75 questions.
Regardless of the number of questions you answer, you will get 15 additional ones that do not count towards your final scores at the end of the NCLEX-RN exam.
The individuals have a maximum of six hours for the completion of the test and there are no mandatory breaks in-between.
However, you can decide to take a dispensable break after the first two hours of writing the test and another elective break after about 3 hours and fifty minutes of the Learn more.
There is also no general stop for the exam progress as the students can stop when they have attempted the maximum number of questions they can.
Your test may end if you have demonstrated the minimum competency level and answered the minimum number of 75 questions.
Besides, it may end if you have demonstrated a lack of minimum competency after answering 75 questions.
You may also be asked to stop if you have answered the maximum number of exam questions, which is 265, or have used the maximum time duration of 6 hours. When taking NCLEX-RN, it is important that you do not focus on the length of the exam. Plan to take the test for 6 hours and complete 265 questions.
NCLEX-RN: Exam Scope
The questions for the exam are arranged according to the four core clients' needs categories. They are:
Safe and effective care environment
This includes two components: Management of Care, as well as Infection Control and Safety. The Management of Care component makes up about 17-23% of the total questions in the exam.
Some nursing actions integrated into this sub-category are Advocacy, Advanced Directives, Continuity of Care, Client Rights, Concepts of Management, Case Management, Delegation, Quality Improvement, Ethical Practice, Referrals, Legal Responsibilities, and Establishing Priorities, Informed Consent, and Supervision.
The Safety and Infection Control sub-category accounts for about 9-15% of the total exam questions. The nursing actions entailed in this segment include Error Prevention, Surgical Asepsis, Use of Restraints, Accident Prevention, Hazardous Materials, and Standard Precautions.
Health promotion and maintenance
The questions under this category make up 6-12% of the NCLEX-RN exam. Contents that will be tested under this category include Disease Prevention, Aging Process, Intra/Ante/Postpartum, and Newborn Care, Health Promotion Programs, Health Screening, Physical Assessment Techniques, Developmental Stages and Transitions, High-Risk Behaviors, Lifestyle Choices, and Health Promotion Programs.
It contributes about 6-12% to the exam questions. It evaluates content areas, such as Mental Health Concepts, Coping Mechanisms, Spiritual Influence on Health, Grief, and Loss, Stress Management, Therapeutic Communication, Support Systems, Behavioral Intervention, Perceptual/Sensory Alterations, Chemical Dependency, Crisis Intervention, Family Dynamics, and End of Life Care.
This category includes four different components: Comfort and Basic Care, Pharmacological and Parenteral Therapies, Reduction of Risk Potential, and Physiological Adaptation.
The comfort and Basic Care component covers 6-12% of the exam questions. Contents to be evaluated involve Assistive Devices, Mobility, Non-pharmacological Comfort Interventions, Elimination, Personal Hygiene, Oral Hydration, Nutrition, and Sleep and Rest.
The Pharmacological and Parenteral Therapies sub-section includes Contraindications, Central Venous Access Devices, Adverse Effects, Blood Products, Medication Administration, Chemotherapy, Intravenous Therapy, Expected Effects, Dosage Calculation, Pharmacological Pain Management, and Total Parenteral Nutrition.
The Reduction of Risk Potential component accounts for about 9-15% of the NCLEX-RN exam and it evaluates the knowledge in terms of content areas, such as Laboratory Values, Health Alterations, Diagnostic Tests, Therapeutic Procedures, and Potential for Complications from Surgical Procedures.
Physiological Adaptation makes up 11-17% of the exam questions. It measures nursing actions, such as Alterations in Body Systems, Fluid and Electrolyte Disparities, Medical Emergencies, Pathophysiology, Hemodynamics, and sudden Response to Therapies.
NCLEX-RN: Grading System
There is no numerical score for the NCLEX-RN test. It means that you pass or fail it. After writing the exam, you do not receive your result immediately.
You will get a notification from the State Board of Nursing of your result status about two to four weeks after the date you took the test. If you fail the exam, you should not despair. A good number of candidates don't pass it on their first attempt. You should train with practice tests to succeed.
Read more:
Conclusion:
If you don't pass the exam, you will receive a diagnostic profile that measures your performance in the test. Go through the report carefully to see how many questions you answered in the exam.
The diagnostic profile will also help you know the areas you did not perform well and you can work on these areas ahead of your next exam. You can take the test again after 45 days of your first one.
Don't forget to bookmark and always visit every day Technadvice.com because here you can find the latest Technology information such as How-to Guide Tips and Tricks Blogging Digital Marketing Windows Android Root Social Media games, ETC. Best of luck.