Best Free Way to Perform File Sync in Windows 10/8/7 – File sync or file synchronization means copying files from one location to another, so you can access the same files in different locations. It is a good way of file transfer. The synced files can also be considered as a backup.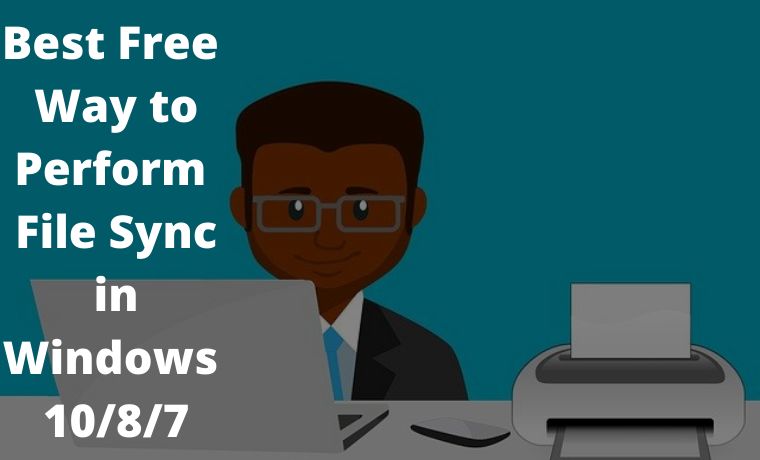 You may find the necessity to perform file sync on the following occasions:
Transfer files from PC to a USB drive so that the files can be used on different computers or even be edited both at home and in the office.
Transfer files from PC to a network share in order to share files with nearby computers. Windows allows you to set file sharing permissions like people to share with and read/write control.
Copy files from one place to another at fixed intervals as a regular backup.
Copy files between different devices, such as from USB to USB, from external HDD to SSD, and so on.
Read more:
There are many other situations where you want to sync files. Then, an important question comes – how to perform file sync easily and safely?
Best free file sync software for Windows 10/8/7 2021
To run file sync on a Windows PC, you can rely on free file sync software https://www.ubackup.com/synchronization/ – AOMEI Backupper Standard. It is compatible with Windows 10/8.1/8/7/Vista/XP (all editions, 32 bit and 64 bit). Learn about its main features in regard to synchronization below:
Basic sync
It works like Windows "copy" feature. No image files will be generated, so you can view synced files at any time without the restoration process.
NAS/Cloud sync
It allows you to sync PC files to NAS devices or cloud service and vice versa. It supports nearly all common NAS devices, including Synology, QNAP, and Buffalo NAS. And there are various cloud drives supported by AOMEI Backupper: Google Drive, Dropbox, OneDrive, Box, SugarSync, hubiC, and Cloud-me.
Sync schedule
If you are looking forward to having files synced automatically, you can make use of the "Schedule" feature in AOMEI Backupper. There are three schedule modes offered for free: Daily, Weekly, and Monthly. You may choose one based on how often you change files in the source location.
How to run Windows file sync step by step?
As there is a great demand for sharing files with a USB drive and another computer, I'll show you how to sync files from PC to USB and between computers respectively. Before you start, please download AOMEI Backupper and install it on your PC.
Sync files from PC to USB
Step 1.Connect your flash drive to your computer. Load AOMEI Backupper, click Sync, and select Basic Sync.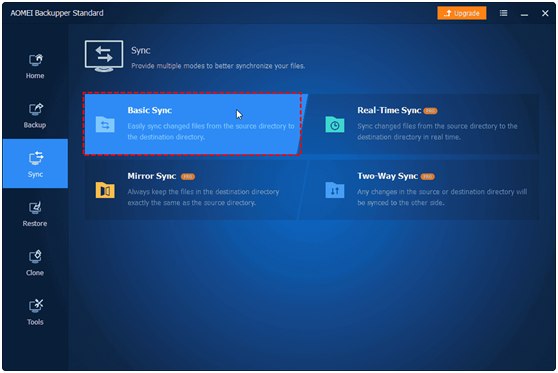 Step 2.Modify the task name as per your need. Then, click Add Folder to choose the folders you want to sync to USB.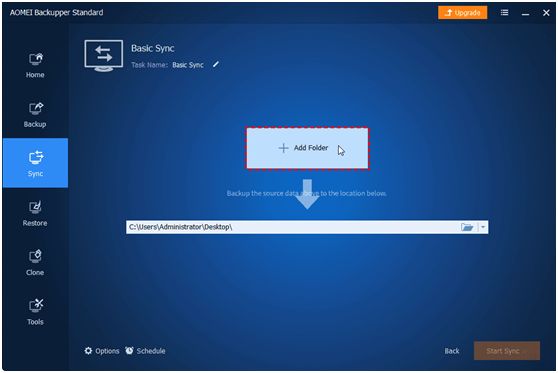 Step 3.Choose the USB drive you just connected as the destination path.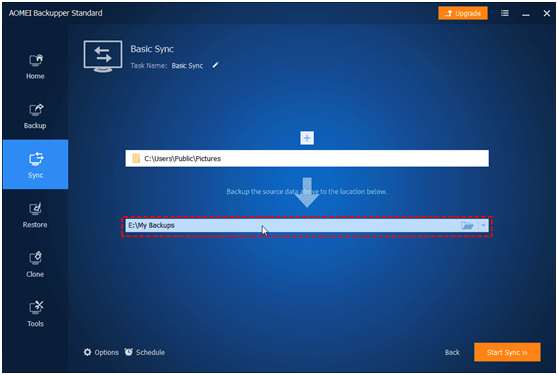 Step 4. (Optional) Click Schedule to set up automatic sync if needed.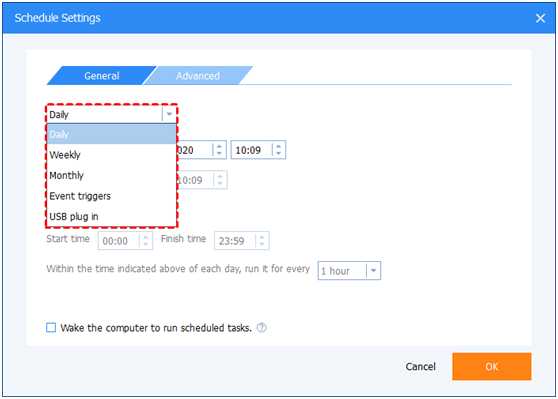 Step 5.Confirm the source and destination directory. Click Start Sync to proceed.
Sync files between computers
Please note that this method only applies to syncing files between computers that are under the same LAN. What's more, you need to create a network shared folder on the source computer to hold the synced files. Now follow the instructions below to start file synchronization between computers:
Step 1.Open AOMEI Backupper, select Basic Sync under the Sync tab.
Step 2.Give the task of a distinguishable name. Then add the folders you want to sync to another computer by clicking Add Folder.
Step 3. Expand the drop-down menu of the second bar and choose to Select a network location.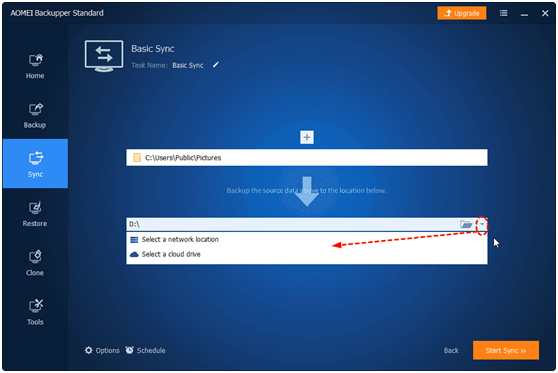 Step 4.Click Add Share or NAS Devices at the left bottom. In the pop-up window, enter the IP address of the source computer and click OK. Enter the username and password if it is needed.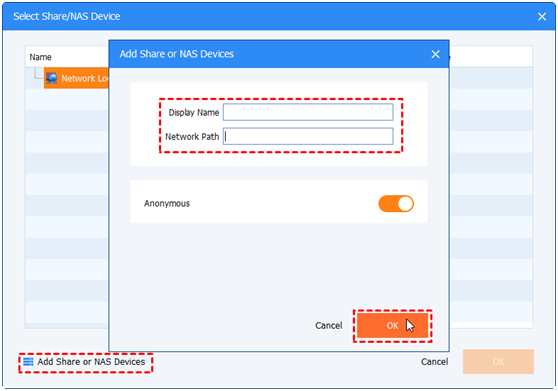 Step 5.Choose the network shared folder you just created to store the synced files and click OK.
Step 6. Click Start Sync to begin if there is no problem.
Tip: To access synced files on the destination computer, you can tap the Search button on the taskbar, type "\\(IP address of the source computer)" in the search box, and press Enter. All shared folders will be shown then.
Read more:
Conclusion:
This page offers you the best free way to run file sync in Windows 10/8/7 https://www.ubackup.com/features/file-sync.html. AOMEI Backupper enables you to sync files between different locations or different devices. You don't need too much computer knowledge, because the operations are quite simple as you can see above.
Don't forget to bookmark and always visit every day Technadvice.com because here you can find the latest Technology information such as How-to Guide Tips and Tricks Blogging Digital Marketing Windows Android Root Social Media games, ETC. Best of luck.