X Best Places to Study Technology – The best time for technology education is right now as compared to ever before. The fields like entrepreneurship, computing, management, engineering, big data, medicine, etc., are the most demanding fields in today's market.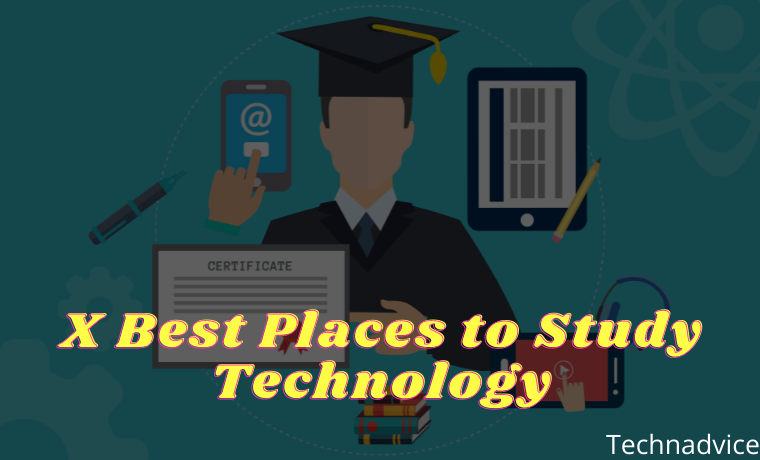 How can a school be the best in technology?
For beginners, it highlights the hands-on learning, world-class faculty, intense STEM research, state-of-the-art equipment, etc. Here, we will discuss ten schools that have these and much more, enabling the students to pursue their unique ambitions and interests fully.
Read more:
This ranking is based on all technology or polytechnic institutes in the list of the best national universities of American News 2021.
Here are the top 10 institutes of technology and polytechnic universities or technology colleges in the United States.
10 Best Places to Study Technology
1- Illinois Institute of Technology (Chicago, IL)
The Illinois Tech students manage hands-on research in computer science, robotics, medicine, big data, urban sustainability, etc.
The American Department of Homeland Security and the NSA (National Security Agency) named the school as National Center of Academic Excellence in Cyber Defense Education because of the extensive programs of the College of Computing in digital forensics and cybersecurity.
Kai Shu, a professor of computer science at Illinois Tech, has won awards for his deep research on fake news. He introduces a dEFEND algorithm that is helpful to explain and predict fake information.
2- New Jersey Institute of Technology (Newark, NJ)
According to the Forbes ranking, the New Jersey Institute of Technology is the #1 college, with the highest percentage of students from the lower-income distribution but later ranked fifth in their careers.
Not surprisingly, the students achieve such success after being awarded a degree from NJIT. The multi-million-dollar Makerspace of the public institute enables the students to produce and test their products using up-to-date industrial tools. The students can digitize real objects, 3D-print prototypes, and much more by taking the next hands-on approach.
3- Rochester Institute of Technology (Rochester, NY)
If you are looking for the best place to study information technology, engineering, or computer science, the Rochester Institute of Technology can be the best option for you.
Particularly, if you recognize that you are hard of hearing, the National Technical Institute of RIT for the Deaf educates more than a thousand such students each year.
All the RIT students reach the cooperative education for the paid programs for full time, where they can gain the experience after completing their degree. The co-op owners consist of Lockheed Martin, Apple, Microsoft, Amazon, Tesla, Facebook, Google, and much more.
4- Stevens Institute of Technology (Hoboken, NJ)
For their 2020 class, 95% of students of the Stevens protected competitive employment or graduate school positions within the six months of their graduation, almost the same as the previous year.
In addition, the $77K average salary has broken the records in 2020. Not surprisingly, as per PayScale, the Stevens is also a top-notch school for returning on investment.
5- Virginia Tech (Blacksburg, VA)
As a well-known land grant university, Virginia Tech integrates the technology covering all the areas and continuously innovates today.
With up-to-date research facilities, a high-tech auditorium, and virtual reality simulators, the Torgersen Hall is equipped. This hall is attached to the university library, which is a physical bridge between the knowledge of new and old. This university is well-known for its motive to make students professional in research abilities. The students have to prepare research papers, notes, and assignments each week. They do all their assigned tasks while searching online 'do my assignments' or 'get help from experts.
6- Worcester Polytechnic Institute (Worcester, MA)
Worcester Polytechnic Institute, a top engineering school, is known for its unique WPI Plan, a project-based learning style. It comes not only to teach technical knowledge to the students but also to teach them how to be the best learners. This project urges the students to enhance their soft skills realizing their impact in the community and beyond.
7- Rensselaer Polytechnic Institute (Troy, NY)
The slogan (Knowledge and Thoroughness) of the Rensselaer Polytechnic Institute is surely appropriate. As the world's oldest English-speaking polytechnic university, Rensselaer is an example that is followed by most the USA colleges.
Graduate and UG are equally involved in driving research in Rensselaer. The top six research priorities of Rensselaer are media and arts, biotechnology, computer and IT, energy and the environment, nanotechnology, etc.
8- Georgia Technology Institute (Atlanta, GA)
The Georgia Technology Institute has a permanent top rating in computer science and engineering. It is located in Midtown Atlanta, close to the growing movie production hub of the city that a Ph.D. student had to experience for herself.
9- California Institute of Technology (Pasadena, CA)
It is an institute in the US that primarily focuses on STEM subjects to study. In this way, administrators and scholars can focus as much effort and resources as possible on major initiatives such as NASA's Jet Propulsion Laboratory (JPL).
The JPL is a well-known research center worldwide whose current projects consist of the Jupiter-orbiting spacecraft Juno and the Mars Curiosity rover.
10- Massachusetts Institute of Technology (Cambridge, MA)
Cal Tech's leading competitor, MIT, is a top American university for technology education.
The entrance is highly selective, but the students can benefit from top-notch research resources, faculty, and opportunities.
Conclusion:
A technology career is more rewarding as it is competitive. So, it is not shocking if the tech experts get the highest salaries throughout the world. You may think that higher education institutes will strive for the rapid advancement of modern technology. Still, top technology colleges have made it a point to deal with the most significant problems of recent times.
Don't forget to bookmark and always visit every day Technadvice.com because here you can find the latest Technology information such as How-to Guide Tips and Tricks Blogging Digital Marketing Windows Android Root Social Media games, ETC. Best of luck.